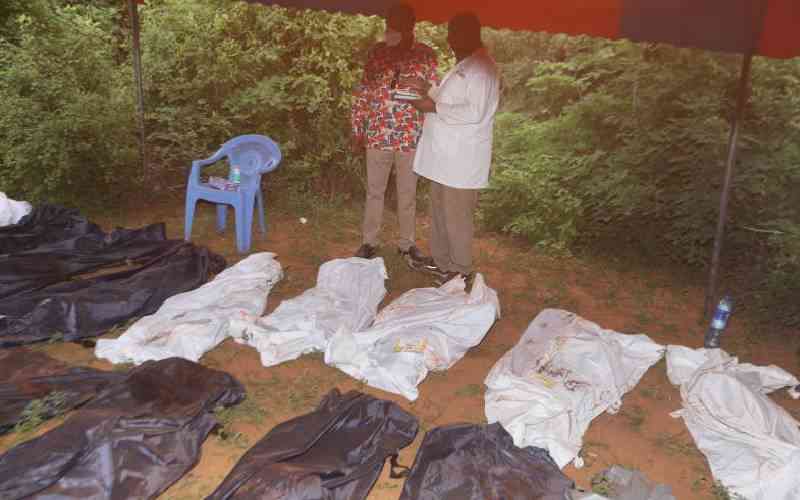 Ford Kenya party has appealed to President William Ruto to form a commission of inquiry into the Shakahola massacre saying there is need for the country to know what really happened.
In a press statement released by the party's Secretary General and Tongaren MP John Chikati, the leaders condemned the deaths of more than 100 followers of controversial Pastor Paul Makenzi.
Makenzi of Good News International Ministries, is being held at the Malindi Police Station and seven other people and is expected to be charged in connection with asking his followers to fast to death.
Chikati said the commission of inquiry is best placed to unearth the truth behind the Shakahola deaths since Kenyans have lost trust in the police after they ignored the red flags that could have prevented the deaths.
"Ford Kenya party highly condemns the recent killings of over 100 worshippers in Shakahola, Kilifi county, after being mislead my the rogue pastor Paul Makenzi's cult, we demand a commission of inquiry to unravel the killings," read the statement in part.
The MP also criticized the government's move to bar the media from entering the Shakahola forest, saying this was aimed at hiding the truth from Kenyans.
"We are demanding that the police allow the media to continue with their coverage of the exhumation of bodies at Shakahola because we learnt this through the media when the same police were sleeping on the job," he said.
The party wants the commission of inquiry to investigate the allegations of organ trafficking to Western countries following reports that some bodies were allegedly missing vital organs.
Chikati blamed the police for sleeping on job when hundreds of Kenyans were being starved to death. "As a party, we are angered by these media revelations and we are asking President William Ruto to form a commission of inquiry to look into these deaths and allegations on human organ trafficking," he said.
The MP who is also the secretary General of Catholic Members of Parliament Association called for regulation of churches through the National Council of Churches of Kenya.
He said this will ensure that only legitimate churches are allowed to operate.
Chikati warned that in the event NCCK fails to regulate churches, he will table a motion in Parliament to regulate the religious organizations.
"I am going to bring before the House a motion seeking to regulate churches if NCCK will not be able to do so," he said
The Ford Kenya Secretary General wants Makenzi sentenced to life saying many lives have been lost because of his misleading teachings.
Related Topics