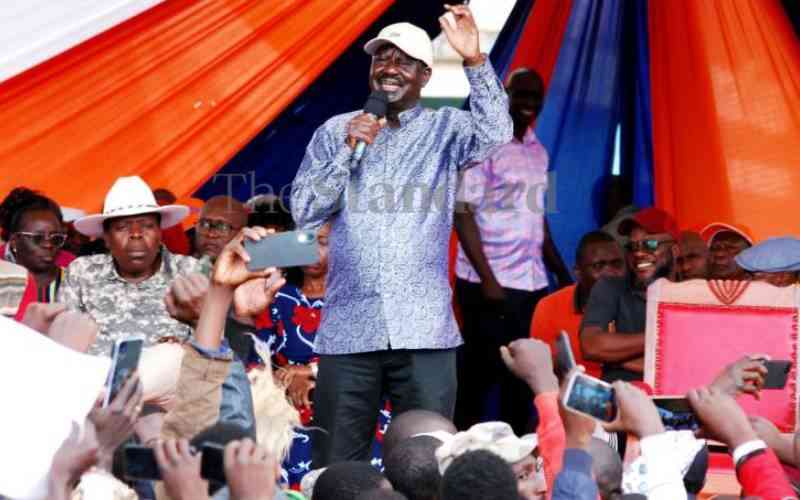 Azimio leader Raila Odinga has declared March 20 a 'public holiday' for his supporters as he steps up efforts to pile pressure on President William Ruto's administration.
The declaration is the latest move by the coalition to force President Ruto to accede to their demands aimed at reclaiming what they argue is their 'stolen victory' in the last presidential election.
Azimio appears headed for a clash with security agencies after its leaders claimed they would march to State House on Monday next week in a peaceful procession.
Raila ruled out the possibility of entering into a unity pact with Kenya Kwanza to reduce the tension that is building in the country.
He also dismissed an attempt by the National Council of Churches of Kenya (NCCK) to convince him to stop the demonstrations, saying Azimio was fighting for a just course.
Raila was speaking in Siaya where the coalition rallied supporters to turn up in numbers in Nairobi. "I hereby declare in the name of Azimio that Monday, March 20, a public holiday," he said.
The coalition is keen to ensure the government adheres to their demands on reducing the high cost of living, opening the IEBC servers and their input in the selection of the new IEBC commissioners, among others.
"It will be a peaceful procession. We do not want any form of violence, and we do not want any form of handshake," said Raila.
The developments came as Raila dismissed claims that he was a sore loser, instead insisting that his victory was stolen.
He castigated the church for defending what he termed as electoral theft over the years and preaching peace by asking them to move on.
"There is something that has happened in this country for years, and we have opted to treat it once and for all. Electoral theft must be done away with in this country.
"I have been telling Kenyans that some things must happen, and now even some churches are telling Kenyans to let go. We want all our critics to know we are not sore losers, and if defeated, we accept. But in this case, we were not defeated," said Raila.
Raila also urged his supporters to defend the four electoral commissioners who rejected the election results. He said the commissioners were being frustrated for defending the truth.
He said the Constitution allows the people to picket and demonstrate peacefully. Raila also warned Interior Cabinet Secretary Kithure Kindiki against issuing threats.
"We have fought for this country with Governor James Orengo when things were worse than now. I accept to be the sacrifice to get eaten by a crocodile to save our people. But if you don't come and help me, I will be eaten by the crocodile on that day," he said.
His running mate in last year's presidential elections, Martha Karua said they were focused on restoring sanity to the electoral system.
"We are asking Ruto to open the servers if he is sure he won. If he cannot open them, he must be ready to leave the office for legitimate winners," she said.
Related Topics