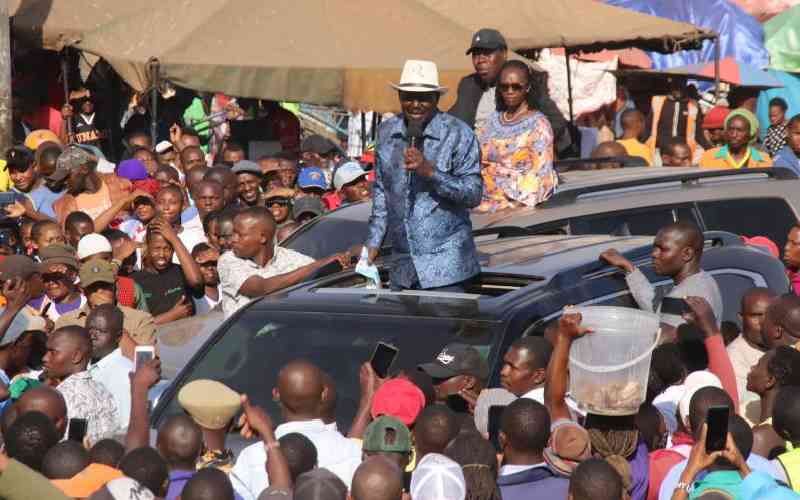 Azimio la Umoja- One Kenya leader Raila Odinga and his allies are in Western Kenya this weekend to ratchet their protest against President William Ruto and his Kenya Kwanza government.
What may concern Kenyans more though, is the threat by the ODM party leader that the rallies will soon morph into mass action protests rather than the peaceful rallies they initially promised.
At each of the seven rallies held so far, Raila appears to have changed tact, by first reading out seven or eight issues they blame Ruto's administration for in English rather than working up crowds with chants in Kiswahili.
So why the change from rallies to mass action?
Political analyst Martin Andati argues that although the rallies are already yielding desired results because of the reaction they are drawing from the president and his allies, Raila wants to pump-up the pressure.
"By talking about mass action, they are provoking the government to start reacting more because being on the streets will affect investor confidence and normal day to day business operations," says Andati.
Other analysts opine that probably, Raila wants more attention than they are generating at the moment hence the thinking behind mass action sooner than later.
However, the argument is that although streets protests may resonate with Kenyans facing economic hardships and other challenges, it could also boomerang on Azimio for making life more difficult through business interruption.
"He is already pushing them to a corner because the government will not collect enough revenue when people are on the streets which makes it difficult for the country to generate wealth," says Andati.
Last week, Kitui Senator Enoch Wambua told mourners during the burial of a brother to Prof Makau Mutua that they will ask Kenya Revenue Authority to remit tax collected from Azimio support zones to them if the government is operating as limited company.
He was reacting to a news clip that went viral where Deputy President Rigathi Gachagua told Kenya Kwanza supporters in Kericho county that only those with majority shares in their government will harvest while those who didn't invest must wait.
As expected, Raila is also taking full advantage of Rigathi's utterances as Azimio continues to build more discontent against the government.
Lawyer Stanislus Murunga agrees that Raila and his team have managed to draw the energy of the president, his deputy and other senior officials very well, forcing them to response to almost everything.
"That is why he is increasing the rallies from one to two and now to three per week. It is because they are responding to everything, including demands that election results servers should be opened," says Murunga.
It is becoming increasingly difficult to understand Raila's plot but it appears his reading of the Azimio demand messages in English is not meant for his raucous and charged audiences.
The message is probably meant international organs like ambassadors, the European Union and other international partners because he reverts to Kiswahili immediately after delivering the message.
Although the president has told the opposition that they are free to hold as many rallies as they wish as long as they don't interfere with Kenyans, the probable thinking is that government expects fatigue will creep in at some point.
Andati does not however see Raila's supporters getting weary because life is becoming more difficult every day as Kenyans continue waiting for the promises the president made during the Kenya Kwanza campaign.
"They are talking about raising university fees yet they had talked about turning the current HELB loans into grants and so Raila is getting fodder to talk about every day," adds Andati.
Political scientist Prof Amukoa Anangwe has a different view and insists that Raila's focus may still on forcing the Ruto administration to accommodate him and his team.
"I think by threatening mass action, he is ramping up his crusade for the handshake and upping the game after discovering that the free hand Ruto gave them to hold rallies is crippling the efforts," says Anangwe.
He thinks Raila may have anticipated running battles with police when they began the rallies but it all backfired when Ruto told them to hold them from morning to evening every day.
So now that the rallies are not yielding expected political dividends, Anangwe says Raila wants to up the game with the hope of attracting reaction from government to create riots and lawlessness.
How that turns out, is a game of wait and see but it could either be Azimio's waterloo, depending on how Ruto reacts to enforce the rule of law or it could create an outrage against government.
According to Anangwe, Raila has learned the art of fighting governments because all he does is create a narrative and harp on it "even if it sounds far-fetched" like the hacking of elections servers.
"He schooled on propaganda and so like Joseph Goebbels, Raila just scripts a mantra and harps on it, because a lie repeated three times becomes truth," says Anangwe.
The ammunition that Raila has is the sky-rocketing cost of living but again his critics may argue that it was already high under the Uhuru Kenyatta regime when he sided with government.
But mass action attracts media attention and people complaining about the chaos it creates through interruption of transport leading to people walking to works because of running battles that in the past led to loss of life.
Anangwe thinks Kenyans will get weary to Raila's detriment and blame him for creating more problems because they need is to put food on the table for their children.
Prof Gitile Naituli of Multi-Media University also calls for extra care from Azimio because they may create reckless insurgency that is not in the interest of anybody in the country.
"Kenyans like suffering in peace because absolute chaos does not assist anyone. So whatever plan they have should be systematic and long term to create discontent and disaffection with intent of creating anger in two to three years," says Naituli.
He argues that their intention should be aimed at making Ruto a one term president which cannot be achieved with a short term strategy because people will get tired of mass action.
His advice to Azimio is that they maintain the big, peaceful rallies and intensify them in the next four years because people will voluntarily continue attending them just like Ruto did for five years when he was deputy president.
And so instead of inviting confrontation with the government, he expects Azimio to continue telling Kenyans that the promises made were never delivered because he does not see their fortunes changing anytime soon.
"I'm persuaded there is no way Kenya Kwanza will fix the economy because of the expenditure we are seeing and it also appears there is capital flight because of the steady depreciation of shilling," says Gitile.
Wrong priorities like bloating government with cronies and creating offices like those of Cabinet Assistant Secretaries (CAS) instead of hiring the 4000 unemployed doctors is also a big issue.
Gitile says Azimio can concentrate on the Kenya Kwanza campaign promises which centered around neglect of poor people by the rulers, yet they have instead spiraled the neglect.
"The dissatisfaction is created by explaining to people, because that means you fooled them but maybe they should soon start fooling them by mixing truth with lies instead of making belligerent statements," says Naituli.
He says poor Kenyans were convinced by the President and his team when they told people that they also slept hungry like them and so they know when we are hungry.
"It now looks like Uhuru Kenyatta understood us better. The truth is the country is going through a very rough time. If Ruto wants to help hustlers, he must invest in health and education," he added.
Related Topics