Few things are as sure to excite a furore on re-organisation of the security detail of the country's VIPs, an exercise that is as much routine as it has been political.
The scaling down of former President Uhuru Kenyatta's security detail did not disappoint, as Kenyans stormed social media to question the move, many reading malice as it came amid a spat between Uhuru and his successor President William Ruto.
"The security of a former head of state/government - in America or in a banana republic like Kenya - isn't a political matter. It's about the security of the state itself. Should harm befall a former head of state/government, there would be hell to pay. My two cents," Azimio spokesperson Makau Mutua tweeted.
The hashtag #Revenge would trend on Twitter for much of yesterday (and Thursday evening), implying the current administration was settling scores, serving Uhuru a taste of what his government had allegedly done to them.
This outcry forced Police Inspector General Japhet Koome to clarify that scaling down Uhuru's security was routine to ensure effective command.
"Once a president is retired, the commander is a superintendent of police. That has been the arrangement since President (Daniel) Moi retired and President (Mwai) Kibaki," he said.
Koome said the officer commanding the presidential escort unit must be of the rank of the Assistant Inspector General and hence the commander of those guarding the deputy president and retired presidents must be of a lower rank.
The law guarantees Uhuru access to security officers. Although Koome did not state how many officers had been attached to the former president, the Presidential Retirement Benefits Act guarantees Uhuru personal and escort security as well as adequate security at his urban and rural residences.
An earlier version of the Act capped the number of guards at 12, but a 2013 amendment removed the upper limit. The allocation of security detail is to be certified by Interior Cabinet Secretary Kithure Kindiki in consultation with Uhuru.
"They are all safe and secure," the IG said in response to number of officers attached to Uhuru, former First Lady Mama Ngina Kenyatta and former Interior Cabinet Secretary Fred Matiang'i.
Like Koome, there were those who thought the matter had been blown out of proportion.
"Uhuru had over 120 GSU elite officers 24hrs as President not inclusive of his close family + his homes /property but under the Presidential Retirement Benefits Act, he is entitled to 6 police officers so nothing strange about downscaling the security its the LAW," Nandi Senator Samson Cherargei tweeted yesterday.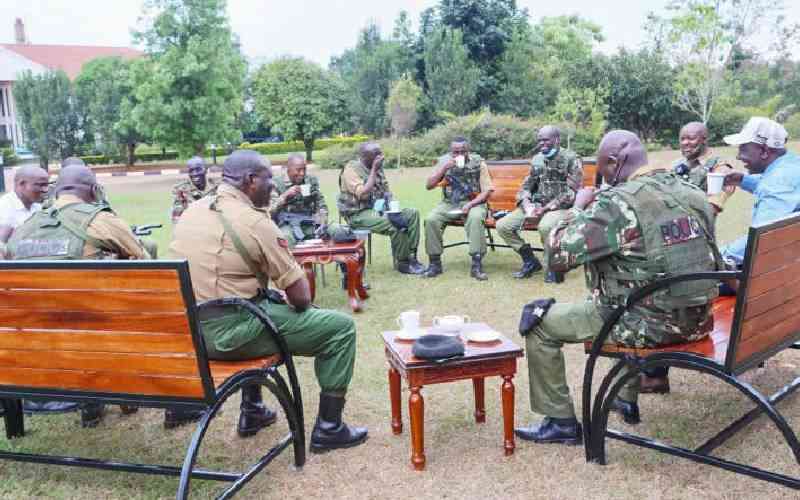 Besides a retired president, other persons entitled to armed security are retired prime ministers, former deputy presidents and vice presidents as well as retired speakers of Parliament and former chief justices.
The law is unclear whether other senior officers currently enjoying armed protection such as cabinet secretaries, MPs, senior judges, and military and police bosses, among others, are entitled to the same upon retirement.
The Retirement Benefits (Deputy President and Designated State Officers) Act caps the number of guards to be granted to retired speakers and chief justices to two. According to the Act, all the stated officers must make an official request for armed security.
Like the case with number of guards attached to a retired president, the law is silent on number of armed guards to be issued to former prime ministers, deputy presidents and vice presidents.
This, hence, leaves little clarity on how VIPs are to be protected, granting much leeway to the IG. That has caused issues in the past, amid claims that the security of former officials would be occasionally weaponised.
In 2021, a reshuffle of then Deputy President William Ruto's security detail generated a similar outcry. Elite officers manning his official Karen residence were replaced with Administration Police officers, a move explained as conforming to the protection of State offices.
Matiang'i told a parliamentary committee then that Ruto had 257 officers guarding him.
"If you go to layer two, you have 121 officers looking after the deputy president... in layer one we have the presidential escort team in addition to the 74 officers there we have a dedicated team of GSU officers, five in number, highly trained... in addition to that, the deputy president has got six DCI (Directorate of Criminal Investigations) officers," Matiang'i said. "The third layer is auxiliary security."
Former Prime Minister Raila Odinga has had his security withdrawn or scaled down on several instances, as has former Vice President Kalonzo Musyoka. The withdrawals usually accompanied planned opposition demonstrations led by the pair.
In 2017, Matiang'i defended the withdrawal of police officers guarding Raila and Kalonzo. "Why should we give you 20 police officers so that you can loiter around with them from press conference to press conference, from hotel to hotel, when they are needed elsewhere?"
Many MPs have also previously complained whenever they have had their security withdrawn.
Related Topics