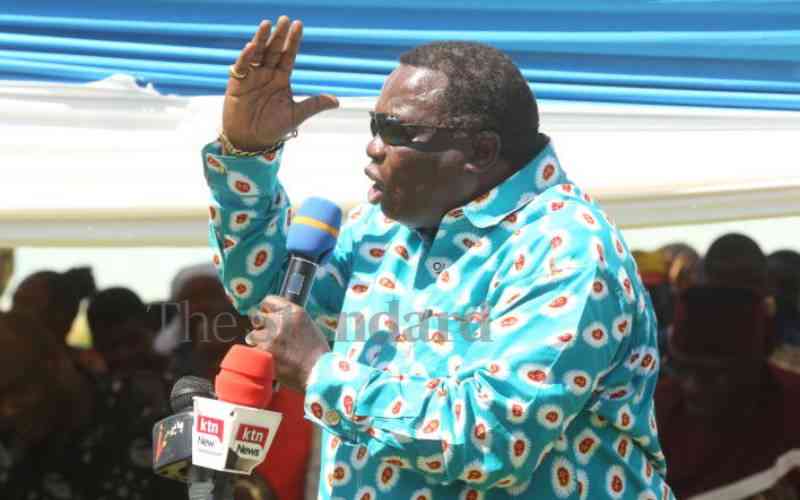 Central Organisation of Trade Unions (Cotu-K) Secretary General Francis Atwoli has urged President William Ruto to name government officials who benefited from Galana Kulalu irrigation project through subdivision of land.
Speaking during a funeral service at Khwisero constituency in Kakamega county, Atwoli said it will be good for the public to know individuals who grabbed public resources while supporting Azimio leader Raila Odinga and former President Uhuru Kenyatta.
"I have heard Deputy President Rigathi Gachagua saying some people in the former government and Azimio grabbed some land meant to end food shortage while some ran away with public money. The names should be made public even if they will not be taken to court," said Atwoli.
Atwoli's remarks come barely two weeks after Ruto revoked the planned subdivision of 245,029 acres of land at the Galana Kulalu irrigation project.
Ruto said he was angered by what he revealed was a plan to hive off 110,000 acres to resettle 10,000 families, with another 4,032 acres being set aside for residential use.
"What the president is doing to revive the project is good, especially this time when the country is facing drought and shortage of food. Therefore, those who benefited by misappropriating public resources should have their names made public," said Atwoli.
Ghost workers
Atwoli went on to warn governors against firing workers hired by their predecessors, saying the move has led to the emergence of ghost workers in counties.
"New governors should not hold grudges against county workers because the employees are civil servants and not the governor's workers. The firing and hiring of county workers has led to the rise in ghost workers, who end up consuming taxpayers money, and crippling operations in the devolved units," said Atwoli.
He added, "Even in the national government, President Ruto is working with civil servants he found there. What he has only done is choose his own Cabinet and Principal Secretaries. Governors should concentrate on delivering to the electorate and work with those in office."
Related Topics