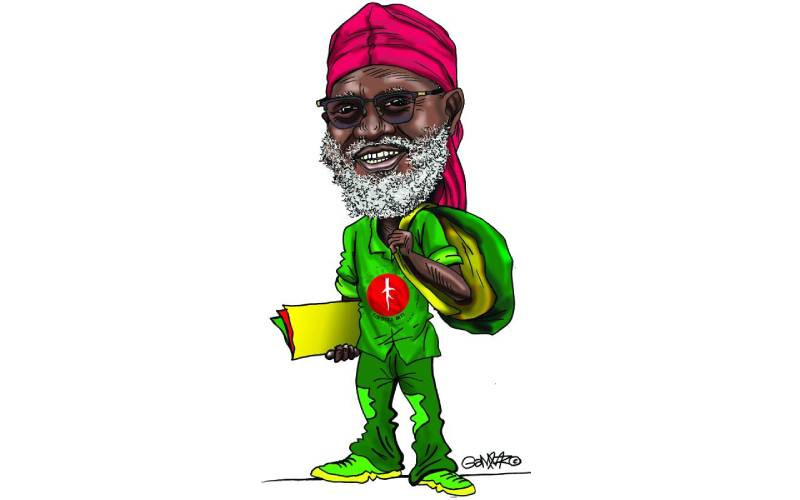 'Tarehe tisa mwezi wa nane' (August 9) means different things to different people. To some, it's the day they find out who, between Tinga and Hustler, will be carted to their home village.
To others, tarehe tisa will offer the right to shout out, "freendom is coming" without having to worry about offending the pronunciation or spelling prefects. Even better, they won't have to agonise about their neighbours calling the police on them at the first sight of white smoke escaping their houses.
For the second set of persons, their wishes depend on whether Kenyans will elect George Luchiri Wajackoyah, the self-styled 'Pope of Ganja', as president.
Prof Wajackoyah only has 10 promises, but he is most famous for his first - legalising "bhangi!" Owing to his unrelenting advocacy of weed, the herb has earned a new street name - Wajackoyah, like its brand ambassador. Rumour has it that its scientific name will soon change from Cannabis Indica/Sativa to Wajackoyah Luchirica. Rumour.
Contrary to wishes of many mediators, the professor of law wants to export most of the weed. He says that hemp is the real money plant and anyone seeking riches only needs to "tingiza mti."
The first batch should be exported in six months - the time it takes for hemp to grow into maturity - after Wajackoyah is sworn in, six months after he has uprooted all flowers along the expressway, replacing them with marijuana. And Wajackoyah promises immense riches for anyone who will emulate Marlon Asher and accept to be "a ganja planter" and be called "the ganja farmer." From the look of things, he has convinced many people.
One such person could be Solomon Gichira, a Kenyan who refuses to wait until next year to start exporting and wants to do so as early as now. He declared his intentions, subtly, in a letter to the British High Commission (no, it is not a United Kingdom-based commission of Wajackoyah's followers) copied to the electoral agency and the immigration directorate.
Of course, since weed isn't legal (yet), Bwana Gichira was careful to conceal his intentions, though behind the thinnest of veils.
"We do write on behalf of our client to get clear clarification and confirmation on whether the above-named candidate (Wajackoyah) is still a registered British citizen," Gichira's lawyer wrote. "...and if so, has he ever renounced citizenship rights thus making him eligible to vie for the top seat in the Republic of Kenya?"
In the letter, Bwana Gichira is concerned that the "Ganja Pope", who wants to, in Hustler parlance, ng'oa reli as the reli symbolises "colonisation", belongs to the land of our colonial masters. Through his "sources", Gichira learnt that in Wajackoyah's previous life, he had unsuccessfully tried to be a mheshimiwa in the UK and was disqualified from contesting the Tottenham parliamentary seat for "lacking a wife." (Thought marriage status was considered a qualification only in Kenya.)
It would take a miracle to convince some Canadian-based solicitor that Wajackoyah has spent as much as a second on UK soil. This past week, the solicitor tweeted: "a casual review of your statements, utterances and writing in English discloses syntax that is not related to the English Language."
Not Bwana Gichira, he hardly doubts that Wajackoyah, at some point in his life, held British citizenship. It is worth noting that Gichira does not doubt Wajackoyah's roots, traceable to Kakamega County. Long before he was anointed the dog meat, hyena testicles and snake-rearing crusader, the 61-year-old had made a name for himself as a political commentator, hopping from TV station to the next. It was the natural career path for the lawyer who boasts 17 degrees. Since they discovered that TV stations offered more speaking time than court, a bigger audience and free makeup, lawyers have streamed to media outlets hoping to get their faces onscreen.
Wajackoyah was not an exception. Armed with a closet full of suits and mastery of immigration law, among many other 'laws', he set out on the path charted by learned friends. It was quite the contradiction for a man who as a spy, swore enmity to the cameras, spending his days in the shadows.
And night after night, the "Ganja Pope" would dissect the country's political and legal issues. He did that so long that he got jaded. So he traded his suits for khaki fatigue and a durag and aimed high for the presidency, earning Bwana Wafula Chebukati's nod to participate in the election. Then Gichira happened.
To the layperson, Gichira may pass off as a spoiler eager to stop Wajackoyah from finding out how high he can go in Kenyan politics. But his intentions could be noble.
Bwana Gichira, out of an abundance of caution, probably just wants to know if we would fetch anything from exporting Wajackoyah, the green gold (remember the street name?), to the Brits. We would probably get nothing if it turns out that the Ganja Pope is theirs. Or maybe Gichira secretly hopes that Wajackoyah is a British citizen in light of the vacancy that opened up at 10 Downing Street. In Bwana Gichira's mind, Wajackoyah replacing Boris Johnson could fungua milango for Kenyan farmers itching to transition into weed farming. And so as Israel Vibration asked in his song Vultures, "Wajackoyah, what you gonna do now?"
Related Topics