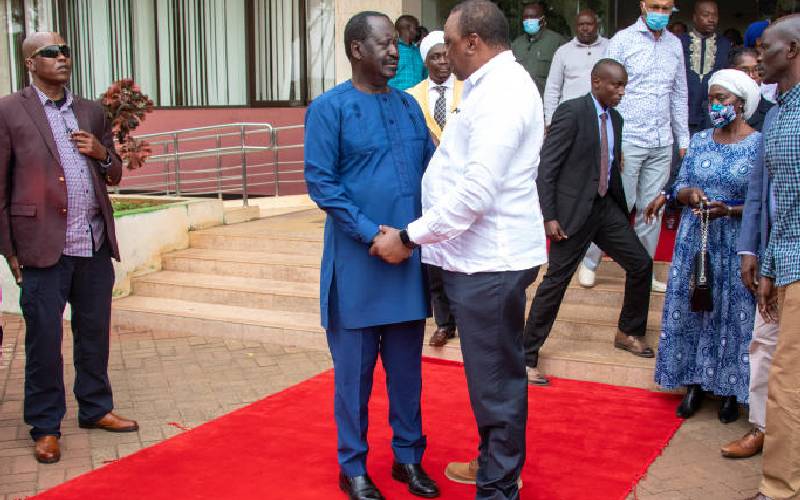 President Uhuru Kenyatta yesterday steered clear of politics during the 100th-anniversary celebrations by Akurino Church at Kasarani, Nairobi.
This was despite the presence of Azimio la Umoja-One Kenya presidential candidate Raila Odinga and his running mate Martha Karua, whom he has previously endorsed to succeed. It was also unlike the president's previous engagements with the church, where he has always openly discussed politics.
Instead, President Kenyatta said he would find another day to give political direction to the church.
He, however, disrupted his speech and invited Raila and Karua to address the congregants.
The president dished out five State appointments to members of the church and a title deed for a five-acre piece of land in Naivasha municipality worth Sh100 million.
He gave a personal donation of Sh11 million to support the church's projects across the country, citing their support throughout his political journey.
"You have journeyed with me from when I began my political career up to now, and I must say thank you. Thank you for all your prayers and support that you've accorded me," he said.
"We will not stop here. We shall continue this journey to ensure the church grows, and just like you stood by me, I shall also do the same."
Members of the Akurino Church who were appointed to various State parastatals include Dr David Mburu, who will chair the Tea Board of Kenya and Abraham Macharia Jeremiah – the church's secretary general – who will be a board member of the Postal Corporation of Kenya.
Samuel Mwangi, who represents the church in the Interfaith Council, was appointed chairman of the National Water Harvesting and Storage Authority while Eunice Njau was named a board member of the Kenya Institute of Mass Communication.
The president said his ties with the church go back in history.
"I tell people about my history with the church but we will not talk about that here because these people (media) will change the story, but I will share with you in camera when you visit our village home. Some of the elders here know it has not been an easy journey," he said.
Uhuru was expected to delve into his succession race, given that the Akorino Church never shies away from commenting on politics.
However, he has seemingly taken a step back from succession politics, which is a break from previous events like on March 12 when he attended the crowning of Raila as the Azimio la Umoja-One Kenya flagbearer at the Kenyatta International Convention Centre (KICC), Nairobi, before a public rally at Jacaranda grounds.
A month later on April 21, Mr Kenyatta would attend the first Azimio Council meeting accompanied by Raila, Karua and other leaders.
A source close to the State House indicated that the president had been convinced by his advisers not to take a front position in the campaigns for fear of a backlash.
Baggage of incumbency
"The other fear is that should he have the baggage of the incumbency, it will be easy to mar Raila's campaigns and thus dim his chances of succeeding him," said the source who sought anonymity because of the sensitivity of the matter.
Raila acknowledged the contribution of the Akorino in the struggle for independence.
"Akorino started as a freedom fighting group. Some perished due to their religious beliefs while others fought for independence. Their generations have prospered and continue to spread the gospel. Our founding father Jomo Kenyatta showed us the significance and importance of the Akorino," he said.
Karua, who spoke in Kikuyu, noted the contribution of Akorino in her political career.
"We have walked with you step by step, and this is not the first time. Just like I have witnessed the joy and coordination between you and my brother, the president, we want to assure you that we shall continue the journey with you," she said.
"My Captain (Raila) and I ask for your prayers that this country remains a law-abiding one."
The president warned head teachers against discriminating against students for wearing turbans to school.
The Akorino are synonymous with wearing a white turban on the head.
"Everyone has the freedom of worship in this country. I want to emphasise especially to school principals who still discriminate against the Akorino for their turbans. That is unfair and there is no law that discriminates anyone from expressing their religion, be it in schools, offices or hospitals," he said.
President Kenyatta said every Kenyan has a constitutional right to practice their religious traditions, including their regalia, without being discriminated against.
"If anyone asks you to remove the turban, tell them no! This is who we are and this is how we shall always be. Probably when I proceed on retirement I will also wrap my head with one," he said.
"Our Muslim brothers and sisters wear their religious clothes without being questioned by anyone because every Kenyan has a right to worship their God."
The church's National Chairman Samuel Kinyanjui called on the president and the incoming government to ensure peaceful transition and fight corruption.
Leaders present were Jubilee Party Secretary General Jeremiah Kioni, Kitui Governor Charity Ngilu, former Gatanga MP Peter Kenneth, ODM Secretary General Edwin Sifuna, Interior PS Karanja Kibicho, Nairobi Woman Rep Esther Passaris, among others.
Related Topics