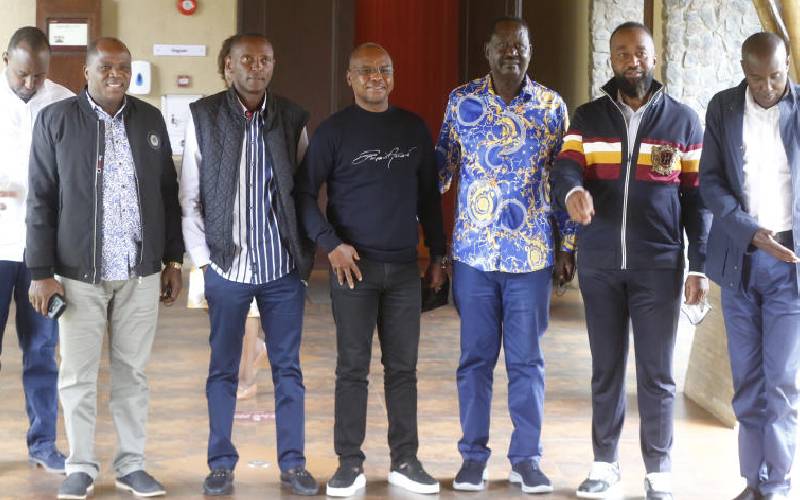 Unlike past election cycles, Tana River County goes to the August 9 General Election peaceful but there is sibling rivalry within the Azimio la Umoja.
In 2013, the county went to the polls against a backdrop of bitter tribal conflicts over pasture that left at least 170 people including nine police officers dead, according to a report by Justice Grace Nzioka Commission.
Aspirants vying for various elective seats are crisscrossing the three sub-counties promising to foster peace and address the drought and famine situation that are blamed for the tribal conflicts.
But battle royal is expected within the Azimio la Umoja political wing which the county's seasoned politicians have joined.
Bura MP Ali Wario is contesting on the United Democratic Alliance (UDA).
Governor Dhadho Godhana, his predecessor Hussein Dado and Dr Nuhu Nassir Abdi, former county Assembly Speaker who also served as Bura MP, have declared that they will vie under Azimio la Umoja coalition that brings together ODM and Jubilee Party.
Political analysts say this year's election will be held through negotiated democracy between the elders and leaders from the county's five big sub-tribes.
Last week, a section of Orma elders called the Matadeda Council of Elders and endorsed outgoing Chief Administrative Secretary (CAS) for Interior, Hussein Dado for the governor's seat.
"I was endorsed by the Orma elders because one must get the backing of his people before he goes out to others. But I seek votes from all the tribes in Tana River and not from the Orma only," said Dado.
He said his agenda was to improve health service especially on maternal care and to help pastoralists and farmers.
"Importantly, I will invest heavily in sectors that foster peace. I did it when I won in 2013 which is working to date but with the current climate we need to do more," said Dado. Dado's endorsement has however split the Orma after another faction of elders from the tribe endorsed Bura MP Ali Wario for the seat.
Dado and Wario hail from the semi-nomadic Orma tribe. Dado is running on the Jubilee Party ticket and Wario on UDA party ticket.
"Dado should recognise all tribes in Tana River as voters. In politics we look for numbers," Wario's spokesman Mohamed Hatu said.
Hatu said Wario will not be coerced to drop out of the race. Mzee Dube Barisa, the elders' chair, however, dismissed claims that the elders were imposing Dado on voters.
"We do not coerce people to vote for candidates. We guide them to a certain direction and it is up to them to decide," Barisa said, adding that voters always heed the advice of elders.
He said that Wario's endorsement by the former council chair Omar Wario Gobe was illegal and that the Bura MP had no blessing from the community to negotiate with other tribes.
Another community elder, Mzee Abdalla Bakero, said Dube was installed as a "Abugada" which means a "King" of the Orma people after Gobe's term of eight years expired in December.
Local political analyst Mohamed Hassan says that aspirants from the majority Pokomo and second-biggest Orma ethnic groups negotiate political deals with the small tribes like the Wardei and Munyoyaya.
"It is a negotiated democracy. Orma and Wardei tend to agree faster because they have similar social and economic activities," said Hassan who is a clearing and forwarding agent from Garsen.
Like the Orma, the Wardei are mainly pastoralists while the Munyoyaya are fishers. But the Munyoyaya, also like the Orma, are predominantly Muslims.
However, votes from other small ethnic groups like the Waata, Boni, Wailwana or Malakote, Bajuni and other up-country tribes also influence the outcome of the election.
Godhana is from the most populous Pokomo farming community, Dado from the pastoralist Orma community while Dr Abdi comes from the Wardei, a small pastoralist tribe.
"I am contesting for the ODM ticket. I am treating every candidate seriously so I cannot say that Tana River is an ODM zone," said Dr Abdi.
Former Garsen MP Ibrahim Sane is also from the Wardei tribe and it is feared his move could split the community's votes to the advantage of either Godhana or Dado.
In 2017, Dhadho of ODM got 25,958 votes, Dado of Jubilee Party garnered 24,466 votes while Dr Abdi who contested on the Wiper ticket got 21,677 votes. Former Garsen MP Danson Buya Mungatana contested on the Kenya Patriots Party (KPP) and got 11,339 votes.
"It is clear that Godhana is forming a team that includes Mungatana who is a Pokomo for the Senate seat, Ms Ralia Buyotu who is a Munyoyaya as Women Rep and Abbas Kunyo to be his deputy," said Hassan.
In 2017, Godhana is said to have signed a pact with the Wailwana. He picked Deputy Governor Salim Batuyu from the small tribe. The Tana River Women Rep Ms Rehema Hassan who was in his team is also from the Wailwana tribe.
Related Topics