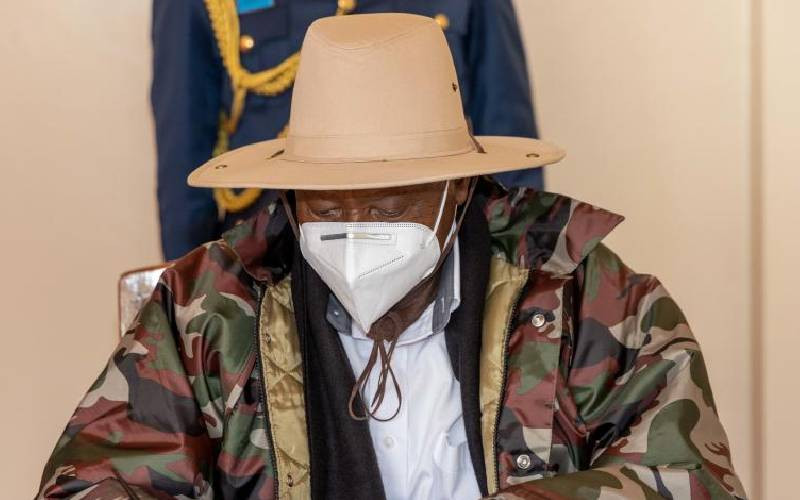 The Bible says a wise son brings joy to his father, but a foolish son gives his mother grief.
So, when the grand old man of Uganda, M7, 78—in power most of his life, and still determined to stay on till the end of time—scampered in panic, after his only begotten son threatened on Twitter to invade Nairobi, my heart went out to M7.
Here's an old man, a little overweight and balding, worrying about an unruly son instead of spending his sunset days roasting matooke or grazing the long-horned Ankole cattle. So M7 can hardly sleep a wink without worrying his "baby" son will get into mischief.
The "baby" in question is General Muhoozi. And although the good general has received training in most elite military academies in the world, his preferred military tools are a good working phone and stable internet connection. Once these elements are in place, he's ready to go to war.
That's what transpired early this week, when General Muhoozi made a unilateral declaration of war against Nairobi. His grievance?
His preferred candidate, former Prezzo Uhuru Kenyatta, had failed to extend his rule by amending the Constitution to allow him a third term. He did not add: much the same way daddy has done all his life…
Consequently, General Muhoozi went on, he was in a foul mood so he would need two weeks to take Nairobi.
He did not clarify if the mission was to reinstall Prezzo UK. Both he and UK, after all, are sons of presidents, dynasties, to use the political lingo in vogue.
What Muhoozi made clear, however, was that he'd give his beautiful wife a tour of Nairobi and perhaps ask her to pick a residence between the plush Riverside and Westlands neighbourhoods.
This appears to clarify his main intent of invading Nairobi could be to gift the city to his wife. After all, men have waged wars to honour their women.
Perhaps Muhoozi wanted to take Nairobi and name Westlands for his wife.
This is no exaggeration; Muhoozi worships the ground that Charlotte walks, gushing earlier in the year: My wife, Charlotte Nankunda Kainerugaba, is the most beautiful woman on earth! How about Charlottesville in place of Westlands? I like the sound of it!
Muhoozi's tweet on his wife's unmatched beauty was accompanied by a picture, which suggests he had given the matter some considerable thought. It's hard to believe such boyish fascination comes from a 48-year-old man.
And how did M7 respond to his baby son's unmatched Twitter valour?
He summoned him home. Since he didn't have a city to bequeath his beloved son, who needed one to bequeath his most beautiful wife, M7 gave Muhoozi what he had: another military title, making him a four-star General.
Muhoozi responded by smiling, then tweeting that Kenyans should stay calm.
It was just a prank, he said, and since his father had raised him well, he had taught him not to do such things. That's so sweet of Muhoozi!
Meanwhile, the General took to Twitter to celebrate his promotion, following his online exploits. He had set his sights on new targets, he said.
He would tour a place he'd never been to.
And I suspect he'd take his wife, the most beautiful woman in the world, for the world to see.
And from his sojourns, who knows, he might just win another military epaulette from the grand old man with a wide-brimmed hat.
Related Topics