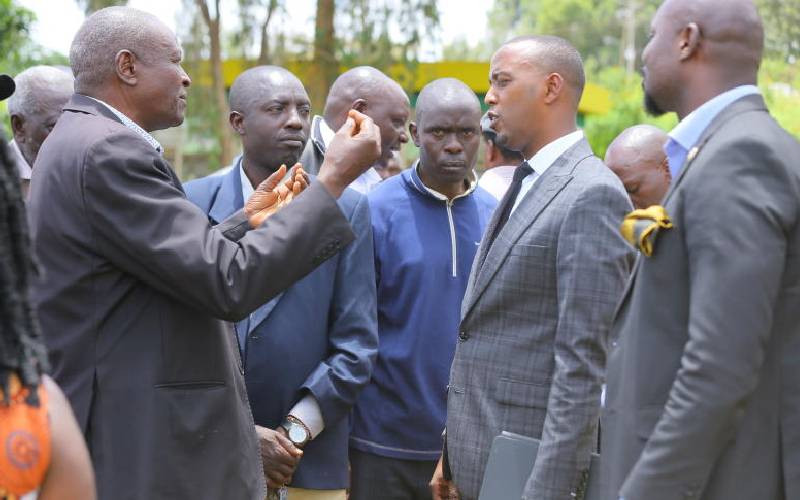 President William Ruto will hand over a 10-acre piece of land to National Housing Corporation to develop 2,000 affordable housing units in Nyamira County.
The President, who will be in Nyanza for a three-day development tour starting Thursday, will hand over the property secured jointly by the national and county governments.
Speaking in Kisii yesterday, State House Spokesperson Hussein Mohammed said the government has also introduced an affordable housing project at the local level.
He said 4,000 acres have been made available through clients' partnership "and this initiative will be funded by the national government and supported by the National Assembly and county governments to stimulate local economic growth through integration of local communities in the project implementation."The government also announced that farmers in Kisii and Nyamira counties were now receiving subsidised fertiliser.
Hussein was speaking in Kisii ahead of President Ruto's tour of Kisii and Nyamira counties, and Kuria East and West constituencies.
The president will inspect and commission several projects.
He will launch the upgrading of 33.3km Gekano-Rigoma-Amabuko road, the upgrading of Nyabohanse-Kumumwamu road and Nyaburu-Oboke-Ragwe road.
President Ruto will commission the Kegati Water project in Kisii and the proposed affordable housing project in Sironga, Nyamira County.
The President will also hold several meetings with leaders from Nyamira and Kisii counties at the Kisii State Lodge.
In Kisii County, 7,800 bags bags of fertiliser have been supplied to registered farmers, while Nyamira farmers got 2,780 bags.
On the president's agenda to digitize and automate government services, Hussein said 2,751 government services have been automated and are now available online on the e-Citizen portal.
"There are over 2,000 additional services already identified and now going through the process of digitisation and automation, giving assurance that the target to on-board 5,000 services by June 2023 will be met. This will increase citizen engagement by providing easier access and improved customer service, ensure growth in revenues by reducing costs and improve revenue collection and operational efficiencies," he said.
Some 3,200 virtual desktop infrastructure (VDI) devices have been deployed in 32 technical and vocational education and training institutions (TVETs) out of 94 TVETs identified in Phase I.
He said 64 TVETs are in the process of preparing their sites in readiness for deployment, adding that the government would deploy devices in 62 TVETs by June 2023 to enable youth in TVET institutions and those who have recently graduated access digital skills and digital jobs.
The spokesperson announced that as of Wednesday morning, a total of Sh24 billion had been disbursed through Hustler Fund, with a total repayment of Sh14.2 billion.
"The Women Enterprise Fund (WEF) has been re-modelled and incorporated onto the Hustler Fund platform. A voluntary savings component has also been introduced.," Hussein added.On the visit to the region, UDA officials led by coordinators Chweya Matoke and Migos Ogamba said they were aware of the government's commitment to develop the country
"We are confident that the visit to Kisii County will provide a valuable opportunity to discuss the issues and concerns that affect our people. We are aware of the challenges facing our county, from inadequate healthcare facilities to a lack of infrastructure and limited access to education," said Mr Matoke.
Ogamba said the visit to Kisii County will provide a stage for meaningful dialogue and collaboration between the county and the national governments to address local challenges.
Related Topics