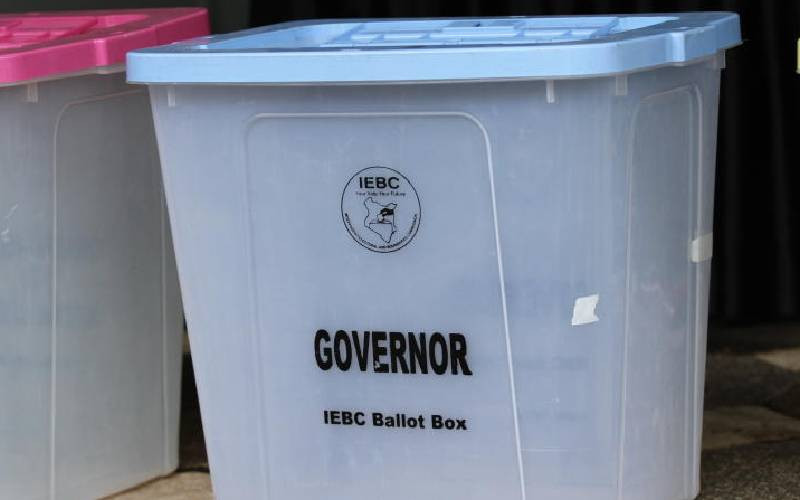 An Independent Electoral and Boundaries Commission (IEBC) official in the August 9 polls has testified against his employer in the Homa Bay governor election petition.
Dan Ojijo, who served as the presiding officer at Ongeti Primary polling station in Kochia ward, said the commission did not conduct a free and fair election at his polling station.
Ojijo was the first witness to appear before Justice Roselyne Aburili at the Homa Bay High Court. The case was filed by former Nairobi Governor Evans Kidero challenging the election of Governor Gladys Wanga. In the August 9 election, Wanga who contested on an ODM ticket won with 244,559 votes against Kidero's 154,182. He ran as an independent candidate.
Ojijo differed with IEBC's position of transparency of the election at Ongeti polling station. At the station, Wanga garnered 235 votes against Kidero's 115 votes.
The presiding officer said rowdy youths coerced him at gunpoint to alter the election results.
"Immediately after counting votes, a group of rowdy youths came and switched off the light. They intimidated me with a gun and coerced me to adopt results they had doctored," Ojijo said.
He added that his security was so compromised that he could not defy the command of the hooligans.
"I reported the matter to Rangwe Police Station. The election was not fair at Ongeti primary polling station," said Ojijo.
However, Wanga's lawyer Charles Kanjama, IEBC's lawyer Raymond Olendo and ODM's lawyer Godrick Okello put Ojijo to task to explain his allegations and claimed his statements were contradictory.
Kanjama argued that Ojijo was contradicting himself in the evidence since there was an affidavit he had sworn indicating the counting of votes was done peacefully.
"You had earlier indicated in your affidavit that the counting of votes was peaceful yet you again talk of violence in which you were coerced with a gun.
"Are you trying to mislead this court?" said Kanjama, who associated Ojijo with personal hatred against Wanga.
"There is a Twitter handle associated with the witness indicating, 'Wanga should not be allowed to go beyond where she is as a woman rep," Kanjama said.
But Ojijo denied the claims, saying he does not have a Twitter account.
Olendo further argued that Ojijo was wrong to testify against the IEBC because he had taken an oath not to do so when he was being recruited as a presiding officer.
"I have a document in which you took an oath not to testify against the IEBC. Why have you done so?" Olendo said.
He argued that Ojijo lacked a document in his affidavit to prove the alteration of election results at his polling station.
"You are talking of altered election results but there is no document in your affidavit to prove it," Olendo said.
Related Topics