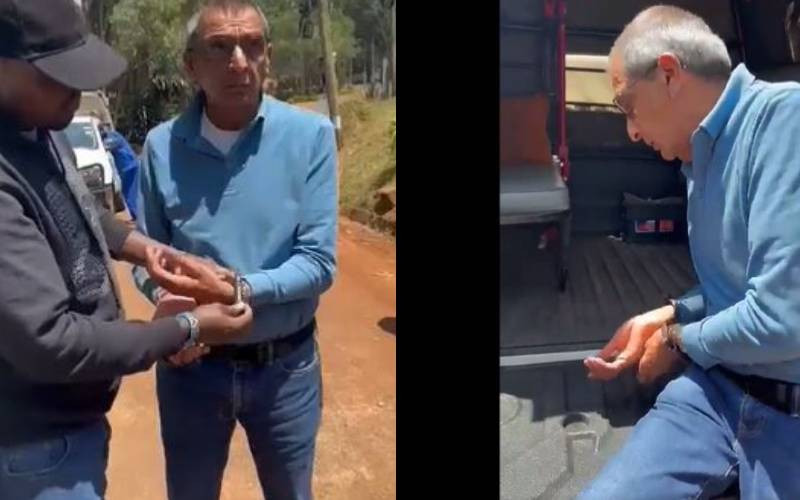 The Directorate of Public Affairs and Communications has issued a statement in response to the recent arrest of an elderly man amidst a land dispute in Lavington, Nairobi.
In response to the mounting public interest, the Judiciary has sought to provide clarity on the matter and the ongoing court proceedings, emphasising the need to prevent confusion in the public and media reports.
The Judiciary, in its statement dated August 20, 2023, addressed the current status of the case, which has been brought before the Environment and Land Courts.
"The Judiciary acknowledges recent media reports concerning a land dispute involving land parcels LR No. 209/7771/1, LR No. 209/7771/2, and LR No. 209/7771 in the Lavington area of Nairobi City County. Mahesh Kumar Bhatti and Anita Bhatti (applicants) have initiated civil proceedings in the Environment and Land Court at Milimani under case number ELC 0.8 E015 of 2023, titled Mahesh Kumar Bhatti and Anita Bhatti vs. Malkiat Singh Assi and Munir Ahmed Chowdhary," reads the statement in part.
Applicants' prayers
The applicants have requested certain actions from the court, notwithstanding the ongoing status of their case:
A declaration asserting the joint acquisition of title and ownership of the land parcel by the applicants through adverse possession. Registration of the applicants as joint proprietors of the land, replacing the respondents, with authorisation granted to the Deputy Registrar of the Court to complete all necessary paperwork, documents, and transfer forms, including applications for the consent of the Land Control Board, ensuring the applicants' registration as owners of the property, free from any encumbrances.
The applicants have further sought court orders to restrain the respondents, their agents, and associates from trespassing or interfering with their peaceful use, occupation, and possession of the aforementioned land parcels.
For clarity, the Judiciary has emphasised that no final determination or court order has so far been issued concerning the property. The case is scheduled for mention on September 18, 2023.
This clarification follows public concerns arising from a viral video that circulated on Saturday, August 19, depicting the man's arrest. In the video, police officers handcuffed the man and escorted him to a vehicle.
When questioned by the family, the officers asserted that they did not require a warrant for the arrest.
The incident prompted significant reactions on social media, with some online users questioning whether due process was followed before the arrest and urging relevant authorities to address the matter.
The Directorate of Criminal Investigations (DCI) responded on August 20, stating, "The Director of Public Prosecution, after evaluating the facts, directed the prosecution of Mahesh Kumar Bhatti and Anita Bhatti for the offense of forceful detainer, contrary to Section 91 as read with Section 36 of the Penal Code. The suspects have been summoned to appear before the court to answer to the charges."
The DCI further stated that "the truth will be revealed through the facts and evidence presented before the court in the upcoming days."
Related Topics