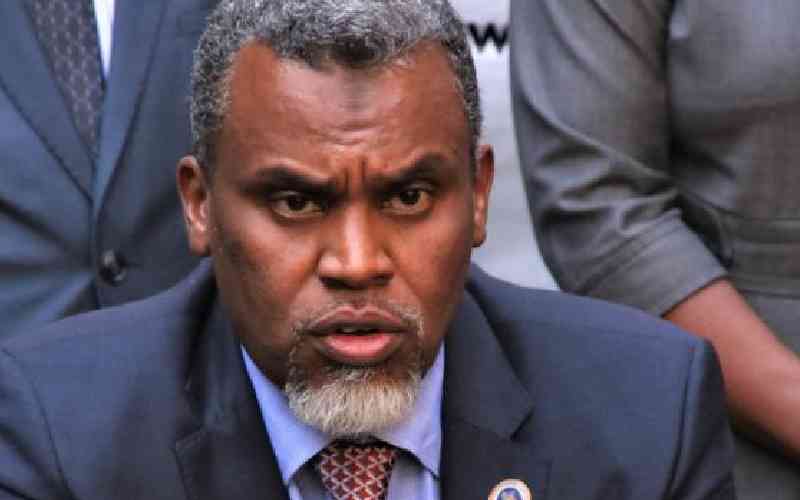 Director of Public Prosecutions Noordin Haji has landed the equally powerful but reclusive position of National Intelligence Service Director-General in President William Ruto's latest appointments.
Mr Haji, Kenya's ultimate prosecutor for the last six years, will replace Major-General (Rtd) Philip Kameru who is retiring after a two-term period which started in 2014.
Tuesday's changes came at a time when the DPP has been faulted for dropping cases initiated in the former regime of President Uhuru Kenyatta. Among the cases include the graft charge against Deputy President Rigathi Gachagua.
It also came at a time when Haji had turned himself into a political "fixer" of sorts, mediating in the background for a truce between President Ruto and Azimio leader Raila Odinga which led to the bipartisan talks.
An insider in Kenyatta's coterie of trusted allies, Haji quietly transitioned into Ruto's camp in the run-up to last year's election in protest of Kenyatta's preference for former Director of Criminal Investigations George Kinoti in their long-running beef.
Haji was at the time embroiled in a vicious fight with Kinoti over, among others, control of prosecution powers, and decision-making in the criminal, justice, law and order sector. Kinoti was among the first victim of Ruto's administration alongside former Inspector General of Police Hilary Mutyambai.
"Mr Noordin Haji returns to the NIS after a six-year sojourn as DPP. Before becoming the nation's apex public prosecutor, Mr Haji served as deputy director of the counter-organised crime unit within the NIS," Ruto said in a statement.
He was nominated DPP in March 2018 as part of former President Kenyatta's resolve to rejig the fight against corruption. His predecessor Keriako Tobiko was appointed a cabinet secretary.
Haji took the job with gusto, working closely with Kinoti to nail big fish in what came to be known as "kamata kamata" Friday arrests. Those days, Cabinet Secretaries, Principal Secretaries, CEOs, judges and top government officials slept with one eye open, especially on Friday.
However, a few years into their camaraderie, the pair broke up and dysfunction set in. They fought over decision-making, prosecutorial powers, and about active cases in court.
When Haji published guidelines on decision-to-charge and guidelines on anti-terrorism offences, court cases sprang up to oppose them.
In the run-up to the last polls, Haji froze all decisions to charge to give way to the electoral season. He claimed this was the best practice in established democracies. When the elections were over, however, the cases started collapsing one by one, the latest being the corruption case against former Roads CS Michael Kamau.
In all the cases which collapsed, Haji cited a lack of evidence to sustain prosecutions, saying there was no appropriate moment to drop cases.
"Over time, we discovered the DCI was not serious in availing concrete evidence for cases. That is why we had a push and pull between the two offices. We could not proceed with cases that didn't meet our threshold. They lacked sufficient evidence to be presented in court," he told The Standard.
Last year, he admitted that some cases collapsed long before the election and it was only a matter of time. He said, even so, he withdrew them upon seeking leave of court and using a section of the law that allows future prosecution once DCI obtains credible evidence.
"It just happens these individuals are prominent and the timing was probably not appropriate. If we had an ill motive, we would have done a great job and handled it in a different manner," he said.
On Gachagua's case, he said the lead investigator in the case recanted the original affidavit saying he was pressured into doing it.
If approved by Parliament, Haji will face the arduous task of guarding the country against terror attacks through concise and actionable intelligence and stabilising the country's political tensions through intelligence-guided advisories.
Kameru saw the country through two general elections but was accused of being partisanship in the last one. Ruto's party wrote to him complaining of political partisanship.
On Tuesday, May 16, 2023, President Ruto expressed his gratitude to Maj-Gen (Rtd) Kameru saying: "Under his watch, Kenya's premier civilian intelligence agency has made monumental strides in the fight against terrorism, transnational crimes and other major threats to our national and regional security. Maj-Gen (Rtd) Kameru has been at the forefront of guiding special security assignments and multi-agency coordination that have made Kenya, and indeed the region, more secure."
The Head of State said he had transmitted Haji's nomination to the National Assembly for vetting.
Haji holds a bachelor of laws and master of laws degrees from the University of Wales, Cardiff. He also holds a second Masters degree in national security policy from the Australian National University.
Related Topics