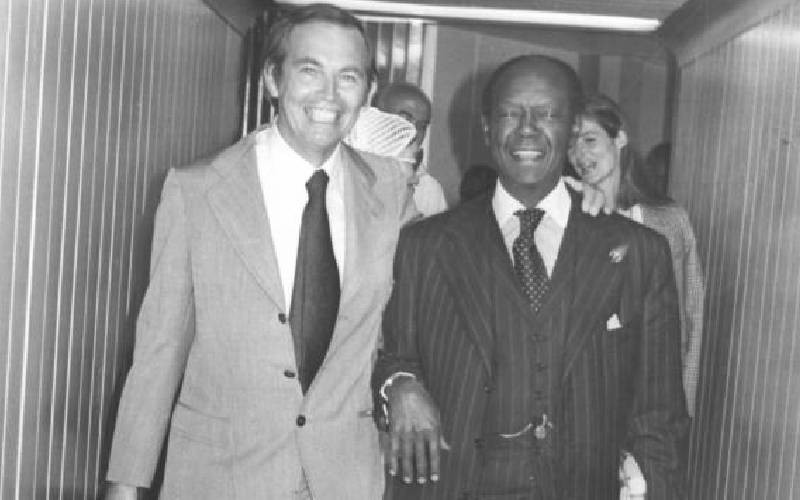 This week forty-five ago, a special visitor came to Kenya. He was South African-born Dr Christian Bernard, a world-famous heart surgeon who performed the world's first-ever successful heart transplant in the early 1970s.
He came at the invitation of then-Attorney General Charles Njonjo. At the time Kenya didn't allow visits to or from then apartheid South Africa. But somehow Njonjo managed to facilitate one by his unwanted guest.
Njonjo who attended college in South Africa had a special liking for the white-ruled country which was no friend of Kenya because of its racist policy and subjugation of African people. Indeed, the entire independent Africa wanted nothing to do with the southern African State.
Njonjo was perhaps the only black African with a soft spot for the apartheid country. He even had gone to the extent of suggesting the establishment of diplomatic ties with Pretoria but then Foreign Affairs Minister Dr Munyua Waiyaki told him point blank that it could only happen over his (Waiyaki's) dead body!
Secret mission
The visit by the South African surgeon was disguised as a private one and he came on a tourist visa. But word leaked much later that he had come to do a medical check-up on Mzee Jomo Kenyatta who was in advanced age and failing health.
The situation was so dire that at times the 89-year-old President would go into a coma for three days. As is a habit – a very bad one – in developing countries, Kenyans wouldn't be told that their President was temporarily incapacitated. The presidential press service would lie that he was "on a busy working holiday" down the coast but not accompany the clip with photographic evidence!
It is Njonjo who personally picked up Dr Bernard from the airport, posed for the cameras then sneaked him to Mombasa's State House where the President was.
To Njonjo's discomfort, the President had asked Minister Waiyaki who was a medical doctor to be present to hear what the heart specialist had to say.
In an interview years later Dr Waiyaki told me Mzee Kenyatta attentively listened to the South African surgeon and heard details of exactly what a transplant entailed. Then he asked a pointed question: "Doctor, I am now heading to 90 years. How many more years am I to live if I have the operation on my heart?"
"Mr President, you could live to be a 100 and more", replied Dr Bernard.
"Very well Doc", said Mzee. "Now I will request you to give me some time to consult with my family and the people in government. You will soon hear from me."
Dr Waiyaki told me that as soon as Njonjo and his visitor were off the door, Mzee Kenyatta whispered to him in vernacular: "Gati kau ni gagathiinje nyina ti Kenyatta! (The *** can go operate on his mother, not Kenyatta!)
Later as Mzee Kenyatta and Dr Waiyaki had lunch of mainly goat meat, the President mockingly said: "Doctors are a funny lot. They have even told me to stop eating meat. They want me to feed on greens only. Am I a goat?"
Told by Dr Waiyaki that lots of red meat was indeed harmful, Mzee laughed and said: "Then how come lions are the kings of the jungle feeding only on so much meat? And by the way, who told the doctors I want to live to be 100 and beyond?"
Indeed, Dr Waiyaki recalled Mzee Kenyatta's last meal was goat meat and a bowl of soup as he slept on the night of August 21, 1978, not to wake up again.
Mzee Kenyatta also valued quality time with members of his family. Sunday was the day he set aside for that and rarely allowed any distractions to come in between.
Retired senior policeman Essau Kioni who early in his career was deployed as a sentry at Mzee's Gatundu home recalls one Sunday afternoon when a cabinet minister showed up at the gate and said he wanted to meet the President.
Ordinarily, the sentries would have information on who Mzee was expecting which wasn't the case that day, hence Kioni telephoned to confirm. Mzee Kenyatta told him to tell the cabinet minister that "unless he was coming to report the blue skies were about to fall on earth, anything else could wait until Monday morning!" The sentry, of course, had to find polite words to pass the message to the minister.
The only exception Mzee allowed was on matters touching on security. For instance, in the aftermath of the famous June 1976 raid on Entebbe by Israeli commandos flying through Kenyan airspace, intelligence reports came on a Sunday that Uganda troops were planning to raid Kenya on a revenge mission.
Mzee Kenyatta immediately convened a National Security Council meeting under a mango tree at Gatundu home. The same had happened a few years earlier when cabinet minister Tom Mboya was shot dead in a city street and riots erupted in Nairobi and Kisumu.
In the same way Mzee valued his private space, so did he that of others. One of his family doctors, Dr Yusuf Dawood would recall a Sunday afternoon when Mzee Kenyatta wanted him to attend to a family member who was unwell. Mzee was very polite on the phone as he made the request.
"Mzee here", he said when the surgeon came on line. "Doc, I know Sunday is your day with family and I am very sorry to interrupt your routine. But please come down to Gatundu. If possible come with your family for lunch with us."
Dr Dawood recalled he was so humbled that the Head of State would so politely make a request when he only needed to give an order and it would be done.
At Gatundu Mzee Kenyatta made sure the surgeon's young kids were kept busy by his own children as he busied the surgeon's wife with a stroll around his rose garden.
Like old African men of his age, Mzee Kenyatta could at times be superstitious. He would never sleep at Nairobi State House. Reason: He said the place was invested by ghosts of colonial governors who used to live there.
His daughter Christine Wambui recalled to me that on the 10th anniversary of independence in 1973, the festivities went late into the evening and the President's handlers advised that he spend the night at State House. Mzee reluctantly obliged.
But only a few minutes in bed, he woke up and demanded he be driven to Gatundu. He confided in Mama Ngina that he was "hearing" strange voices screaming at him.
Head of the presidential escort Bernard Njiinu also told me of the day Mzee was about to leave Nakuru State House for Mombasa but the lead escort car had problems getting started. Told about it the President said that was a sign of bad omen ahead and decided to cancel the trip altogether.
Like most people his age, Mzee also loved the sight and touch of cash money and never believed in cashless paper.
Stanley Githunguri who headed the National Bank of Kenya recalled of time when Mzee sold to the bank the piece of land where the Nakuru branch is today. He telephoned Mzee to say he would be taking to him his payment cheque.
"No, no", Mzee told him. "I want the money in cash!"
The bank CEO had to deliver the cash in a huge envelope. Mzee removed the wads of notes, counted them one by one, and neatly re-packed them in the envelope.
"I think it is the smell of new banks-notes and his picture on them that gave him a kick", Githunguri joked.
That was Mzee and his life away from public glare.
Related Topics