For the second time running, journalists on Thursday bore the brunt of an apparent targeted police brutality.
Four journalists covering the opposition's demonstrations on March 30 sustained injuries and had their instruments damaged.
Among those injured were KTN News videographer Timon Abuna and his colleagues Eric Isinta (NTV) and Mauritius Oduor (Citizen), as well as a videographer attached to the Azimio la Umoja-One Kenya coalition party.
The four suffered head and facial injuries after police officers aimed and shot teargas canisters directly at them, using teargas launchers, the impact of which knocked all of them out.
Before and after that, they had been subjected to inhaling poisonous tear gas fumes, as police indiscriminately shot canisters at the journalists, even as the injured were being rushed to hospital.
Our crew had been trailing Azimio's convoy since they left Raila Odinga's Capitol Hill office, following it to Imara Daima estate.
For two hours, opposition protestors marched alongside the Azimio leadership peacefully, until they encountered police officers at Kware, near Donholm, as they attempted to join Outer Ring Road.
The police shot countless teargas canisters at the demonstrators, who responded by throwing stones at them.
The Azimio convoy, which had planned to head towards the Nairobi Central Business District (CBD), was forced to turn back.
All the while, videographers and photographers from several media houses were seated at different car roof racks, a vantage position that allows them to follow the events effectively.
Their position made them easy targets for the police, many of whom aimed directly at them. The same thing happened during Azimio's protests on Monday.
Several crews faced the wrath of police officers who were all too eager to shoot (like yesterday, the officers did not lob hand-held canisters, choosing to use launchers instead) teargas canisters at them.
A crew of The Standard had several canisters shot at them outside the Lang'ata Police Station. As perhaps confirmation of a targeted assault, the attack only happened after they had identified themselves as journalists.
One of the protestors who had hanged on The Standard's vehicle reportedly suffered a gunshot wound, bleeding as he clung on. The Standard could not confirm if he got medical attention as he fell off afterwards.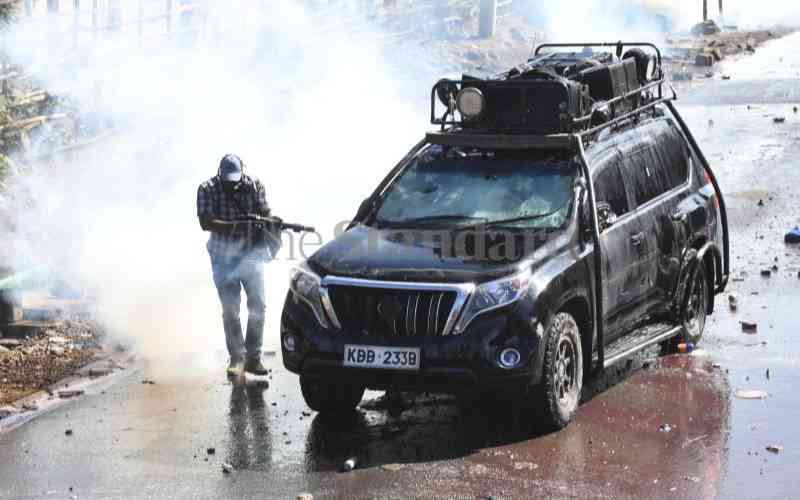 On the same day, several journalists from different media houses were assaulted, arrested and had their equipment damaged by police officers, who soaked them and their equipment using water cannons.
The government, as well as the police, stayed silent about the attack meted on journalists by police officers on Monday, March 27.
Scribes have also been assaulted, hurt and robbed by riotous protestors, an act the police, rightly, were quick to condemn.
Raila condemned the attack on journalists, even as he decried the brutality meted out against protesters. "It is very unfortunate that in all these skirmishes, the media is being targeted. Several journalists have been injured by teargas canisters. We also had information that they were planning to attack the Royal Media Services premises. I had that from very reliable sources," the former premier said.
He added: "We condemn acts of violence by the police. The police should always provide safe corridors for journalists to work," Kenya Union of Journalists Secretary-General Eric Oduor said, adding they would issue a comprehensive statement on yesterday's brutality.
The Azimio leader accused the police of being insensitive and callous observing that "What the police have done was never done during the darkest days of our history. This shows we are degenerating into a colonial state, where the life of the African did not matter at all..."
"There is no reason at all why police should use this kind of force against unarmed citizens, who were merely exercising their democratic rights," Raila added at a press briefing in Karen, stating that they were attacked as they were about to head to their homes," said Raila.
"The people were very happy to welcome us... we were just greeting them and leaving... Completely unprovoked, there was this vicious attack - teargas being thrown left, right and centre... and (the use of) live bullets. My car was hit seven times with live bullets," he added, later showing journalists where the said bullets had hit."
Earlier, his convoy had involved in a cat and mouse game as the police trailed him in city estates as the opposition chief, Narc Kenya leader Martha Karua, and her Wiper counterpart Kalonzo Musyoka addressed their supporters along the way.
Raila and his entourage had left his Capitol Hill office shortly after 1 PM with his convoy heading to the city centre, joining Mombasa Road and headed to Imara Daima, Mukuru Njenga, Pipeline and Kware Estates where he addressed large crowds.
"We have heard that the instructions were to target the media so that they do not cover the event," Kalonzo said.
While speaking about the attack on Raila's vehicle, Karua termed it a "clear assassination attempt". "This cowardly illegitimate regime must be stopped," she said. The events come a week after the Communication Authority tried to bar the media from broadcasting the opposition demos.
Unlike the previous protests, on Thursday, March 30, there were few police officers along the roads. However, their presence was felt in the various estates where they lobbed teargas canisters and used water cannons to disperse the protestors.
Women could be seen from high-rise buildings in the various estates pouring down water to the protestors so that they could wash their faces after being teargassed as they chanted anti-government slogans as they praised Raila.
Meanwhile, there city centre remained calm as anti-government protests entered the second week. Most of the shops and hotels were opened but parking slots in some areas remained deserted for the better part of the day.
Unlike other days, there was little police presence. For the better part of the day, Kibra slums remained quiet unlike other days as police patrolled all exits from the slums.
"There is life in town today compared to last week, some of us must come to town so that we can put the food on the table," a shoe shiner at Bus station said.
He added: "We are happy that several people are stopping over at our stalls for quick shine before heading to their workplaces, peace for us means a lot."
Matatu stages at the city centre were deserted and in some areas it took many hours for buses to fill as usual. Association of Matatu Operators chairman Jimal Ibrahim said the transport sector has been losing millions since the demonstrations started.
"We are so much affected and things are paralysed as witnessed. We hope our leaders will hear our pleas to approach some issues with common mwananchi in their minds," Ibrahim said.
He added: "Some investors in the sector have loans to service on daily basis that is why this demonstration is hurting."
Related Topics