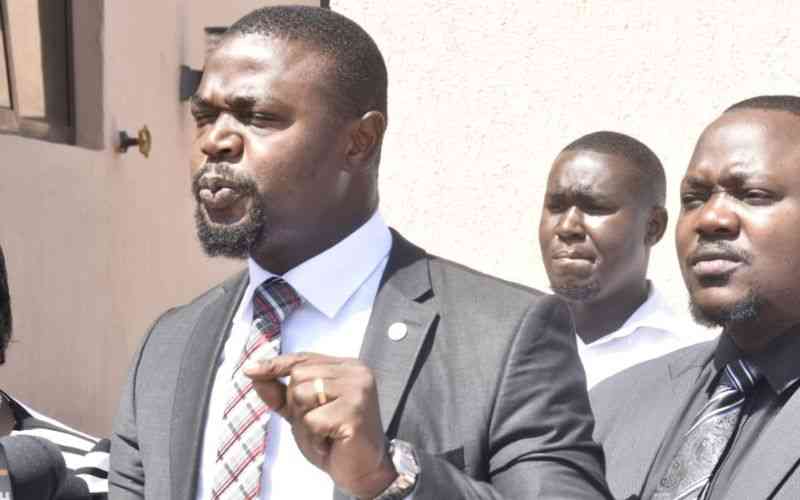 The Kenya Medical Practitioners, Pharmacists and Dentists Union (KMPDU) has protested shortage of medics in hospitals as thousands of qualified practitioners remain jobless with no prospects of employment.
In a press briefing on Tuesday, KMPDU Secretary-General Dr Davji Atella said about seven doctors have died from mental distress over lack of employment.
The outcry by KMPDU officials came after the death of Muoki Fred Wambua a medic from Machakos who died by suicide on January 27, 2023 in Kagundo, Machakos County after struggling for months to secure a job.
"In a suicide note to his sister, Dr Muoki described his desperation not being able to find employment and the sorrow of watching his poor family struggle months after completing his internship at Kagundo level four hospital," said Bhimji.
According to the KMPDU boss, the cost of training doctors in Kenya is high yet the unemployment gap continues to worsen operations in health facilities.
"It takes at least seven years to train as a medical doctor, including one year of compulsory internship. The cost of training one medical doctor ranges between Sh4 million to Sh5 million," said Bhimji.
He added;" It's sad that a nation would spend so much on training its greatest brains in one of the noblest professions and fail to utilise them to save the lives of Kenyans who continue to die from treatable illnesses."
The official alleged that those who are lucky to get jobs narrate horror stories of having to pay bribes as high as Sh400,000 or even give in to sexual demands for jobs.
Bhimji noted that the national and county governments have not hired doctors in the past six years despite the shortage of doctors in the hospitals.
"There is a severe shortage of medical officers, pharmacists and dentists in the public hospitals and our members are now forced to work long hours without annual leaves which is against the 40 hours per week that we signed in our 2017 Collective Bargaining Agreement (CBA)," said the official.
As a result, the medics demanded that the government to ntroduce annual recruitment of doctors just like it's done for the military, police officers and teachers until the country achieves the patient to doctor ratio of 1:1000 as recommended by World Health Organisation.
"We want centralized and standardized management of human resources for healthcare. If we did it for teachers and police, we must do it for doctors too to reduce the many industrial actions that are occasioned by incompetence by the county governments," said Bhimji.
The medics threatened to stage a nationwide strike starting March 5, 2023 if the government will not fully implement the 2017 CBA.
[email protected]
Related Topics