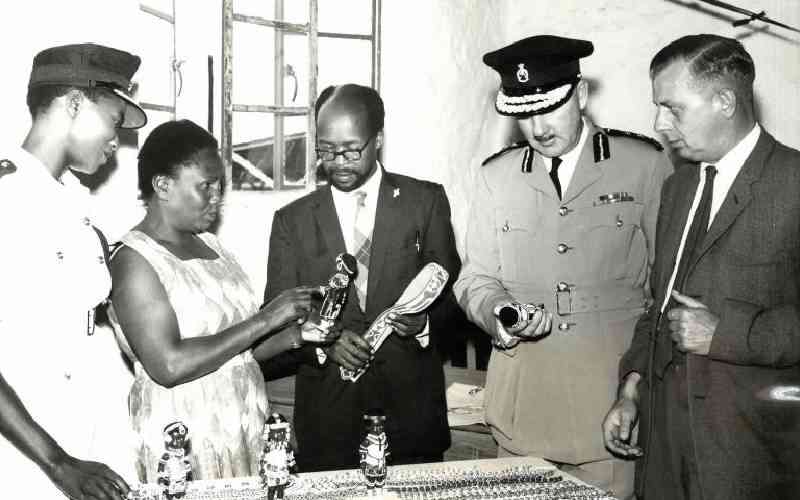 As Kenya battles official corruption with some leaders being accused of looting billions of taxpayers' money, it brings to mind a 60-year-old prophecy.
The prophecy that Kenya was getting freedom to loot in 1963 was made by a controversial pioneer kingpin from Mt Kenya, Bernard Mate.
Mate made history in 1957 when he floored, with assistance of some colonial administrators veterans, Eliud Mathu and Jeremiah Nyaga to become the elected member of the Legislative Council (Legco) for Central Kenya
His constituency then covered Meru, Tharaka Nithi, Embu, Kirinyaga, Nyeri, Laikipia, Kiambu and Murang'a. He garnered 51 percent of the vote against Elliud Mathu (30 per cent) and Nyagah (12 per cent).
Mate then allied himself with Kadu and is best remembered for dismissing Kanu's clarion call, Uhuru na Kazi, aptly describing it as Uhuru na Ntharano (freedom and grabbing).
The uncompromising Mate paid a heavy price when at independence, Kanu bigwigs strategised to neutrualise him.
The Edinburgh- and Makerere-trained teacher found his match in Jackson Angaine who undermined the installation of Njuri Ncheke council of elders which was sympathetic to the kingpin.
Predictably, Mate lost the 1963 General Election to a teacher, Simon Kamunde and only recaptured the seat in 1965 in a by-election after Kamunde died.
Although his peers among them Jaramogi Oginga lionised Mate for his unparalleled mastery of debate, his love for the tipple was his biggest undoing.
Stories are told of how the highly inebriated MP at times broke into Chogoria traditional jigs in Parliament where he is reported to have once answered a short call of nature after he blacked out and in the middle of his stupor felt the urge to relief himself which he did on one of the walls in the August House in 1967.
Some of his admirers however defend this "dissertation" of Parliament arguing that Mate urinated in Parliament to prove a point. At the time Meru had been invaded by Shifta militiamen who made the entire district so insecure that residents could not venture out at night.
In 1969, he was again whitewashed by a former councillor Elias "Rwigi" Marete but he sweetly revenged in 1974 when he recaptured the seat. Mate lost the seat in 1979 and faded away from politics as he retreated to the classroom.
Mate who died in penury in 1994 was immortalised after the Ena-Ishiara-Ciakariga-Tunyai-Meru road was named after him.
Related Topics