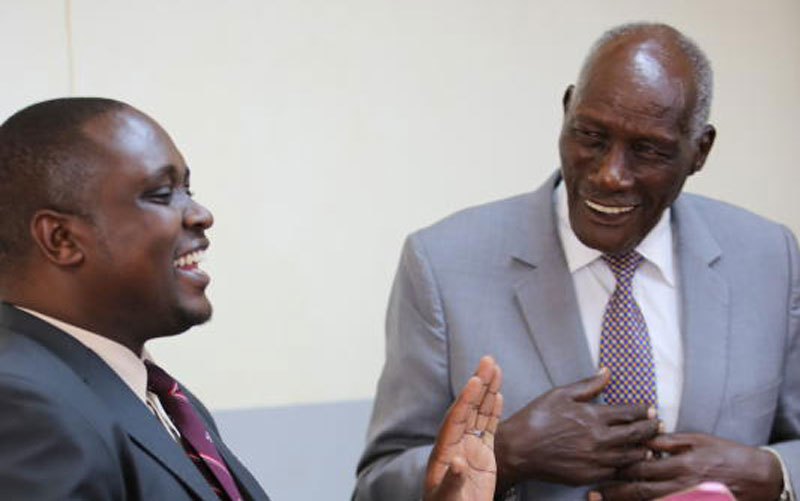 Mzee Jackson Kibor who died aged 88 led a controversial life and was never afraid to face off with his family, business partners or even the government.
And amid his controversies, Kibor was very expressive of his thoughts. He believed in the courts and did not shy from suing even his closest family members whenever he felt the need to.
At some point, Kibor, a politician, farmer, businessman and polygamist, was a common face in the corridors of courts in Eldoret.
If he was not suing his wives for divorce or demanding DNA tests on his children, he was suing business associates for swindling him, or fighting for property with his sons. Kibor owned thousands of acres in Trans Nzoia and Uasin Gishu counties. His properties, which he attributed to hard work, seemed to be the roots of some of his court battles.
In October 2017, a court in Eldoret dissolved Kibor's marriage to his second wife Mrs Josephine Jepkoech. The two had been married since February 1965.
He claimed in court papers that the 52-year-old marriage was irretrievable as the two parties were unwilling to resolve their differences amicably.
He cited desertion, cruelty and disrespect, while accusing Ms Jepkoech of, among other things, squandering the family's wealth and blocking him from accessing the family home.
Mary Kibor, who was Kibor's first wife, died in 2010.
Barely six months after divorcing his second wife, Mr Kibor was at it again, this time seeking to divorce his third wife, Mrs Naomi Jeptoo Kibor.
The court, in December 2018, granted Mr Kibor his wish to part ways with the woman he had been married to for 43 years. Kibor and Ms Jeptoo had tied the knot in 1975 under the Nandi customary law.
Kibor claimed that Jeptoo was cruel, hostile and had denied him his conjugal rights. He also accused Ms Jeptoo, together with their six children, of deserting their matrimonial home.
Immediately after his second divorce, Kibor declared he could now "add weight" after the mother of his six sons was "removed from" his life.
"I'm happy the court has removed this woman from my life. I will now add weight. Life will be good. She even used to pinch me," Kibor told the media after the court's ruling.
He told the court that he was living in fear of his wife and children, one of whom, he said, had threatened him during a dispute over land.
During the dispute in March 2017, Kibor had drawn his gun in a foiled bid to shoot his son Mr Ezekiel Kibor.
In a recorded video that was circulated on social media, Kibor was seen pulling the trigger while moving closer to the son.
Mr Ezekiel later reported the matter to the police, saying his father tried to shoot him with a pistol as he worked on a disputed 200-acre land in Kabenes within Uasin Gishu County.
Kibor later refuted the claims, saying his sons wanted to attack him and that he was acting in self-defence.
When the case came up in court, Kibor claimed it was his sons who tried to attack him with machetes and that they got scared when he removed his gun. Besides facing the charge of attempting to kill his son, the court was also told that Mr Kibor had refused to cooperate with police officers by failing to give his fingerprints.
Following his action, police repossessed Kibor's gun.
On May 19, 2020, a day after winning a court battle against his six sons over ownership of his 1,250-acre land in Uasin Gishu, Kibor claimed his life was in danger.
He asked police to give him back the Ceska pistol that had been confiscated from him after the altercation with his son. He had been a legal gun owner since 1982.
Kibor claimed his sons, who he described as stubborn, were determined to harm him after he defeated them in the court case.
Kibor and his sons were embroiled in a land dispute that saw him go to court in 2016 to block the transfer of 1,250 acres to his sons.
In his application, Kibor accused his six sons Mr Elkana Kipleting, Mr Evans Kipkosgei, Mr Ezekiel Kipng'etich, Mr Eric Kipchumba, Mr Raymond Kibitok and Mr Edwin Kipkoech, plus nine servants of fraudulently subdividing and processing titles for his land.
He told the court the defendants, including his sons, were trespassing on his property.
Although the Environment and Land Court had on May 6, 2020 ruled in favour of Kibor, the Court of Appeal, in March last year, allowed the sons to maintain the land until the appeal was heard and determined.
The sons had told the Appeal court that they had been in occupation of the suit properties for many years.
But with their strained relationship with their father, they argued that shortly after delivery of the impugned judgment, Kibor had become hostile and caused their arrest and incarceration at Soy police station on account of alleged trespass.
In 2018, Kibor took a businessman to court for allegedly defrauding him of wheat worth Sh2.7 million. He argued that the businessman conned him of the produce despite agreeing to pay Sh3,100 for each of the 872 bags of wheat.
However, the businessman argued that he had sent the money to Kibor's son.
Although some cases are still pending in court, the family says Kibor had in his last days called his family and asked for forgiveness and also forgave his family for any wrong.
Related Topics