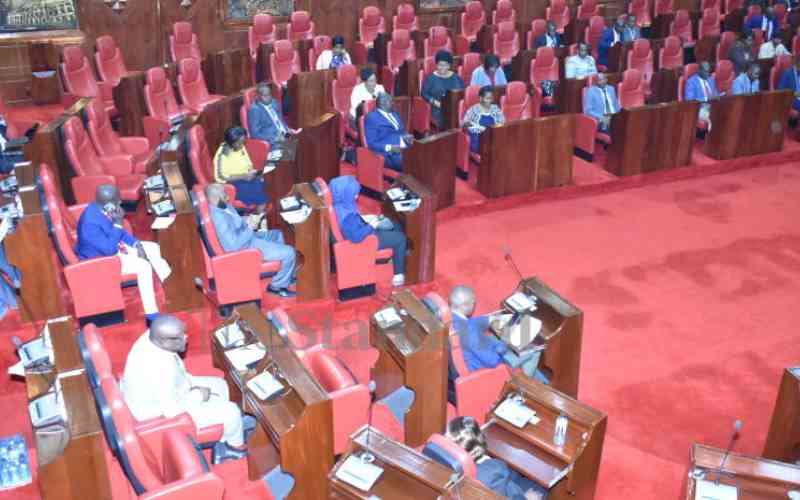 The Nairobi County Assembly is in a spot over suspicious spending on domestic and foreign travel.
According to the Auditor General report for the financial year 2021-2022, the assembly paid for the travel but the same was not supported by payment vouchers or approvals.
"The statement of receipts and payments reflects domestic and foreign travels and subsistence expenditure of Sh232,676,772 and Sh94,389,615 respectively," the reports read in part.
"However, the expenditure totaling to Sh55,561,463 comprising of Sh31,024,950 and Sh24,536,513 in respect to foreign and domestic travels was not supported with payment vouchers, approvals and travel passes."
The Auditor General Nancy Gathungu further said that the assembly paid Sh22,484,184 in the said period but the recipients were not disclosed.
The report showed that the assembly paid legal and arbitration fees amounting to Sh68,960,112 however the payment vouchers amounting to Sh28,138,268 in support of the expenditure were not provided for audit.
"The management procured various conference facilities and air tickets through requests for quotations totaling to Sh5,345,750 and Sh914,880 respectively. However, only one bidder in each award responded instead of at least three as required by the law," the Auditor General stated.
Another key area highlighted in the report is the payment vouchers provided for audit totaling to Sh40,821,844 in respect of interim and final fee notes for various advocates.
"Payments totaling to Sh2,027,418 relating to basic salaries were made outside the salary processing account whose recipients could not be confirmed," reads the report.
Related Topics