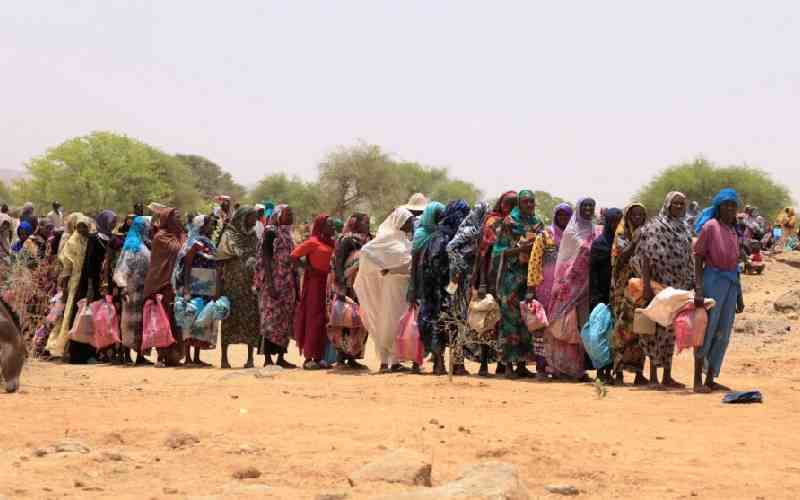 The U.N. Secretary-General said Tuesday that the world is failing to live up to its commitments to protect civilians, an obligation that is preserved in international humanitarian law.
"Peace is the best form of protection," Antonio Guterres told a meeting of the U.N. Security Council on the topic. "We must intensify our efforts to prevent conflict, protect civilians, preserve peace and find political solutions to war."
Guterres said where there is war, countries must comply with international humanitarian law.
"It is the difference between life and death. Between restraint and anarchy. Between losing ourselves in horror and retaining our humanity," he said. "But law overlooked is law undermined."
People board a bus as they evacuate southern Khartoum, Sudan, on May 23, 2023, after a one-week cease-fire between Sudan's army and paramilitary Rapid Support Forces officially started.
Guterres pointed to the newest conflict, the five-week-old fighting between rival generals in Sudan, that has already killed hundreds, displaced more than a million and sent 250,000 people fleeing to neighboring countries. Food, water and fuel are all in short supply, and the country's health system is on the brink of collapse.
"Terrible as this picture is, it is far from being unique," he said, noting that 100 million people worldwide were forcibly displaced last year due to war, violence, human rights abuses or persecution.
Guterres said the effects of war include rising food insecurity — more than 117 million people faced acute hunger in 2022 primarily because of war and instability.
"This is an outrage," the U.N. chief said. "Damage to critical infrastructure hampers food production, blocks distribution and deprives people of safe water."
He welcomed the recent extension for another 60 days of the Black Sea Grain Initiative, which has facilitated the export of more than 30 million metric tons of Ukrainian grain via Black Sea routes since early August, stabilizing world food prices since Russia's 2022 invasion of Ukraine.
Guterres said he hopes outstanding issues with the implementation of a corresponding deal for Russia's export of food and fertilizer will be resolved.
Swiss President Alain Berset chaired the debate, the signature event of his government's month-long presidency of the 15-nation Security Council. More than 80 countries were scheduled to speak.
"Respect for international humanitarian law is a priority for all of us here around this table," Berset told council members. "And of course, as the depository of the Geneva Conventions and the seat of the ICRC [International Committee of the Red Cross], we feel in particular bound by this humanitarian imperative."
Switzerland is the depository for the Geneva Conventions and their Additional Protocols, which are the basis for international humanitarian law. They set out the rules of armed conflict and seek to protect civilians, medical and aid workers, the wounded and prisoners of war.
Switzerland is also home to the ICRC, which has protection of civilians at the core of its mandate.
"ICRC's figures show that the number of non-international armed conflicts has, over the past 20 years, more than tripled from less than 30 to over 90," ICRC President Mirjana Spoljaric said. "Many of these are protracted conflicts, bringing ceaseless suffering — suffering that is compounded by climate shocks, food insecurity and economic hardship."
She said civilians suffer attacks, threats and political stalemates that make peace less achievable.
"Compliance with the law protects civilians. It prevents violations and abuses," she said. "It reduces the cost of war while maintaining a pathway to cease-fire agreements, and eventually to lasting peace, functioning economies, and a healthy natural environment."
Related Topics