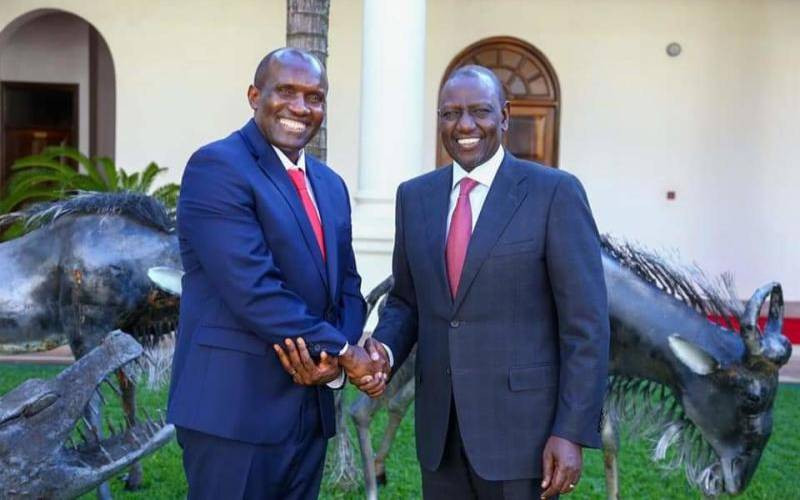 A team of investors led by US-based Kenyan businessman Julius Mwale met President William Ruto at State House on Thursday.
Their discussions revolved around investments in healthcare, agriculture and infrastructure.
The talks came amid sustained efforts to revive Mumias Sugar. A firm associated with Mr Mwale was the highest bidder during the miller's lease bid in 2021.
The Thursday meeting was attended by Prime Cabinet Secretary Musalia Mudavadi and other leaders from Western.
Mwale is also the founder of Mwale Medical and Technology City (MMTC) in Butere besides various business ventures in the US. After the meeting, MMTC released a statement saying: "We thank President William Ruto for hosting our delegation at State House. The delegation of international investors held a strategic consultative meeting under the stewardship of the President in fostering partnerships in healthcare, agriculture and infrastructure."
This is the third time Mwale is meeting President Ruto since he was sworn in late last year.
"Our team was privileged to interact with government and business leaders," said Mwale.
Tumaz and Tumaz, a firm associated with Mwale, emerged as top bidder with Sh27.6 billion for a 20-year lease in the bidding which had attracted eight bidders.
Uganda-based Sarrai Group was awarded the tender despite being the lowest bidder at Sh6 billion.
President Ruto has since promised a new investor to revive the ailing sugar miller.
"The government will pay all debt for sugar factories. I will bring a new investor for Mumias and oversee the revival. I know all these people and issues. The current issues at Mumias cannot be allowed to continue," said Ruto at Kakamega State Lodge early this year.
Related Topics