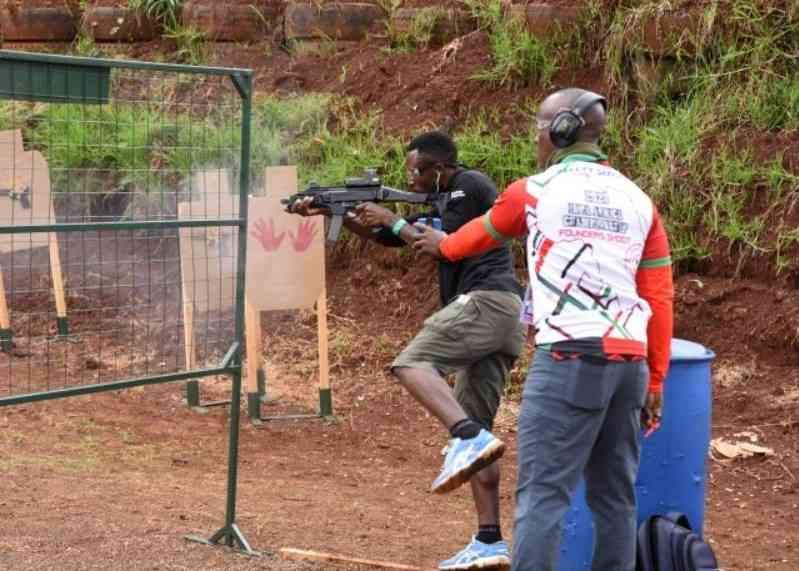 Patrick Milimu braved a spirited opposition from Bonface Muthengi and Pistol Caliber Carbine (PCC) finest Geoffrey Pesa to emerge the overall winner in the Rifle only match held over the weekend at the Kirigiti shooting range.
The International Practical Shooting Confederation (IPSC) rifle fete that was fiercely contested brought together a total of 30 participants from the Disciplined Forces and civilian Licensed Firearm Holders, and was organized by the National Gun Owners Association (NGAO-K) Sports Federation.
Patrick Milimu's strong hand coupled with a strong eye dominance put him in a perfect spot to clinch the overall win after amassing 462.6 match points, narrowly edging out Boniface Muthengi by a point to 2nd position with a score of 461.2 points. Master Geoffrey Pesa came in 3rd with 428.2 points.
GSU's Husna Ramadhan's refined marksmanship saw her clinch the top lady spot.
A total of 3 participants were disqualified for various offences during the match.
Away from home, Lady Luck came smiling at Recce finest expert shooter Belinda Akoth after she won a Glock Pistol in the just concluded 2023 Wilson Combat Rocky Mountain Regional IDPA Championship in Colorado, USA.
The showpiece saw Judy Wanja's star continue to shine after emerging second in the International Category, which was won by Master Ezequiel Ignacio Salzano of Argentina. Compatriots Simon Munyua, Grace Wanjiku, (prisons) Chief Inspector Joel Warui (GSU) too gave their best and represented the country well.
Back home it was celebrations galore for ATPU's Moses Rono and Mohammed Omar after earning a promotion to the much coveted Master Category.
"Kindly join me in celebrating the new crop of Masters, Experts, Sharp Shooters and Marks Men who got promoted by IDPA HQ after the good performance they recorded in our last Ngao-Kenya sanctioned match, held at the Kirigiti shooting range," said competitions captain Master Sammy Onyango.
List of promoted participants
Mosses Rono SSP EX TO MASTER
Mohammad Omar ESP EX- TO MASTER
Alice Njuguna ESP NV TO MARKS MAN
Resiato Poreka ESP MM TO SHARP SHOOTER
Agnes Wangeci ESP SS TO EXPERT
James Odell SSP MM TO SHARP SHOOTER
Stephen Karenju CCP NV TO MARKS MAN
Irene Wanjiku CCP MM TO SHARP SHOOTER
Erastus Nyamai PCC NV TO MARKSMAN
Patrick Milimu PCC SS TO EXPERT
Related Topics