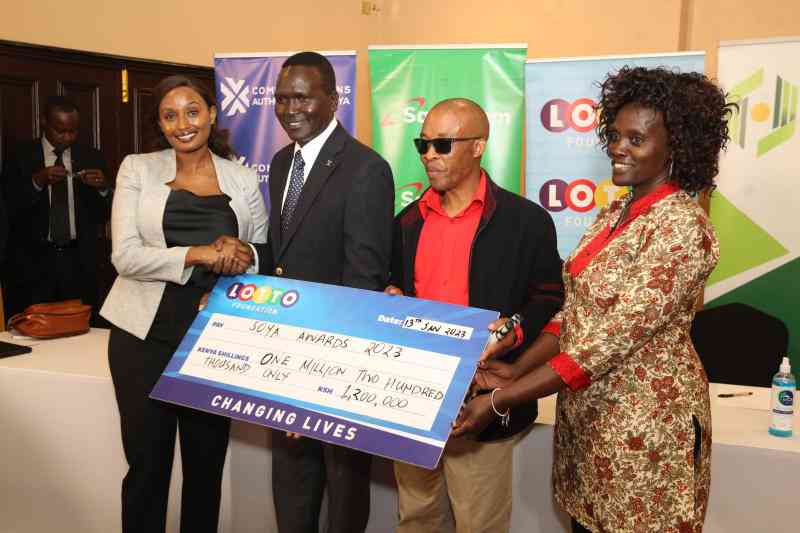 It's all systems go as the 2022 Sports Personality of the Year Awards (Soya) gala is set to be held at the Kenyatta International Convention Centre on January 20.
Speaking yesterday when sponsors handing in their sponsorships cheques in Nairobi, Soya panel chairman Chris Mbaisi said the 19th edition of the annual gala awards will feature only nine categories instead of the usual 16.
He attributed the inconvenience to tough economic times that have been brought about by the Covid-19 pandemic.
"We will not honour seven other awards, but we hope to include them in the future gala once we become financially stable," Mbaisi said.
Out of the dropped seven, Mbaisi said the schools category was exceptional in that the games were started late and hurriedly (mid year in 2022) hence the selection panel could not come up with concrete data that could merit awards in the area.
Soya founder Paul Tergat said the gala awards were changed from December to January in order to give local sportsmen and women the motivation, enthusiasm and vigour to start the season on a positive note.
"This is the only event in Kenya that brings champions of all federations under one roof, just to celebrate them," Tergat said.
Tergat's sentiments were supported by Lotto Foundation CEO Joan Mwaura who urged Kenyan athletes to run clean.
Mwaura said Lotto is ready to support a category in Soya that will honour resilient sportsmen and women who put in the hardwork to grow in the game from juniors to seniors and resort to giving back to sports upon retirement.
Soya yesterday received a boost in Nairobi from various sponsors including the Communication Authority of Kenya, the Lotto Foundation, Safaricom PLC, Kenya Pipeline, NSSF and Kenya Academy of Sports.
Triple world record holder Henry Wanyoike who also atttended the event yesterday said he was eyeing Paralympics marathon gold which is the only medal missing in his already decorated cabinet.
The world championship record holder in men's 5000m, 10,000m and the marathon has already started training for the 2024 Paris Paralympics where he aims to take part in the men's 42km contest.
"I want to win this race with a championship record," Wanyoike told Standard Sports.
Wanyoike and his coach cum guide, Paul Kihuba, are currently training at Muguga Hills in Kikuyu with the Kikuyu Athletics Reborn Club members.
The duo will proceed to Germany to take part in the Hannover Marathon on March 26 that will also act as Paris 2024 Paralympics qualifiers.
"I'm aiming to shatter record in this race, I will be more than happy to own all the Paralympics gold medals that are available for me to win," the 2004 Soya winner said.
Related Topics