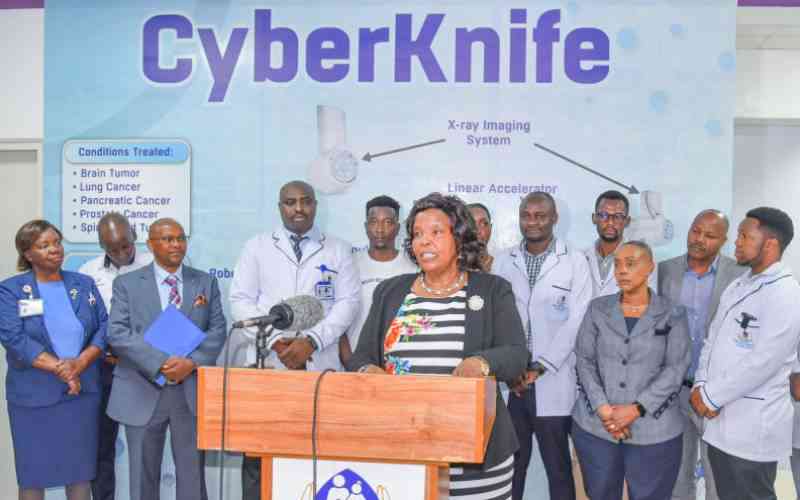 When the Kenyatta University Teaching, Referral and Research Hospital (KUTRRH) launched the CyberKnife System last May, the institution claimed to have made history by acquiring the device, which they said was the first and only fully robotic radiotherapy device for cancer treatment.
On Wednesday, the institution announced that it had made another medical milestone after treating its first patient for CyberKnife surgery.
Speaking after witnessing the first treatment, KUTRRH Chairperson Prof Olive Mugenda said the journey to commissioning the machine was "a major milestone for the hospital and Kenya."
"As part of the strategic plan, for the last few years, we have harboured the need to move into high-precision treatment. KUTRRH finally managed to acquire the machine, which is a bold but best decision for Kenya in efforts to decrease outbound medical tourism and increase inbound medical tourism," said Mugenda.
Following the announcement, there was a lot of curiosity as Kenyans sought to understand what this meant for them. What exactly is the CyberKnife? What does it treat? Is it really a game-changer in Kenya's medical history?
The Health & Science team embarked on a mission to answer some of these questions.
Understanding cancer treatments
The effects of cancer treatment can be physically and emotionally taxing, especially when treatment damages healthy cells, as in the case of chemotherapy and conventional radiation therapy.
In conventional surgical treatment of cancer, surrounding healthy tissue has to be removed making recovery time painful or longer for the patient. In some cases, entire organs have to be removed, completely altering the life of the patient who now has to live without the organ.
In some instances, a cancer patient has an otherwise inoperable or surgically complex tumour. Without special technology that can make treatment more precise and less invasive, the treatment options become limited.
One treatment option that meets this delicate balance is radiosurgery as it minimises radiation exposure to healthy tissue surrounding the tumor. There are various forms of radiosurgery. However, one form of radiosurgery is very precise; stereotactic radiosurgery.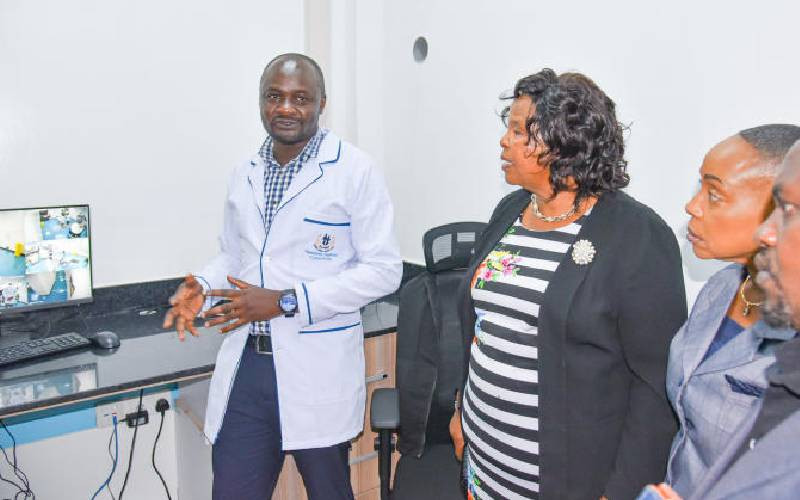 Stereotactic radiosurgery, according to the University of Washington Medical Centre (UW Medicine), is a very precise form of therapeutic radiation that can be used to treat abnormalities in the brain and spine, including cancer, epilepsy, trigeminal neuralgia and arteriovenous malformations.
It may also be called stereotactic body radiation therapy (SBRT) or stereotactic ablative radiotherapy (SABR) when used outside the central nervous system (CNS).
This is not to be confused with stereotactic radiotherapy. The difference between the two has to do with the intensity and duration of the radiation treatments. Stereotactic radiosurgery delivers radiation at a very high intensity, all at once, to a small area while stereotactic radiotherapy delivers radiation at different times, at lower intensities and to larger areas.
While stereotactic radiotherapy has the ability to easily treat very large tumour volumes by treating over time during cell division, stereotactic radiosurgery treats brain disorders with a precise delivery of a single high dose of radiation in a one-day session.
While radiosurgery is a more precise and less invasive treatment than radiotherapy, it is limited to the head and neck since these areas can be immobilised to completely restrict the head's movement, permitting the most precise and accurate treatment.
Radiosurgery administers a higher-intensity dose of radiation and is not used to treat areas of the body other than the head because there is no way to immobilise the body to treat a tumor in one session.
However, according to UW Medicine, stereotactic radiotherapy, which administers lower-intensity doses of radiation during a period of days or weeks, may be administered in the body with the assistance of removable masks and frames that achieve some degree of lesser mobilisation.
Radiotherapy is one of the most widely used therapies for cancer treatment, according to the International Atomic Energy Agency. It consists of using radiation in its different forms (X-rays, Gamma rays, particles) to harm and destroy tumours, either alone or in combination with surgery or chemotherapy.
According to the US National Cancer Institute, there are two types of radiation therapy: external beam radiation (teletherapy, given by an external radiation source at a distance from the body) and internal radiation therapy (brachytherapy).
Brachytherapy is a cancer treatment in which radioactive material sealed inside a seed, pellet, wire, or capsule is implanted in the body using a needle or catheter. The radiation given off by this source damages the DNA of nearby cancer cells. Brachytherapy is most commonly used to treat prostate cancer but can also be used to treat cancers of the head and neck, breast, cervix, and eye.
When cancer treatment is prescribed for a patient, a radiation oncologist makes decisions regarding the type of system that is best suited to treat that specific cancer patient.
As we had mentioned before, stereotactic radiotherapy, which is an external radiation therapy, involves focusing the radiation beam on a small area and delivering very high doses.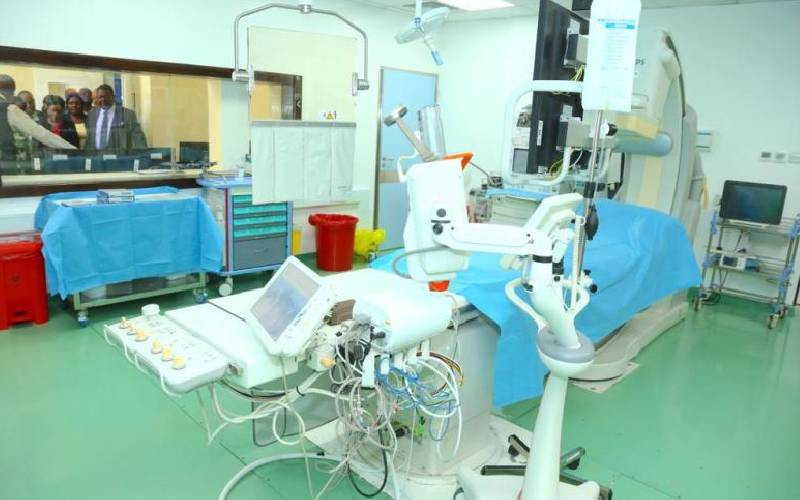 CyberKnife or Gamma Knife?
In radiotherapy, two treatment options stand out; Gamma Knife, which, according to our research online, is available in various health facilities in Kenya; and CyberKnife, which was launched this year at KUTTRH.
Gamma Knife and CyberKnife are not actual knives as the name might suggest but machines that deliver forms of radiation therapy. Both are registered trademarks.
The Gamma Knife trademark belongs to Elekta Group, which produces today's Gamma Knife based on a prototype developed in 1967 by Lars Leksell, a Swedish physician and professor of neurosurgery.
The CyberKnife trademark belongs to Accuray Incorporated in the United States. It was invented by John Adler, an American neurosurgeon and his colleagues at Stanford Health Care, Stanford University in the USA in 1994.
Both treatments use focused beams of high radiation to tumours with precision. The Summit Cancer Centre (SCC) in the US summarises the Gamma Knife approach as delivering multiple, beams of radioactive cobalt applied simultaneously to the target area or tumour location.
The CyberKnife system, on the other hand, applies a single, high-energy photon beam directly to the exact target area, according to SCC. This means it combines stereotactic radiosurgery (SRS) and stereotactic body radiation therapy (SBRT) giving it an advantage over the Gamma Knife because tumours in the whole body can be treated and is not limited to the skull and the cervical spine.
The CyberKnife allows patients to lie comfortably on the procedure table without anaesthesia while the robotic arm moves, without touching them, to treat all areas of the tumour. Unlike the Gamma Knife, which might need local anaesthesia, no anaesthesia is administered to patients using the CyberKnife.
The CyberKnife machine has a robotic arm that is able to move around the patient, accessing the tumor from different angles which increases the number of positions that it can administer radiation to the treatment area. This also minimises the dose to healthy tissue surrounding the treatment area.
According to Ruth Wambui Manyangi, the CyberKnife manager at KUTTRH says CyberKnife not only has the advantage of mobility, but it offers more precision because it is image-guided.
"When you're treating a tumour, you always want to hit the target. This machine can take an image say after every 10 seconds or 1 minute which gives the exact position of the organs," she says.
Dr Tracy Irura, a Radiation Oncologist explains that the CyberKnife's precision comes from its ability to track, detect and correct for tumor and patient movement throughout thetreatment thanks to its 6D tracking system.
"It is able to follow every movement with sub-millimetre accuracy. The robotic arm is able to shoot beam lens from all the six dimensions," she says.
Our conclusion? CyberKnife may or may not be the only precise treatment (with sub-millimeter accuracy) available for cancer. However, it is a precise and non-invasive treatment that can offer more options.
The CyberKnife System at KUTTRH is definitely a first in medical facilities in Kenya and Sub-Saharan Africa.
Related Topics