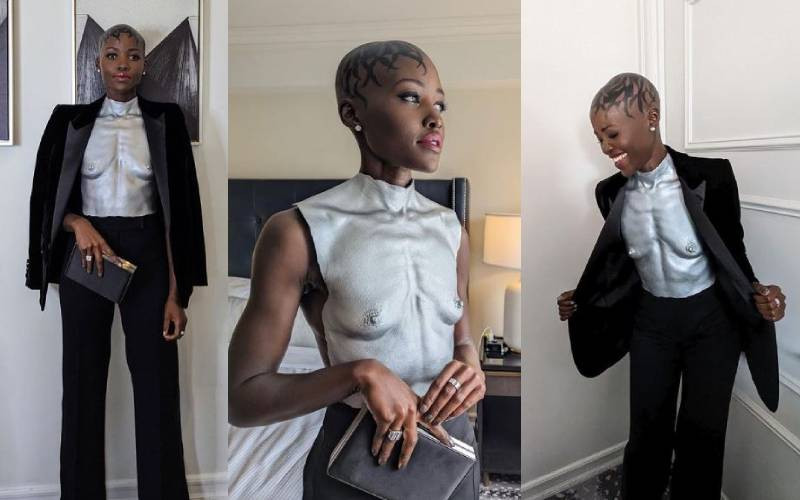 The appearance of actress Lupita Nyong'o at the Tony Awards 2023 has caused a stir among fans and critics alike due to her choice of outfit—a breast plate created by Pakistani artist and fashion designer Misha Japanwala.
The 40-year-old actress stunned in the eye-catching silver garment, which was meticulously molded to her own body, highlighting her bust and midriff.
Complementing the breast plate, Nyong'o opted for chic black flared trousers, completing her avant-garde ensemble.
Taking to Instagram, Nyong'o captioned the photos of her outfit with gratitude and empowerment.
She expressed being "honored, humbled, strengthened, and energized" to wear the breastplate created by Japanwala.
According to Nyong'o, the designer's work is deeply rooted in the rejection and deconstruction of external shame associated with one's body.
She aims to create a realistic representation of individuals' bodies, embracing their existence freely and celebrating their physicality.
View this post on Instagram
A post shared by Lupita Nyong'o (@lupitanyongo)
The photos quickly went viral, eliciting a range of reactions from fans and social media users.
Some praised Nyong'o for her fashion choice, appreciating the creativity and empowerment behind the statement.
Jackie Beat, for instance, lauded the outfit as "AMAZING" and a creative response to unjust societal double standards.
However, not all responses were positive. Some fans criticized the outfit as classless, unflattering, or undignified.
Rebecca Bardot, while acknowledging Lupita Nyong'o's beauty, found the outfit unflattering. Another Instagram user described it as "tacky" and lacking dignity.
However, supporters of the actress defended her artistic expression, emphasizing the subjective nature of art and fashion. They argued that the outfit conveyed a powerful message about censorship and societal standards.
One user highlighted the significance of the breast plate as a statement against body shame, pointing out that it challenges the double standard of censoring the real female body while accepting a molded representation of the same form.
Another supporter praised the outfit as iconic and commended Nyong'o's continuous boundary-pushing in the realm of fashion.
Among the comments, Njoki criticized those who failed to grasp the intention behind the outfit, urging them to read the caption and understand the aim of combating body shame.
Similarly, Iquomma celebrated the outfit as a fabulous celebration of the human body, particularly in the context of breast cancer treatment, expressing a desire to embrace such boldness after undergoing her own treatment.
The controversy surrounding Lupita Nyong'o's breast plate outfit at the Tony Awards 2023 highlights the ongoing debate over art, fashion, body acceptance, and societal expectations.
While the outfit has garnered both praise and criticism, it undeniably sparked a conversation about body shame, empowerment, and the boundaries of artistic expression.
Related Topics