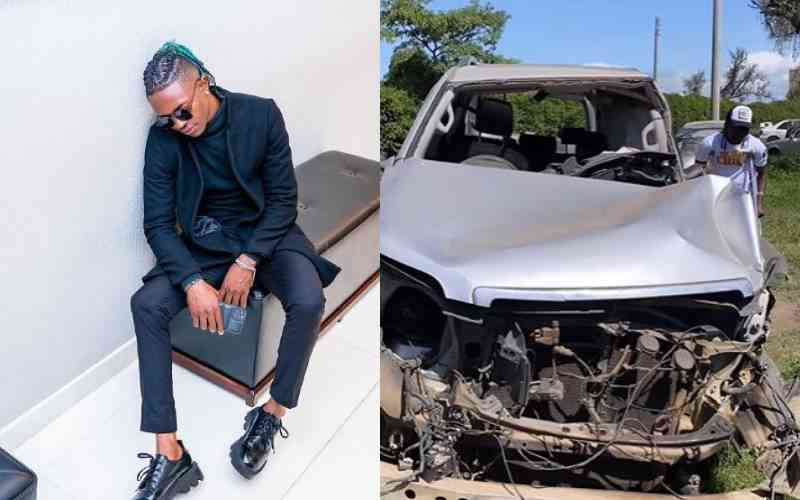 Gospel singer Mr Seed has taken to social media to remember his late friend, photographer Ambrose Khan.
Pouring out his heart on his Instagram stories, the singer said that the day is etched on his mind, as it is the day that he lost his dear friend Khan in a road accident.
"29/4/2023 is the day I will never forget in my life. I lost a brother, one humble guy I knew. Till now I still can't believe it. RIP Khan. We spent the whole day with you, we had good times and we shared a lot of ideas and future plans that day. We will miss you man.
Despite fracturing his pelvic and suffering other injuries, Mr Seed managed to escort his friend to his final resting place.
Pictures doing rounds on social media showed Mr Seed in tears with his head bowed throughout the ceremony. In his post, he explained that attending Khan's burial broke him to pieces and couldn't hold himself back.
"This day I was so broken man, I'm still heartbroken. May God give your family and all your friends' peace and God comfort each and every one who knew you bro. till we meet again bro, continue resting in peace Khan," he wrote.
Mr Seed went on to extend condolences messages to families and friends of victims that had lost their lives in the accident, not forgetting his friends.
"To other families that lost their loved ones, I am sending you my condolences. May God take care of you and bring you peace…And to my friends that tulikuwa pamoja, I pray for proper healing kwenyu, health wise and mental wise," he concluded.
A few days ago, Mr Seed and his wife Nimo went to view the wreckage of the vehicle he was in and couldn't stop thanking God for a second chance at life.
"I'm feeling extra grateful for the gift of life. You all know about the accident that happened, and it made me realize how precious every moment is. I'm grateful for my family, my friends, my fans and for every day that I get to spend & interact with them. It may look impossible from human eyes how I came out alive," he wrote.
View this post on Instagram
A post shared by MR.SEED ?? (@mrseedofficial)
Out of his near death experience, Mr Seed went back to the studio and recorded a song thanking God for life.
"A friend that understands your tears is much more important than one who only understands your smile," captioned the video of him in studio alongside his musical counterpart Bahati.
DK Kwenye Beat who was also an occupant of the same vehicle Mr Seed was in too took to social media to extend condolences message to the victims' families and friends.
"I am deeply saddened by the aftermath of the accident which has been an arduous and agonizing journey for all involved. My heartfelt condolences to the families who have lost their loved ones and my thoughts and prayers are with my fellow brothers in Christ, Ambrose who passed away. I pray that God will bring comfort and healing to all of you during this challenging time, enveloping you with caring and warm hands," read part of his post.
Related Topics