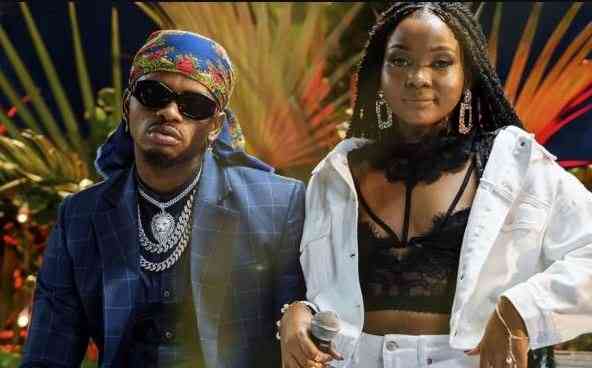 In the whirlwind of romantic entanglements surrounding Tanzanian superstar Diamond Platinumz, one woman stands out for her unwavering commitment.
Rising star Zuchu has made it clear that she will not abandon Diamond, even amidst his indiscretions with Ghanaian musician Francine Koffie, popularly known as Fantana.
The story of Diamond, Fantana, and Zuchu took a dramatic turn when a video capturing an intimate moment between Diamond and Fantana surfaced. Their passionate kiss was captured on camera, leaving fans stunned.
To add fuel to the fire, Diamond boldly declared it as the best kiss he had ever experienced, intensifying the intrigue surrounding their relationship.
In the midst of the ensuing chaos and public scrutiny, Zuchu's response emerged as a surprise to many.
In a widely circulated video, Zuchu addressed the issue of infidelity and revealed her stance on the matter. She expressed that she would not leave a man simply for cheating on her, a statement that challenged societal expectations and norms.
Zuchu explained her perspective, emphasizing that her tolerance for cheating depends on the circumstances.
While she acknowledged that cheating in front of her eyes would be unforgivable, she drew a clear line when it came to bringing the extramarital affair into their shared home.
Zuchu made it known that as long as her partner's infidelity remained distant and separate from their domestic life, she would accept his actions and expect him to return to her.
"Kucheat inategemea. Huwezi cheat mbele ya macho yangu na nikakusamehe, hilo haliwezi tokea. Lakini ati umecheat zako huko makampepaka, nyumbani tukiwa wawili hehehe. Wewe utakaa huko na baby wako, tutakutana nyumbani," Zuchu stated with a mix of humor
In yet another video that emerged, Zuchu shed light on the unique dynamics between her and Diamond. She expressed her satisfaction with their relationship, highlighting the special bond they share.
Zuchu revealed that Diamond constantly fulfills her desires and wishes, demonstrating his commitment to her needs and wants.
During one of her stage performances, Zuchu playfully disclosed an intriguing detail about Diamond's initial attraction to her. She revealed that he was captivated by her breasts, in contrast to Fantana's renowned curvaceous figure.
Through a lively rendition, Zuchu sang, "Simba anasema ndio kila ninalomwambia, bwana anasema ndio kila ninalomwambia. Moyo humuenda mbio jina akilisikia. Hajafwata makalio amekipenda kifua," playfully suggesting that Diamond's affection for her transcended physical attributes.
Related Topics