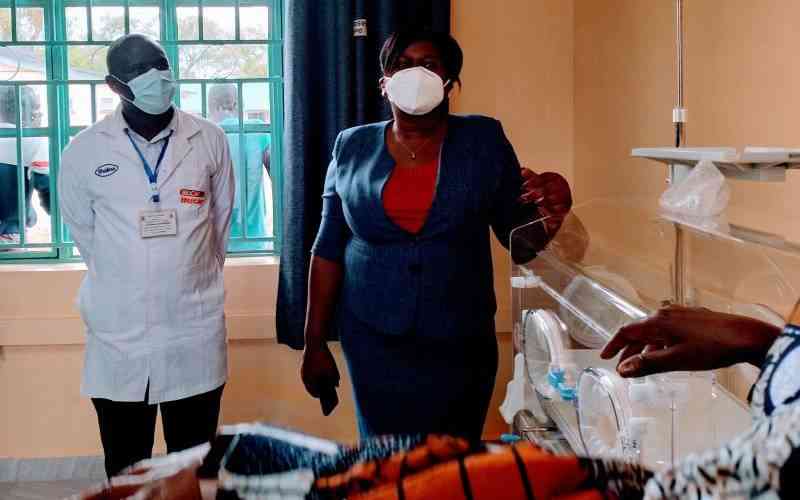 At Okok Education Centre in Homa Bay County, students - both boys and girls - gathered to mark International Menstruation Day which was graced by Sarah Malit, Homa Bay County Executive for Gender and Sports.
Microphone in hand, Ms Malit called out for girls who were on their menstrual periods to come forth. Immediately, five girls stepped forward.
Elizabeth Onyango, one of the five girls, spoke to the crowd saying, "I am not dirty, and I do not have to stay at home, and if by mistake I stain my clothes, everyone should realise that I am just being a girl."
According to Malit, this move, despite being awkward, was to show that, "It is a normal thing for a girl to menstruate, and all she needs is to keep reminding herself that this normal body function meant she transited to maturity, and engaging in sex could lead to unwanted pregnancy."
Malik noted that Homa Bay county has recorded the highest number of teenage pregnancies for the longest time since the Covid-19 pandemic.
According a Unicef study titled 'Unintended Pregnancy, and HIV among Adolescents and Young People 2020', 33 per cent of girls aged between 15 and 19 years in the county are either mothers or expectant. This has been connected to a lack of awareness of menstrual matters.
Edwina Ocholo, Principal of Okok Secondary School, said they try to ensure that nothing is taboo in matters of menstruation.
Sex for pads leads to quasi-prostitution, drop-outs
She said issues are presented and discussed openly, while teachers, parents, guardians, men, boys, and girls share their concerns openly.
"The open discussions means that I can now get access to sanitary pads, practice hygiene during menstruation, guard myself against pregnancy, and most importantly I do not have to skip school when I am menstruating," said Doreen Aketch, a student.
Besides menstrual stigma, Homa Bay is among 15 counties that have poor maternal, neonatal and adolescent health indicators.
These are attributed to poor access to and low-quality health services, socio-economic and cultural behaviours, and the unavailability of medical equipment to support optimal maternal health.
Add to this a record maternal death figure of 583 per 100,000 live births and 119 deaths per 1,000 live births, a reason why Homa Bay reportedly has a 98.7% of total maternal deaths in the country.
"It is an uphill task to address all these issues as a county, which is why we are always looking out for partnerships that will drive our agenda," says Homa Bay Governor Gladys Wanga.
"We are grateful to partners like Safaricom and M-Pesa Foundation who have since 2021 continued to be a big supporter of our health issues through the Uzazi Salama programme," she adds.
Uzazi Salama is a two-year programme that aims to promote access to quality health services in Homa Bay County, targeting 86,469 women and children under 5 years in Ndhiwa and Suba sub-counties.
According to Fredrick Majiwa of Amref Health Africa, which is the implementing partner, Uzazi Salama is designed to address three health challenges in the two sub-counties, including delays and challenges in a patient's journey.
Mr Majiwa says the Foundation has constructed and fully equipped a Sh36.9 million maternal newborn, and child healthcare unit under the Uzazi Salama initiative. It was completed and handed over to the county government in December 2022.
On teenage pregnancies, Majiwa says that the Uzazi Salama initiative has looped in the issue of menstrual hygiene, tapping on research that it is closely tied to the issue.
He explains that while menstruation is not a direct contributor to teenage pregnancies, it can be a contributing factor because girls who cannot afford sanitary pads may resort to transactional sex for pads.
"Close to 90,000 women of reproductive age and children under 5 years are targeted to benefit from the Sh150 million programme, out of which many of the target group now have access to quality maternal health services," says Gladys Michael, Ndhiwa sub-county strategy and focal point officer.
"The fully equipped newborn unit targeting an increase in the accommodation numbers from 10 babies to 35 babies, has been a blessing to expectant mothers" she adds.
Nicholas Ng'ang'a, Chairperson of M-Pesa Foundation says the programme is set to benefit 90,000 women and children under 5 years. Other partners in the Uzazi Salama project include PharmAccess Africa, Action Aid and Pathfinder International.
"The collaboration with the county government of Homa Bay and Amref Health Africa will ensure we reach as many residents as possible, especially in remote areas," says Ng'ang'a.
County Director of Health, Amos Dullo, says M-Pesa Foundation also runs a telemedicine programme known as Daktari Smart that is providing specialist care in remote areas. The Foundation is also constructing a 65-bed maternal unit in Migori County in partnership with Kenya Relief.
Related Topics