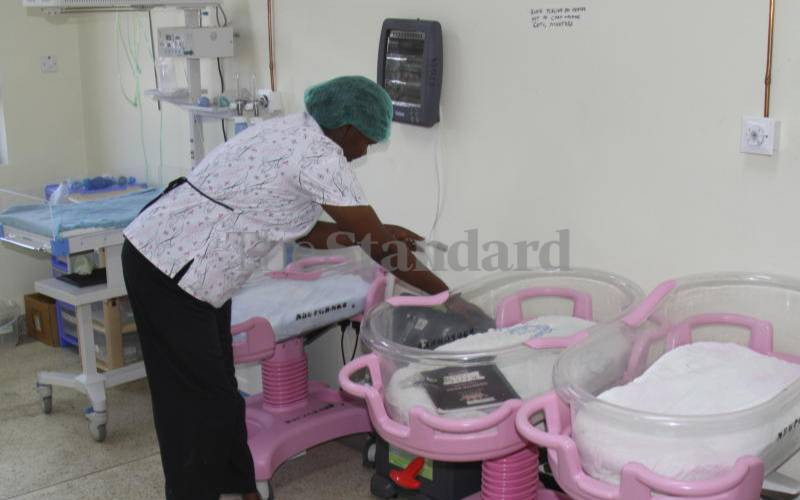 When Susan Akinyi was expecting her first child, she was in perfect health and was looking forward to a smooth and crisis-free delivery.
However, while going about her household chores when she was 7 months pregnant, she started experiencing sharp pains that felt like labour pains from her first birth.
When she started bleeding shortly after, she was rushed from her home in Heshima Estate, Nakuru to the nearby Provincial General Hospital (PGH) where she delivered a baby who weighed 900 grammes.
Fortunately, at the hospital's Margaret Kenyatta Mother-Baby Wing, the pre-term baby was put in an incubator.
"I feared for my life because of the excessive bleeding. I feel proud to have survived, and seeing my child grow gives me satisfaction," Akinyi says.
According to the deputy in charge of the neonatal unit at Margaret Kenyatta Baby Wing, Shekilah Cheruiyot, an average of 40 babies receive care at the unit every day, three-quarters of who are preterm and requiring specialised care.
"Most neonatal deaths are attributed to very low weight, more so children born below 800 grammes because they are not able to breathe and their main organs are yet to develop fully to survive outside their mother's womb," she says.
According to recently released data from the Kenya Demographic Health Survey (KDHS) 2022, preterm birth in Kenya is estimated at 12 per 100 live births.
Additional data by the Ministry of Health reveals that prematurity contributes to at least 40 to 50 per cent of deaths of children under five years.
While pre-term births are attributed to various factors namely infection, consumption of alcohol, malnutrition, smoking and diseases like hypertension, recent research by Kenya Medical Research Institute (Kemri) found a link between (periodontal) gum disease in pregnancy and premature births.
Dr Linus Ndegwa, the lead researcher in the study conducted in Kisumu explains that periodontal disease is a chronic bacterial infection that affects the gums (tooth-supporting structures).
"At least 10 per cent of pregnant women in Kenya suffer from gum inflammation because of hormonal imbalances during pregnancy, which if not managed may be associated with premature births," explains Dr Ndegwa.
In a pregnant woman, the infection can stimulate fetal inflammatory response syndrome (FIRS), a condition where the umbilical cord gets inflamed leading to premature labour and resulting in a preterm birth or miscarriage.
The Kemri study was aimed at investigating the association between gum disease and delivery outcomes. At least 426 pregnant women participated in the study. Of the pregnant women who were followed up to delivery using a cut-off of 37 weeks, 44 births (13 per cent) were preterm and 294 were term deliveries.
In the study, 39 out of the 44 women who delivered preterm babies had mild periodontal disease, while 3 had moderate disease and 2 had severe periodontal disease.
The study also examined the antenatal care (ANC) booklets of women attending clinics and found that they were not getting their teeth and gums checked.
Dr Ndegwa recommends dental visits during pregnancy to prevent preterm births caused by periodontal disease, regretting that despite the ANC checklist having oral health assessment, pregnant women rarely get checked.
It is through ANC clinics that the disease at earlier stages, mostly during the first and second trimesters, before it gets severe during the third trimester.
"ANC checklist has oral health, an area that is highly ignored, only for it to result in more causes of women giving birth prematurely," he advises, adding that preconception visits to the dentists are also encouraged.
Dr Dennis Miskellah, an obstetrician and gynaecologist at the Kenyatta National Hospital (KNH) explains that preterm is a birth that occurs before 37 weeks of gestation.
Preterm birth is clustered into various categories for instance extreme (born below 28 weeks), moderate (between 28 and 32 weeks), with less preterm birth occurring at 32 to 37 weeks.
The leading cause of preterm births according to the expert is infections in the birth canal, which results in inflammation in the membrane of the womb.
Preterm births are also triggered by hypertension complications, whereby a pregnant woman develops pre-eclampsia or eclampsia.
"In such a circumstance, doctors are forced to have the baby terminated to save the life of the mother," Dr Miskellah says.
Other contributors to preterm births include trauma from bleeding, complications of diabetes, and medicines which trigger premature labour.
Whereas any pregnant woman is likely to suffer a preterm birth, Dr Miskellah observes that those from low social economic status are at a higher risk of preterm births.
"A poor pregnant woman is likely to give birth too soon, because they do not have money for check-ups, cannot get supplements to handle anaemia, and they also suffer malnutrition and myriads of infections," says the doctor.
"When a pregnant woman has pain that mimics labour pains, they should be checked, and not stay at home. For example, when the amniotic fluids are experienced, they should get to the hospital quickly for review," Dr Miskellah says.
"If a woman comes early enough to hospital, doctors are able to knock off the labour and give her drugs to make the labour disappear for a few days, and also give her drugs to help the foetus to mature the lungs, for stability in breathing"
Also, delivery of preterm babies, according to Miskellah, should be conducted in a hospital with neonatal facilities like neonatal ICUs, to save the lives of the babies as they are predisposed to myriads of complications.
"Preterm babies should be delivered in Level 4, 5 and referral hospitals where there are equipment and specialists to take care of the babies," notes Dr Miskellah.
But even as Kenya fights neonatal deaths, Miskellah observes that there is a big disparity in the survival of babies born too soon in the West and Africa. For instance, in America, a baby born at 22 weeks of pregnancy survives whereas at KNH the best who has survived was at 28 weeks.
"In our setup, 60 per cent of babies born below 30 weeks die. Number one cause of deaths is infections, mostly due to sharing of beddings which cause them infections, and they also suffer breathing difficulties," says Dr Miskellah.
At a Glance
Preterm births in numbers - 15 million
Preterm babies born annually worldwide - 1 out of 10
Babies born preterm - 1 million
Children who die because of preterm-related complications - 12 per 100 live births
Preterm babies born in Kenya - 93,000
Preterm babies born each year in Kenya - 13,300
Children under five who die each year due to direct preterm complications in Kenya
Source: KDHS 2022, MoH, WHO
Related Topics