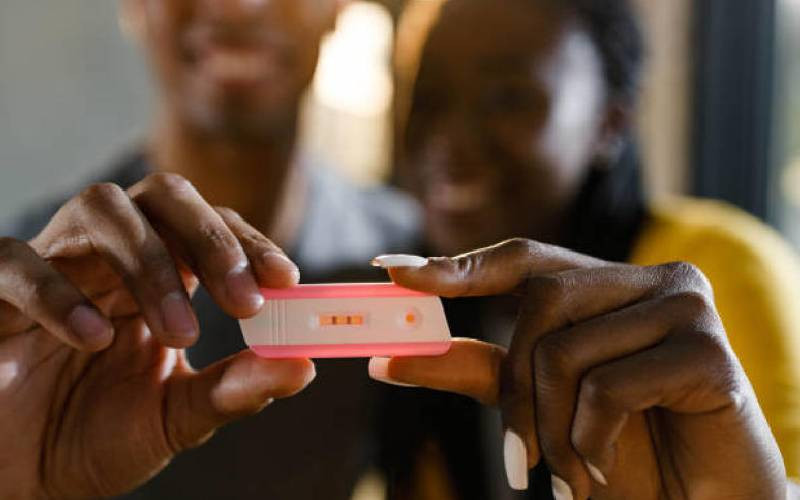 Ms Philomena Kitony was excited to be a mother but what followed was a pure pain of employment­.
Kitony, who is a teacher, knew that her employer, Holy Spirit Secondary School board, would allow her take time off to nurse her newborn.
Section 29 of the Constitution provides that a female employee is entitled to fully paid three month's maternity leave. This is separate from the annual leave provided by labour laws.
In addition, Section 5 (3) (a) of the Constitution bars employers from discriminating or harassing female employees on the basis of pregnancy.
On the other hand, the law allows men to take two weeks leave. Meanwhile, there is a court case seeking to have men get equal leave time as women. Kitony's pregnancy turned to be an employment curse as she was unceremoniously fired on April 5, 2017.
She now joins a growing list of women who have been discriminated by employers because of being pregnant.
For the discrimination, Employment and Labour Relations Court (ELRC) awarded her Sh500,000.
At the same time, Justice Bernard Odongo ordered the school to pay her Sh52,000 for unfair termination.
In her case, Kitony narrated that she became pregnant in 2016. She was hired the same year. Court record reads that she was employed on May 9, 2016 and her probation was to end on September 5, 2016.
According to her case, she requested the board in April 2017 to allow her take maternity leave for three months. She was to come back in July of the same year.
Instead of granting her the leave, the board terminated her employment.
To support her case, Kitony produced in court a birth certificate indicating that she delivered on April 18, 2017. At the same time, she produced antenatal reviews that ran from November 2016 as evidence.
Kitony told the court that she was orally told that the school no longer needed her services and never gave her a reason why the board had opted to relieve her of employment.
The board, however, denied that it had kicked Kitony out because she was pregnant. It claimed that she was shown the door as students consistently performed poorly in her subjects.
It also accused her of being cruel to her students adding that she took leave during a school holiday. The board denied that it was aware that she was pregnancy.
No evidence
However, Justice Odongo found that the board had not produced evidence to support its allegations against her. According to the judge, there was no communication indicating that she required to improve in her work nor was there a warning that she had performed poorly. He was of the view that there was no performance targets that had been agreed upon between the teacher and her employer. "In view of the foregoing, it is highly improbable that the the respondent's decision to terminate the claimant can reasonably be accounted for on the grounds of poor performance and incompatibility. It appears more probable than not that the decision was motivated by factors other than the claimant's performance and temperament," said Justice Odongo.
Justice Odongo said the school's allegation that it was not aware of the pregnancy was farfetched as a she requested for leave two weeks before she gave birth.
He said: "The court infers from the totality of the foregoing that the respondent's witness was most likely trying to feign ignorance of the claimant's condition in a bid to advance the respondent's defense that it terminated the claimant for reasons other than pregnancy. However, the termination of employment coming within hours of the claimant's request for maternity leave leads to the irresistible conclusion that she lost her job because of her pregnancy condition."
Justice James Rika is of the view that although the Employment Act, 2007 provides compensation as a remedy for pregnancy discrimination, this cannot be enough. According to him, a female employee suffers more whenever she is fired because of pregnancy.
Equal opportunity
In another case filed by a woman codenamed GMV against Bank of Africa (BOA), Justice Rika said that the Labour Court ought to go beyond the 12 months' salary compensation, as a pregnant woman will suffer from discrimination in a addition to a denial of her dignity, and right to have equal opportunity in economic and social sphere.
He said that if an employer decides to kick out an employee because of pregnancy, he or she assaults the society.
"Pregnancy is an important component of the basic right of all persons to have a family under Article 45, and to the extent that the family is the natural and fundamental unit of the society, and the necessary basis of social order, an employment decision that denigrates pregnancy, is an assault on the society as a whole," said Justice Rika.
He awarded GMV Sh4.47 million after finding that she was technically edged out by her employer as she was pregnant with a second child.
She narrated that the bank's managing director had told her that she was too expensive to keep due to her pregnancy. Justice Rika said that GMV was a top-notch banker. He stated that she would not have been selected to lead premium banking if she did not possess the requisite credentials.
However, the judge stated, her employer appraised her poorly but only at the time she became pregnant in order to justify its decision to terminate her employment.
According to him, it was puzzling that five years she had worked, it was only at the time she got her first child and second one that her employer gave her poor scores.
The lender employed GMV in 2010 as a relationship manager. The bank then promoted her to be in charge of its elite banking. In the case, the bank produced evidence on her appraisal, one of which it alleged there was a complaint about her. However, the judge observed that at the time BOA indicated the complaint had been lodged, GMV was on leave.
"The court is persuaded that the falsity of these explanations by the respondent in justifying termination, enables the Court to infer that the employer was dissembling to cover up for a discriminatory purpose. It was not by mere chance that poor performance, in a career spanning five years, was co-incidental to the claimant's two pregnancies," said Justice Rika.
Justice Rika stated that a woman belongs to special class of employees who are protected by the labour law and the Constitution. He added that they also enjoy international rights guaranteed by the International Labour Organization (ILO).
In yet another case where employers have been sanctioned for discriminating female employee over pregnancy, Justice Byrum Ongaya ordered a Chinese company to pay its former female employee USD18,750 and Sh375,000 for firing her after she shared with her colleagues that she was expectant.
On July 21, 2017 Lu Yini excitedly shared with her colleagues some good news that she was expectant. The Chinese national is married to a Kenyan and worked at Avic Intl. Beinjing (E.A) Co Limited. After she revealed that she was pregnant, her the firm's executive director Chen Zhe summoned her, requiring an explanation why she had not reported her pregnancy status to him.
Yini responded that she had not even informed her family members until it was confirmed that the unborn child was developing well. According to the court judgment, Zhe allegedly raised his voice and informed her that she was no longer permitted to use the company vehicle, as Avic could not take risks of her pregnancy.
He then ordered her to leave and never return. She was not allowed to clear. The firm did not respond to the claim.
Justice Ongaya was of the view that although Avic claimed she was uncooperative during an appraisal, there was evidence that it had terminated her contract because of her pregnancy.
Fair reason
He said: "Was the termination unfair or unlawful? The court returns that the answer is in the affirmative. Section 46 (a) of the Act provides that a female employee's pregnancy or any reason connected with her pregnancy does not constitute a fair reason for dismissal."
In another case, the court ordered Flamingo Horticulture Limited to pay Millicent Nyambura Sh1.3 million after finding that she was declared redundant following her pregnancy.
Justice Hellen Wasilwa in her judgment in 2021 found that the firm never produced in court the criteria it used to single her out for redundancy.
The court heard that she had worked for the company for four years, from 2012 and when the firm was rebranding in 2016, she was among those confirmed to retain their positions.
Nyambura testified that it was until she went on maternity leave that she was fired and replaced with new employees. She worked as a security guardette. In her case, Nyambura told the court that she was told that her services were no longer required while she was on maternity leave.
The firm denied the claim. It argued that other security guards who were working with her were declared redundant adding that she willingly accepted her dues and left.
Caroline Nyokabi also went through the same. In her case, Nyokabi told the court that she joined Achellis Kenya Limited while pregnant in 2015.
Nyokabi told the court that she informed her new employer a week after that they needed to put in place arrangements as she was to take maternity leave. According to her, she hoped to return after three months. On April 25, 2016, she gave birth. However, while still at the hospital recuperating, a secretary informed her that there was a parcel on her way.
Alas! To her surprise, the package was her termination letter. The firm claimed that she was fired during probation period owing to poor performance. However, the court observed that she was fired the same day that she delivered. Justice Stella Rutto said that Achellis had sacked Nyokabi there were no reasons given by the employer for parting ways with her.
"In the ordinary sense of life, that's the least kind of package one would expect when lying in a hospital bed. The termination must have therefore come as a shock to the claimant. Besides, no reasons were given for the termination hence she could only be left to wonder why. The circumstances pertaining this case left the claimant unprotected as regards her employment. Besides, the nature and timing of her termination all indicate unfair labour practices.," said Justice Rutto.
Justice Rutto awarded Nyokabi Sh1.4 million. Another court ordered a law firm associated with interior Cabinet Secretary Kithure Kindiki to to pay Yasmin Mokaya Sh 2 million for sacking her after applying for maternity leave.
Mokaya, in a petition filed on March 19, 2019, sued Prof Kindiki T/A Kithure Kindiki and Associates, saying she joined the law firm as a pupil on June 2, 2015. In her case, Mokaya said she was admitted to the bar and became an advocate and was retained by the law firm on January 1, 2016.
She added that she continued working diligently and in an exemplary manner until her employment was unlawfully and unprocedural terminated.
Mokaya served the firm on a contractual basis, and her last contract was renewed on December 29, 2017, for one year, commencing on January 1, 2018, and was to end on December 31, 2018.
On January 26, 2018, she said she informed the law firm that she was pregnant and intended to proceed with her maternity leave from March 5, 2018, to June 5, that same year. The maternity leave was approved.
But to her utter surprise, the firm withdrew the leave approval with no sufficient reason or explanation.
Mokaya says she was informed that she should forfeit any payment and benefits while on maternity leave.
She refused the request and informed the law firm that she was entitled to all benefits while on maternity leave.
Mokaya further said she had several meetings with Prof Kindiki on the issue of her maternity leave and benefits while on leave, and he contemplated termination of her contract if she did not write a letter forfeiting her pay during the period.
On March 1, 2018, she says she received a letter of termination. The reason for the termination was due to financial constraints.
She noted that there had been no prior notice that the law firm was facing financial constraints and that some of its employees would be declared redundant.
Mokaya sought a declaration that the termination of her employment was based on her pregnancy, and therefore discriminatory, unfair, unlawful and in violation of the Employment Act. The law firm opposed the suit.
Moses Mpuria, the Director of Finance, Administration and Strategy at the law firm, said Mokaya was not retained because her performance was not exemplary.
He said Mokaya failed her bar examinations whilst serving as a pupil on three different occasions, and Duncan Oketch, an advocate who worked in the law firm, pleaded for her retention until she completed her bar exams.
Mr Mpuria said Mokaya passed the exams on her third attempt and was admitted as an advocate. In December 2016, subsequently, she was offered employment as an associate II in January 2017.
"The petitioner's performance has never been exemplary. She is slightly below average. It is not true that the employment of the petitioner was terminated on account of her pregnancy. The termination was because the firm could no longer afford to pay her and other employees due to financial constraints," said Mpuria.
He said, in a letter dated October 31, 2016, that Kindiki, being the chairperson of the law firm, informed all advocates that the company was experiencing financial difficulties.
He issued a memorandum dated November 11, 2016, to all staff, indicating new austerity measures to ensure the respondent did not collapse.
Justice Nduma Nderi said the law firm did not give a one-month notice of redundancy to the petitioner and the Labour Officer.
The judge dismissed claims that the dismissal was due to financial constraints because, after the termination, she was replaced.
"The evidence by the respondent that the termination of the employment of the petitioner was due to financial constraints is untenable."
"The court declares that the respondent violated Section 5(3) (a) of the Employment Act, 2007, read with Article 27(4) of the Constitution of Kenya, 2010. The conduct by the respondent was discriminatory, unfair, and unlawful," ruled the judge.
The court noted that Mokaya lost nine months of employment and means of livelihood on account of pregnancy and at her hour of need and was entitled to compensation for the job loss.
In the mean time, Justice James Rika ordered Abson Motors Limited to pay a female employee codenamed AKO Sh1.47 million after finding that her employment was terminated out of pregnancy.
AKO was a receptionist. She narrated that was employed in 2009. However, seven years later AKO discovered that she was pregnant. She told the court that her employer gave her one month leave.
She worked until November 21, 2016 when the General Manager, Simon Mwaniki, called her to his office. He asked her to write a letter saying she was not fit to continue working, because of her pregnancy. He wanted her to write a letter of resignation.
The firm never replied to the case and did not question her. In another case, Justice Wasilwa ordered Windsor Hotel to pay its former employee Sh2.2 million after firing her. The judge in her 2019 verdict was of the view that she was fired two months after giving birth on allegation that she absconded work.
Related Topics