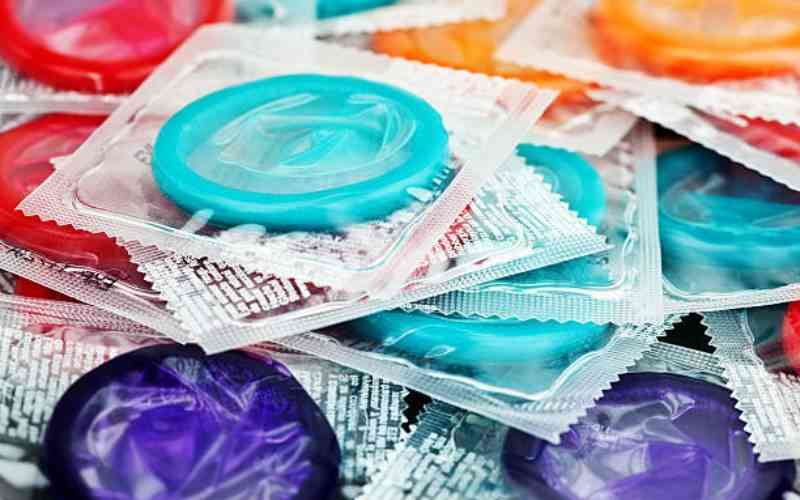 Condoms have become a scarce commodity in the wake of 'super gonorrhoea' and an increase in new HIV infections in the country.
This has prompted some sex workers in Trans Nzoia and Busia to begin recycling condoms by washing them.
"We know this is not safe but what can we do? We need to put food on the table. We rely on this business to fend for our families, to buy food for our young children and pay school fees and we still don't want to risk our lives," said one sex worker who spoke to The Standard on condition of anonimity.
She said they have been working with the street boys who collect the ones they can find in the bins. They then pay them to wash them. When business is low, they often offer them free sex as payment.
She said condoms have become quite expensive to buy and that they have been sending some of their colleagues to buy them in neighbouring Uganda where they are available in the dispensaries.
"If we don't find the condoms in the dispensaries, we buy them from their shops as they are cheaper there than here in Kenya," she added.
John Kiprono, a 22-year-old beautician working in Eldoret town also admits that condoms are out of his reach.
"Sometimes you ask yourself if you will buy the condoms or buy food. We men are suffering because we don't want to take the risk and then end up with gonorrhoea or something worse," he said.
He said most young people have opted for sex with girls, who they perceive as less likely to be infected because they cannot afford condoms for protection.
His friend Kipng'etich, a businessman in Eldoret wonders what happened to the dispensers that used to be found in every public toilet, government hospital or public place that had a continuous supply of free condoms. He explains that most people have resorted to either borrowing condoms from friends or recycling the used ones.
"I wonder what people will do now that Valentine's Day is here yet there is no money to buy condoms in the shops. Can you imagine a packet of condoms going at Sh150 to 200? How many will afford?"
Nelson Otwoma of NEPHAK has urged the government to ensure the few batches of condoms that are at KEMSA are distributed to the counties to ease the demand.
He says this scarcity has been going on for months with the government promising to increase the supply yet nothing has been done.
"We shouldn't just talk about condoms on World Condoms Day or on Valentine's Day. This should be a continuous conversation because we need protection against infections all year round," he says.
Further, he cautioned those that have been recycling condoms by washing them saying that they are not recyclable except the female condoms which are also not available.
"The ones that are washing condoms are not protecting anyone. It is just the comforting thought that one is at least wearing something but once it is used, it cannot be washed and still protect anyone. They are exposing themselves to infections."
He urged the government to ensure that there is a steady supply, especially for teenagers who cannot afford to buy them.
Related Topics