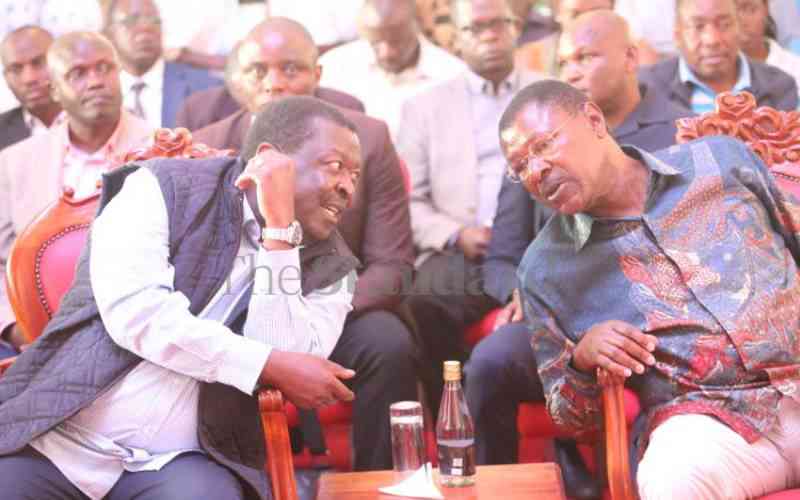 United Democratic Alliance (UDA) Secretary General Cleophas Malala's sustained attacks against Prime Cabinet Secretary Musalia Mudavadi and National Assembly Speaker Moses Wetang'ula are causing jitters amid calls for unity among leaders from the western region.
Malala kicked the push for the dissolution of Mudavadi's ANC and Wetang'ula's Ford-K in March at Sisokhe in Navakholo, Kakamega County, during a fundraiser presided over by Wetang'ula.
To the chagrin of leaders present, Malala asked; "Is it possible that we dissolve our parties and form one strong party?"
Malala's idea has been that all political parties under Kenya Kwanza should fold and join UDA of President William Ruto.
Malala has since stepped up calls for the dissolution of these two major Western parties, especially after President Ruto appointed him the acting Secretary General of the UDA in June this year. UDA is the predominant party among those that make up the Kenya Kwanza Alliance, including Ford-K and ANC.
His push appears to have gained momentum after President Ruto laid the foundation for a mega UDA this week, with plans to have it last a century, even as he highlighted his achievements.
Top on his agenda is having Kenya Kwanza affiliate parties dissolve. President Ruto said the merger would be voluntary, a departure from the abrasive approach UDA officials have deployed in pushing the objective.
Dictatorship
"Some parties will agree and join UDA and we will find a way of cooperating with those who will not. But we cannot be dictators and insist that they must join us like some people have been suggesting," Ruto said during the party's National Governing Council meeting at the Bomas of Kenya, the venue where he was declared president-elect in August last year.
He championed the idea as one that would stem divisions arising from "ethnic parties".
"I am a firm believer in building a national party that brings all Kenyans together in shared ideologies," he said.
He said he would seek to build strong party structures, including putting up its headquarters with Sh127 million in its coffers.
The amount is part of the Sh345 million earned through the Political Parties Fund and another Sh127 million worth of subscriptions. Ruto said grassroots offices would be built "through harambees".
UDA's national elections on December 9 will set in motion a drive to recruit 15 million members by 2027, up from the current "7.2 million", as UDA Secretary-General Cleophas Malala announced.
"From 54,000 members in 2020, we now have more than seven million members and take pride in being the largest party... We must agree and commit our dedication towards a successful grassroots election," said Malala.
Ruto defended the timing of the party elections, whose December date had been opposed by some members.
"It is better to have them now than close to the election so that if it gets messy, we can deal with the consequences," Ruto stated.
Deputy President Rigathi Gachagua spoke of plans to have UDA survive 100 years, a dream borne by previous ruling parties Kanu and Jubilee, both of whose fortunes have dwindled over the years.
"Our party was not formed for the sole purpose of forming the government. It was founded on the bottom-up ideology and it must live for generations to come.
The first step is ensuring it is strengthened and that it will be around in the next century," said Gachagua, who is also UDA's deputy party leader.
In an apparent reference to the priority accorded to UDA members ahead of allies from other parties, Gachagua revisited his "shares" remarks. "In President Ruto's leadership, the people in front of us are the shareholders and they will be the first to benefit," the DP said.
However, despite repeated attacks by Malala, in which he once called ANC a village party, Mudavadi and Wetang'ula appear not bothered by his onslaught, which some political pundits believe could be deliberate attempts by the former Kakamega Senator to paint the duo in bad light.
Last Sunday, Malala was in Mount Elgon, Bungoma, where he took a swipe at the two, mounting pressure on them to go ahead and fold their political outfits if they are serious about working with President Ruto.
"You cannot claim to be working with the president while clinging on to your parties. During the day, you claim to be with the president only to retreat to Western and start popularizing your parties in the night. It is high time that you disband them and join the president's UDA party," Malala said.
Related Topics