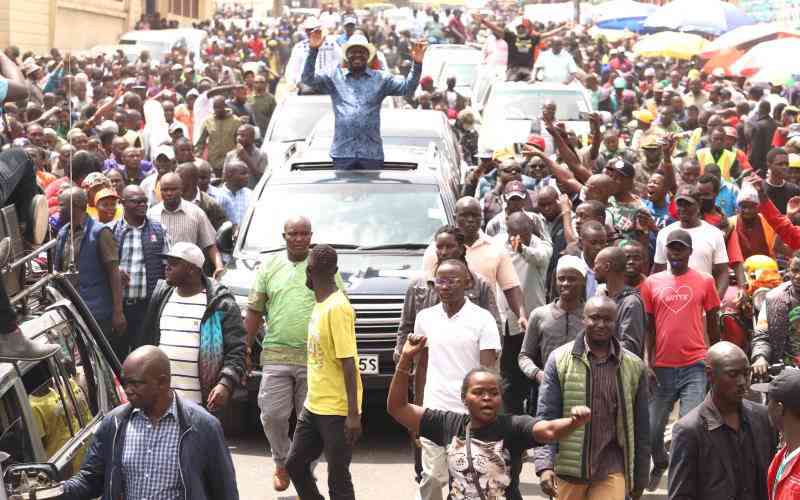 Opposition leader Raila Odinga seems keen to pile pressure on the Kenya Kwanza administration.
Raila has rallied his troops and is engaged in a no-holds-barred battle with the President William Ruto government over the outcome of the August 2022 presidential election, reconstitution of the Independence Electoral and Boundaries Commission (IEBC) and looming constitutional changes that seek to, among other things, create the office of the official opposition leader.
After holding a rally at Kamukunji grounds in Nairobi on Monday and announcing more public engagements across the country, Raila is seemingly playing to the script of 2017, which ultimately led to the handshake between him and former President Uhuru Kenyatta in 2018.
Akin to 2017, when he claimed he had been rigged out of victory, the Azimio leader announced that he won the 2022 presidential election, claiming he garnered eight million votes against Ruto's five million.
Azimio bases its allegations on a report by a whistle-blower who maintains that Raila won last year's elections.
The Azimio leader has also set sights on the IEBC, accusing it of colluding with the government and is using this as a basis for its reconstitution ahead of the 2027 polls, a move reminiscent of the 2017 election aftermath.
"First, we as Azimio reject the 2022 election results. We cannot and will not recognise the Kenya Kwanza regime and we equally don't recognise any officials in the office with William Ruto," said Raila on Monday.
"We demand that any attempts to reconstitute the IEBC single-handedly by Mr Ruto cease forthwith so that Kenyans themselves can reconstitute the body after full and fair deliberations," he said.
But even as Raila reverts to his rabble-rousing ways, Ruto has maintained that the opposition leader is angling for another handshake, which he will not accept.
"Political rallies by Odinga and his team is a tactical scheme to push their hands in the government, which I will not agree," he said.
Ruto has further accused Raila of deceiving Kenyans that Azimio rallies are in their best interest, saying that opposition leaders are seeking to enrich themselves by forcing themselves on his government.
The Head of State is, however, also keen to counter Raila's confrontational politics and has been on a charm offensive of the Azimio brigade.
On Monday, he held a consultative meeting with 13 Jubilee MPs drawn from the Azimio coalition. Led by nominated Senator Sabina Chege and East African Legislative Assembly Speaker Kanini Kega, the legislators held talks with Ruto and vowed to work with Kenya Kwanza government and not take part in the "confrontational style of politics" advocated for by Rala.
Legislators at the State House meeting were David Kiaraho (Ol Kalou), Irene Njoki (Bahati), Zachary Kwenya (Kinangop), Shadrack Mwiti (South Imenti), Mark Mwenje (Embakasi West), Amos Mwago (Starehe), Daniel Karitho (Igembe Central), Stanley Muthama (Lamu West) and Joseph Githuku (Lamu).
The meeting with Jubilee MPs came after Ruto's recent tour of Nyanza, Raila's stronghold, where he received a warm welcome and rallied local leaders to work with Kenya Kwanza government. The president promised to revive the ailing sugar industry and implement the Sugar Task Force Report recommendations. This, pundits say, has sent Raila into a political tailspin.
So what exactly is Raila's endgame?
Political expert Tom Mboya says that the renewed push for rallies is not only geared towards Raila revitalising the opposition following a harrowing defeat in the elections but also a move to force Ruto on the negotiation table.
"Raila has desirable outcomes which include coming into some sort of agreement with the government so that he can get something that cements the place of the opposition in the country," said Mboya.
"One of the desirable outcomes could be – through behind-the-scenes negotiations - the setting up of the office of the official opposition leader which in my opinion is progressive and we welcome it. This will help put the government in check," he said.
He believes that a huge storm is building up over the reconstitution of the IEBC and this will force Raila and Ruto to have a sit-down.
"The push and pull by the political class for the reconstitution of IEBC is not surprising nor is it new. The constitutional process has historically been controlled by political players. We should now seek a way to ensure it is conducted without the political class so that it can inspire confidence that it is indeed independent," said Mboya.
He said reconstitution of IEBC was important because it essentially marks the beginning of the political cycle. "If that process is manipulated or corrupted in any way, the rest of the process and outcome will too," he said.
Former Mwingi MP Joe Mutambu termed as unfortunate Raila's decision to embark on rallies.
"It is very unfortunate that Raila is taking the country back to the violent type of politics. People already moved on and are now concentrating on their businesses. He should instead be thinking of how to engage in politics that takes the country forward," said Mutambu.
The ex-legislator urged Raila to wait for the 2027 General Election.
Related Topics