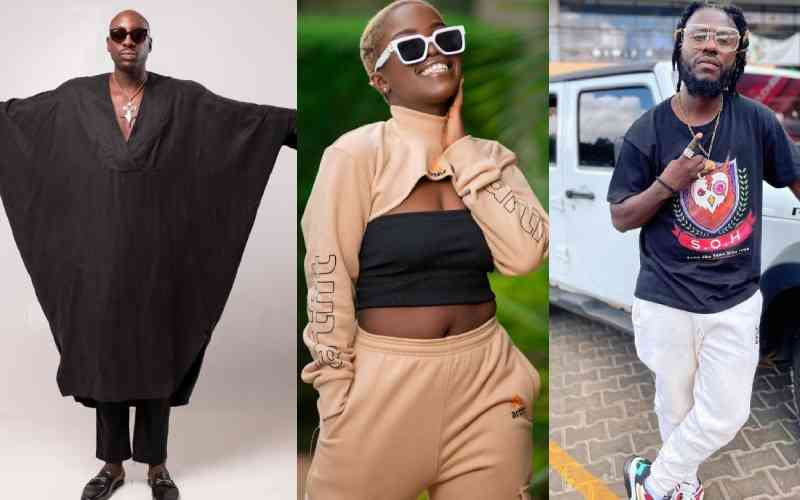 We love to hear their lines and lyrical prowess. They often capture our attention with well-thought-out bars. Below we look at some of Kenya's best songwriters;
Bien Aimé Baraza
"He made the verse and the hook in 25 minutes, and I finished the track three months later. Every time he speaks, it's nothing, but realness," Barak Jacuzzi told Pulse on getting in the booth with this song architect, Bien. It's hard for Bien to ever miss a beat. With seasoned experience jotting his own anthems, Bien has had the privilege to work with the absolute behemoths in the music business. Whether in the studio with Tiwa Savage, Kel P Beats and Burna Boy, Bien has nurtured his own craftsmanship to an elite level. From hooks on "Yes Bana", to Swa&B flyers such as "Niko Sawa", or Neo-Rhumba numbers like "Mbwe Mbwe", Bien has proven overtime that he can be versatile and volatile in his approach to writing, yet still retain his own authenticity and authority.
Nviiri The Storyteller
Before sprawling into stardom, Nviiri The Storyteller was a cameraman for the pop group Sauti Sol. It wasn't until talisman Bien heard him sing by chance that he believed in his talent. Before the group Sol Generation was formed, Nviiri would be in the studio among the posse of songwriters helping arrange and galvanise hit records such as Sauti Sol's groundbreaking sizzler, "Melanin". Nviiri has certainly grown into his own, manufacturing a knack of how to produce pop music that moves the masses and packs emotional appeal, and unhinged vulnerability. He is now a star in his own right.
Bensoul
Sol Generation's contingent is star-studded. Filling the shoes Sauti Sol has labored for years to build would not be a walk in the park. In Bensoul however, the star man has garnered an unprovoked sense of songwriting that harbors poignancy and substance. Bensoul has written Grammy-recognized tracks such as "Time Flies" by Burna Boy and Sauti Sol as well as his own solo standouts. Bensoul is a cornerstone figure in Kenyan pop due to his ability to articulate feelings in different compositions.
View this post on Instagram
A post shared by Matata Official (@matataofficial)
Xenia Manasseh
With Kenyan R&B starting to explode inch by inch, one of the pioneers and raconteurs is none other than "Rhumba Japani" co-writer Xenia Manasseh. Heavily involved in Sauti Sol's fifth studio album, Midnight Train, on the production, her songwriting dexterity was also relied upon faithfully. Xenia has not only lent her talent to Kenyan artists, her music is well-traveled and she has ended up on American artiste Teyana Taylor's album The Album as well as Nigerian music maven Mr. Eazi. Known for her laidback and ambient style, Xenia captures emotions in a smooth and velvet-like way that makes her an easy listen and relatable songstress. Her manner of conveying heartbreak, romance, and unwanted feelings is unparalleled.
View this post on Instagram
A post shared by Xenia [Zee-ni-a] (@xeniamanasseh)
Brandy Maina
Heralded as a figurehead in Kenyan pop culture today, Brandy is the melodic monarch of culture today. Through her breakout song "Danger Dinji", to sweeteners such as "Kubali", "Dark Skin" and now her virally enticing "Kuna Kuna", Brandy has proven her caliber of writing is of superlative importance. Her seminal skills have also allowed writers and artists to be more transparent in the way they write songs. She has no reservations in hiding her true feelings on wax, and this is what makes her an astronomical artist of the day.
Watendawili
Both Ywayaa Eugene and his counterpart Israel Onyach are prolific in the art of storytelling. Be it socially conscious vibes in "Bei Si Nafuu", or poppy ballads and innovative feel-good tracks "Drill Rhumba", there is no denying the sort of timelessness involved in their penmanship. Known for being ghostwriters in major artists camps, they are humble as they come and ooze the music gene that conduits in every great.
"We've worked with Sauti Sol even after the fall out from the label. Ywaya not long ago did a song writing project with Savara and Benzema on the track Bypass. We can attest both Sauti and Watendawili are all in the kitchen making a special recipe that will make Kenyan music globally competitive and marketable" they said of still writing songs for Sauti Sol.
View this post on Instagram
A post shared by Watendawili (@watendawili)
So Fresh
Producer So Fresh is the enigmatic component behind a hit song in Kenya. If 2021 was any standard to what he actually has worked on, then he should be classified a legend. From Nikita Kering's "Ex" to "Niko Sawa" by Nviiri & Bien, So Fresh's pedigree is cast in stone as one of the most revered pensmiths and producers to hail from the motherland in contemporary Kenya.
View this post on Instagram
A post shared by ??????? (@sofresh254)
Related Topics