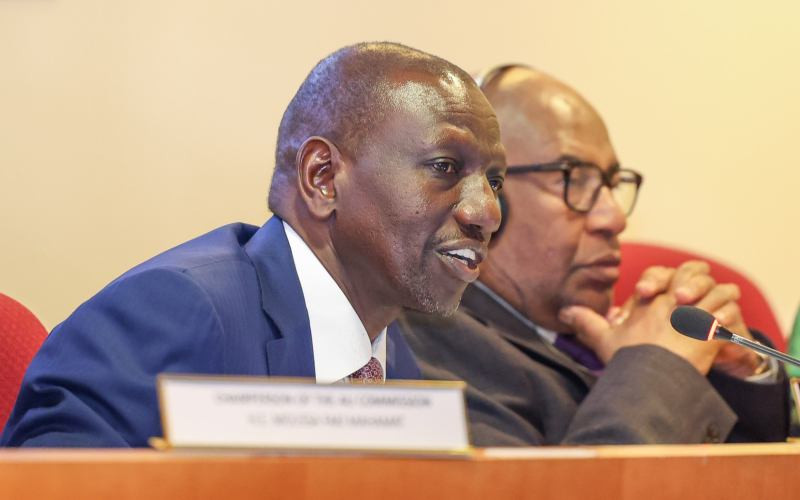 President William Ruto has faulted the United Nations for failing to deliver on its mandate in climate action, Sustainable Development Goals as well as peace and security.
He made the sentiments while addressing the 78th session of the United Nations General Assembly in New York, whose theme is 'multilateralism on trial'.
"In the face of the most urgent crises of our time, it is now clear that the international community has fallen seriously behind in meeting its targets in both climate action and the implementation of the sustainable development goals, as well as their underlying enabler, peace and security," the president said.
He adds, "If any confirmation was ever needed that the United Nations Security Council is dysfunctional, undemocratic, non-inclusive, un-representative and therefore incapable of delivering meaningful progress in our world as presently constituted, the rampant impunity of certain actors on the global scene settles the matter."
In his address, the president also asked the international body for facilitation in the deployment of a multi-national security response team to Haiti.
According to Ruto, the facilitation needs to include delivering humanitarian aid, supporting livelihoods, instituting reforms, and fostering a political process guided and owned by Haitians.
As a result, he says, Haiti will be enabled to regain its stability.
"We urge the United Nations to urgently deliver an appropriate framework to facilitate the deployment of Multinational Security Support as part of a holistic response to Haiti's challenges." Ruto's speech reads in part.
"We call on the Security Council to contribute positively by approving a resolution under Chapter Seven that tailors the security support mission to the specific needs of Haiti and its people."
At some point, he recalled his address to the Assembly Hall about a year ago, where he had asked for a transformation of the international body, to allow for a consensus and diversity-driven system.
In an attempt to speak for the continent, he states that gone are the day's African leaders sat with the rest of the world to ask for handouts and aid.
He says all African leaders aim at giving every human being across the world a decent life.
"We as Africa have come to the world, not to ask for alms, charity or hand-outs, but to work with the rest of the global community and give every human being in this world a decent chance of security and prosperity, by taking necessary actions, mobilising adequate resources for investment, confronting security challenges and resolving conflicts, as we also make our contribution to global prosperity."
As a result, he says Africa has adopted a method of dialogue in solving disputes, citing the continent's conflict resolution efforts in Somalia and Somaliland, Sudan, Ethiopia, and DR Congo among others.
The Head of State departed Nairobi on Wednesday, last week to attend the United Nations General Assembly, alongside other national duties.
Related Topics