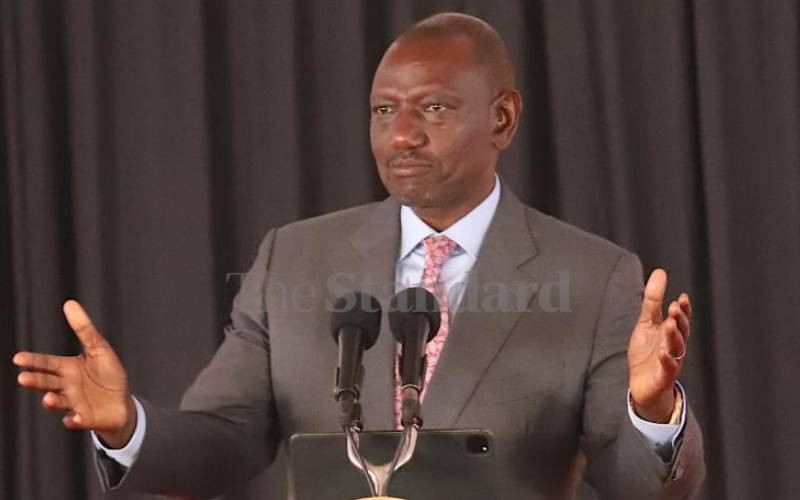 President William Ruto, who adopted a reconciliatory yet cautionary tone with the opposition, used the National Prayer Breakfast to defend the housing levy fund.
Although the nation was supposed to reconcile itself and give a chance for forgiveness, guided by this year's theme, "Reconciliation with God and Men", the President told off those opposed to the three per cent housing levy.
"It is time to be bold and brave. Delay tactics and sabotage are written in the shaky handwriting of cowards; excuses are the nails used to construct the coffin of failure as procrastination is a thief of time. Let us be reconciled to our collective aspirations," said Ruto.
Speaking during the event at Safari Park Hotel, Nairobi, on Wednesday, the President also defended the newly introduced import levy aimed at growing the manufacturing industry.
He noted that there are seven million Kenyans living in undignified informal settlements and there is a need for policy interventions to address the same.
"If we feel the pain of the three per cent contribution then we are alive, but if we feel the pain of the seven million Kenyans living in the slums and jobless, then we are human beings. As leaders, we are confronted by the young people living in all our 1,411 informal settlements daily and we shouldn't just watch. Let us do something about their situation," said Ruto.
He said the number of unemployed youth stands at five million who are joined by another 800,000 yearly. The President noted that the number of exports as a percentage of GDP, has also gone down from 28 per cent to 10.
Sh9 trillion debt
Compounding the country's woes, he said, is a Sh9 trillion debt that has increased from Sh4 trillion in just six years-in effect capping the country's ability to borrow.
"As we participate in this important debate on this Finance Bill, let us ask God to open our eyes and enable us clearly see the real choices that we have to make. We have to make bold decisions for our prosperity," he said.
And to buttress his point, Ruto likened Kenya's situation to that of Moses in the Bible and that of Jesus when he fed the masses with just two fish and five loaves of bread.
The President, in a thinly veiled attack, also cautioned the opposition against 'weaponising' democracy just because they harboured political differences.
Deputy President Rigathi Gachagua said reconciliation with God and man was important, and the Kenya Kwanza government had decided to continue working with those who tried to block them from the presidency.
He regretted that they were humiliated in the run-up to the 2022 General Election by their competitors.
"Many people would have expected that all those who stood in Ruto's way to leadership would have by now been dealt with through harassment and court cases, but he has chosen to lead this country through reconciliation," said Mr Gachagua.
He recounted Ruto's experience during last year's National Prayer Breakfast and hailed him for exercising restraint despite being thrown out of the official DP's residence in Mombasa.
"Last prayer breakfast here was a very toxic affair full of hatred. When we were trying to align people around the President, we were persuaded that the lady who had removed the chair must be shown the door. But as we speak today she still works," he said.
The DP also urged Azimio la Umoja One Kenya leaders to come to terms with the reality that the elections were over and Ruto is President.
"The new government is one that is convinced that we need to reconcile the country and so we want to plead and persuade all the leaders to reconcile with the truth and the reality. So, as we reconcile with God and with people, let us begin to reconcile with the truth," he said.
Uplift the downtrodden
Prime Cabinet Secretary Musalia Mudavadi urged Kenyans to support the Finance Bill, 2023 and told off critics, saying there is need for collective responsibility.
"Reconciliation means coming to terms with reality and sacrifice to uplift the downtrodden. When the President says we need to make a contribution to provide shelter to those that do not have it, are we vultures? If he says we need to provide support so our children can go through school, are we being vultures?" he said.
In an event given a wide berth by the Azimio principals, the Kenya Kwanza leaders used the platform to drum up support for the Finance Bill that will be debated in Parliament today.
MPs from across the political divide and religious leaders were in attendance.
National Assembly Speaker Moses Wetang'ula urged leaders to unite for the sake of prosperity of the country.
"I am encouraged that we shall put our political differences aside and use this day to get inspiration for our political, religious, and business speakers of today and all attendees. We must stand united as a people and Kenya shall forever remain united," he said.
All eyes are now on Parliament ahead of voting on the Finance Bill, 2023 with Ruto and Raila advocating for an open ballot system of voting.
Related Topics