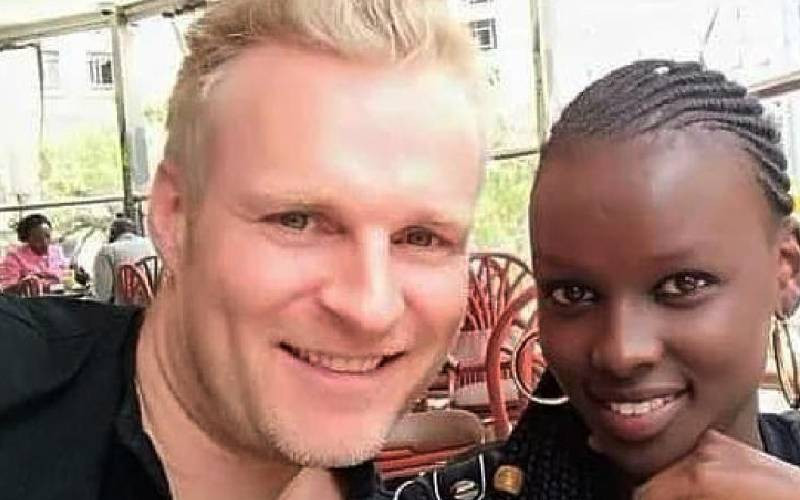 In early 2021, Felesta Nyamathira Njoroge was just like any other college student at Nairobi Technical Training Institute going about her studies in anticipation of a brighter future.
In the midst of her studies, lady luck smiled on her face when she met Belgian businessman Marc De Mesel who became her instant boyfriend before they moved in together at a house in Garden City Estate along Thika Road in Nairobi.
Between August 4 and August 6, 2021, De Mesel decided to make Ms Njoroge a multi-millionaire when he gifted her more than Sh130 million for her personal use and to take care of their family.
De Mesel transferred the first tranche of USD 914,967 (Sh126,494,187) to Ms Njoroge's account at Co-Operative Bank and the second tranche of Sh5 million to her account at Stanbic Bank.
Ms Njoroge's sudden riches and millionaire status has however come tumbling down after High Court Judge Esther Maina declared that the money was proceeds of crime acquired through money laundering which must be forfeited to the State.
"The court is satisfied that the amounts held in the two accounts are proceeds of crime acquired through money laundering and which are liable for forfeiture to the State. It is obvious that the money was tainted since they could not explain the source," ruled Maina.
Justice Maina ruled that both Ms Njoroge and De Mesel were given opportunity to explain the source of the funds but they could not give any plausible explanation.
According to the judge, Ms Njoroge stated that she acquired the money from the Belgian who when asked only stated that he trades in digital currency but could not say where he got the total of Sh131,494,187 he gifted her.
As a further punishment, Justice Miana ordered Ms Njoroge and De Mesel to pay the Asset Recover Agency (ARA) the costs of filing and prosecuting the case against them.
"Ms Njoroge's defence was that she got the money from De Mesel but an analysis of the bank transaction does not show the source of his money. He should have explained where he got the money instead of just saying he trades in digital currency," ruled Maina.
ARA in its suit against Ms Njoroge claimed that she is part of an international ring of fraudsters engaged in complex money laundering schemes with individuals from various countries where she received the money on their behalf to disguise and hide the source of the funds.
According to the agency, De Mesel who is believed to be a crypto-currency dealer had indicated in the bank declaration form that Ms Njoroge was "free to use the gifted money to secure financial security for their future children" and to use the balance on anything she wished to do.
ARA stated that when they summoned Ms Njoroge for questioning over her sources of funds, she escaped to Tanzania by crossing the Namanga border as a pedestrian on October 2, 2021 before fleeing to Belgium with De Mesel.
The agency told the court that Ms Njoroge was part of young girls aged between 19 and 26 years who De Mesel recruited into his money laundering scheme by transferring more than Sh650 million into their account before the money was hurriedly siphoned to other countries.
"They are suspected to be part of a syndicate of complex money laundering scheme involving foreign nationals where their bank accounts are used as a conduit of the illicit funds. The scheme is designed to conceal, and disguise the nature and source of the funds," said ARA.
Ms Njoroge true identity remained a mystery throughout the case when two sets of law firms fought to represent her, with one side claiming she is in the country while the other stated that she was in Belgium.
The 23-year-old student in her defence accused the Agency of a witch hunt and invasion of her privacy, stating that she is an adult with constitutional rights to do business and earn such huge amounts of money.
Related Topics