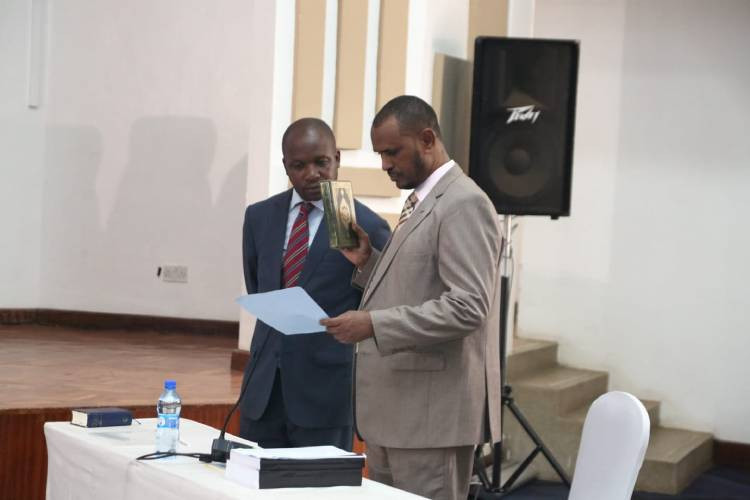 All the former commissioners of the Electoral and Boundaries Commission (IEBC) were united and worked in harmony until the point of declaration of the presidential results.
Retired IEBC Commissioner Professor Abdi Guliye made the revelation when he appeared before the Justice Aggrey Muchelule-led tribunal.
"All was well and we even had roles designated to all commissioners and everyone was brought to speed. Commissioner Irene Masit was designated to chair legal affairs. However, at the tail end, we were asked to go slow on the process," Abdi told the tribunal.
Without mentioning names, the ex-commissioner stated that they received calls from senior citizens of the count who asked them to put the interest of the country first.
"We were told to look at the bigger picture and ensure the country is holding together. We were asked to make decisions in a certain manner for the sake of the country. Some of the commissioners agreed with what the senior citizens requested," Guliye added.
Guliye revealed that the then-chair Wafula Chebukati refused to talk to the senior citizens in the absence of the other commissioners.
"All this was happening at the commissioners' audit room where the Cherera four agreed to the remarks of moderating the results for the sake of the country. We were asked to announce a particular candidate but I thought we needed to abide by the constitution," Abdi told the tribunal sitting at the Kenya Institute of Curriculum Development (KICD).
"At that time we didn't know who was winning or losing. The first visitors visited at around 3 am on August 15. They left and a second batch walked in at around 8 or 9 pm where the Chairman got a call to expect other visitors,"
"In the morning of August 15, there was no dispute amongst the commissioners. We were told if we declare the results in favor of William Ruto, the country was going to burn. We were threatened that should blood be spilled, it will be in our hands. Either a run-off or announce Raila Odinga as the winner," said Abdi.
According to Guliye, results from the 47 counties indicated strongly that Ruto was the winner. However, he says, that is not what the four dissenting commissioners expected.
Guliye is the first of the commissioners to appear before the panel, which was set up by the president to look into the conduct of four commissioners who disagreed with the presidential results.
The four, former IEBC vice-chair Juliana Cherera and commissioners Francis Wanderi, Justus Nyang'aya, and Irene Masit termed the August presidential results as 'opaque'.
So far, the three have resigned from their positions, leaving Masit, whose hearing is underway.
Related Topics