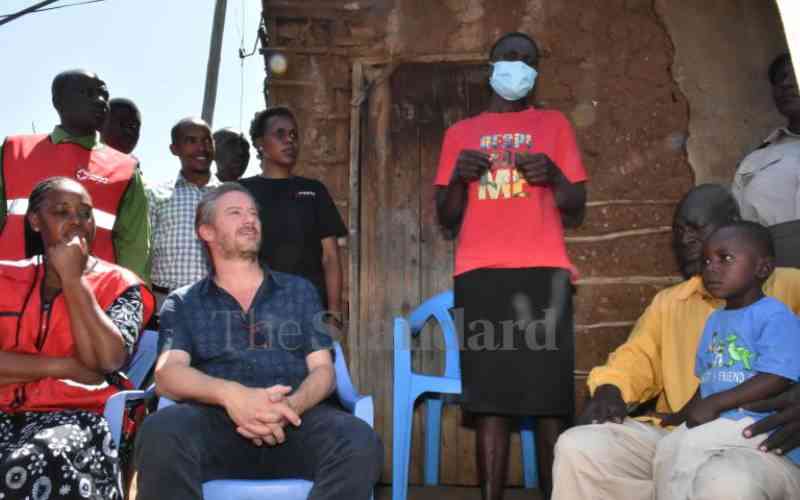 In the heart of the bustling Manyatta area in Kisumu, Lucy Achieng, a mother of four, has embarked on a journey of hope and recovery.
Her life was abruptly altered one year ago when she was diagnosed with drug-resistant tuberculosis, an ordeal that cast a dark shadow over her family.
But today, Achieng's story resonates with the resilience of the human spirit and the transformative power of healthcare programmes, supported by the government in partnership with France, Amref Health Africa in Kenya, and the Global Fund.
This is happening as France committed to accelerated response to the disease by supporting initiatives aimed at revamping the region's healthcare.
French ambassador Arnaud Suquet on Friday visited Migosi Level 4 Hospital and TB and malaria community programmes supported under the Global Fund where he met Achieng.
"France being one of the largest contributors to the Global Fund is keen to see through that these programmes we are supporting are implemented. I am happy to see how our support has impacted the lives of Kenyans positively and we will continue to work together," said Suquet.
Achieng's world was once filled with the laughter of her four children, ranging from teenagers to a two-year-old toddler.
Her husband, though jobless, provided some support, and Achieng herself earned a meagre living by selling fish at the local market in Kona Mbuta within the Manyatta slum.
However, her diagnosis of drug-resistant TB turned Achieng's world upside down. The disease meant that she would have to endure an 18-month regimen of medications.
This immediately forced her to halt her fish-selling activities, as the risk of infecting others was too high. Her husband's inability to secure a job further deepened the financial strain on the family.
For Achieng, caring for her children became an overwhelming task. The constant fear of infecting her family members and neighbours loomed over her like a dark cloud.
As the word spread about her diagnosis, friends, and neighbours began to distance themselves, driven by stigma and fear. A sense of isolation enveloped Achieng, and she found herself grappling with not only a formidable illness but also the crushing weight of loneliness.
"It felt like the world had turned its back on us. I couldn't provide for my children, and our own community shunned our family. It was the darkest time of my life." Hope, however, found it's way back into Achieng's life when she connected with Migosi Level 4 Hospital through the Amref Global Fund programme.
The initiative has been a lifeline for Achieng and her family. The hospital not only offered her free medications but also through Amref, she receives a monthly stipend of Sh6,000 to help meet her basic needs during the period she couldn't work.
Achieng's transformation since joining the three-year Sh15.8 billion ($107 million) programme is remarkable.
She adheres diligently to her treatment plan, knowing that her recovery is not only for her but for her children as well. The financial assistance has eased the burden of providing for her family, and she can now afford nutritious meals and schooling for her children.
"I can't express how grateful I am for the support I've received," Achieng says, her eyes filled with hope. "I am no longer alone in this fight. My children are my motivation, and I will do whatever it takes to get better for them."
Achieng's story is a testament to the profound impact that healthcare programmes can have on the lives of individuals and families affected by life-threatening diseases.
Amref Health Africa in Kenya Project Officer Ann Munene said Global Fund is supporting Kenya to implement initiatives that will maximise the impact of its investments to accelerate the end of AIDS, TB, and malaria as epidemics.
Through this funding, Amref Health Africa in Kenya, working with NGOs, will intensify community and facility-based TB interventions aimed at finding the missing people with TB, ensuring prompt management, and adherence to treatment.
Kenya is classified as a high-burden country for TB, TB/HIV, and Multi-drug resistant (MDR) TB. Tuberculosis is the fourth leading cause of mortality in Kenya.
The TB Prevalence Survey conducted in 2015/2016 found the TB prevalence to be 2 426/100,000 on all forms of TB. These results showed there is a large pool of missing people with TB that is contributing to the cycle of transmission.
TB Prevalence was twice as high in men compared to women and the highest burden was among people aged between 25 and 34 years.
In 2019, Kenya notified 86,385 patients with Drug Susceptible TB against the estimated 147,000, and 692 patients with Drug Resistant TB.
Causes of multi-drug TB resistance include late detection, defaulting on treatment, and delayed access to care.
As per WHO, there were 451,551 new cases of multi-drug TB resistance in 2016. Unlike in the past, more cases of TB are also reported in people who are not HIV positive.
About 82 per cent of TB deaths among HIV-negative people occurred in the African Region and South-East Asia Region in 2016.
Related Topics