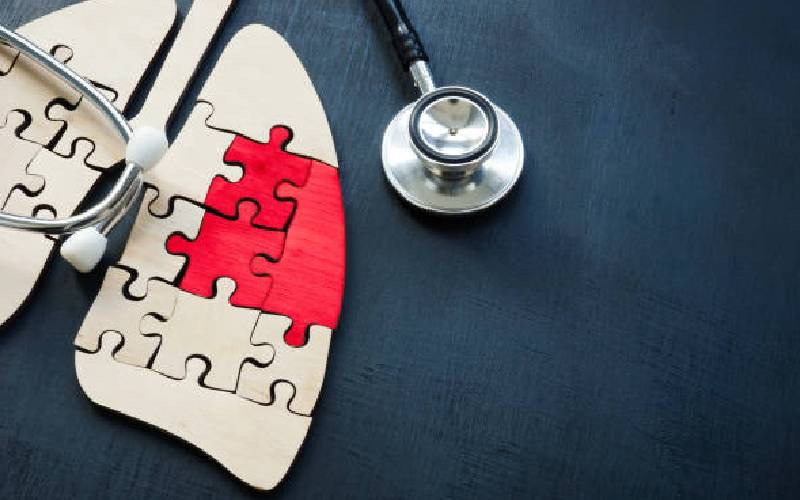 As the world observes World Lung Cancer Day, the devastating impact of cancer continues to affect lives in Kenya and the globe, with over 10 million lives lost to the disease in 2020 alone, according to the World Health Organization.
Global Cancer Observatory estimates that in 2020 1,435,943 cases of lung cancer were reported worldwide, with Kenya accounting for 794 of these incidents.
Despite these alarming figures, the reality remains that many African countries including Kenya, still lack access to quality cancer care due to various factors, including inadequate diagnostic facilities, low patient awareness, lack of healthcare provider training, and difficulties accessing preventive, diagnostic, and therapeutic resources.
In response to the pressing need to reduce lung cancer cases in the country, the Ministry of Health, in collaboration with the National Cancer Institute of Kenya, AstraZeneca, the Kenya Society of Hematology and Axios, launched an innovative therapy for managing lung cancer in Kenya.
This targeted therapy treatment is specifically designed to combat non-small cell lung cancer (NSCLC) with epidermal growth factor receptor (EGFR) mutations.
The EGFR testing machine is a real-time test for the qualitative detection of defined mutations of the epidermal growth factor receptor gene in non-small cell lung cancer patients. Identifying these genetic alterations promptly empowers healthcare providers to make well-informed treatment decisions, tailored to the individual needs of each patient.
Prior to this installation, patients in need of EGFR testing had to rely on laboratories in South Africa, leading to potential delays in receiving critical information for their treatment plans. The local availability of this advanced testing capability now at Aga Khan University Hospital significantly reduces turnaround times, giving patients a better chance at successful outcomes.
Deepak Arora, Interim African Cluster President at AstraZeneca, emphasizes that prioritizing access to healthcare and leveraging scientific advancements are critical to strengthening healthcare systems. He expressed confidence that introducing innovative therapies for cancer management would significantly improve patient outcomes.
"To achieve the goal of reimagining cancer treatment, collaboration with the cancer community, healthcare institutions, and governments is essential to offer solutions and transform patient journeys," said Arora.
Also to ensure the affordability of this groundbreaking therapy in Kenya, AstraZeneca has partnered with Axios to establish a patient access program.
The initiative aims to make the medication more accessible to a larger number of patients and provide the necessary support. This targeted therapy is also set to serve other neighbouring countries.
Dr Khomotso Mashilane, Medical Director, African Cluster at AstraZeneca, says the new therapy will expedite the diagnosis process and reduce mortality rates from lung cancer.
"The overall survival rate for lung cancer remains low due to delayed diagnosis and metastasis. However, the introduction of innovative therapies is a significant milestone in advancing lung cancer treatment options," stated Dr Mashilane.
Furthermore, the Cancer Care Africa (CCA) program, initially launched at COP27 in Egypt in November 2022, is set to be introduced in Kenya later this year. CCA aims to assist Kenya in its fight against cancer by advocating for policy changes to improve outcomes for those affected by the disease, regardless of their demographic, geographic, or socio-economic status. The program also aims to enhance screening and diagnostics, build capacity, and empower patients to make informed decisions.
With the launch of this innovative therapy and the upcoming implementation of the Cancer Care Africa programme in Kenya, there is hope for improved lung cancer management and better prospects for patients in the country.
Related Topics