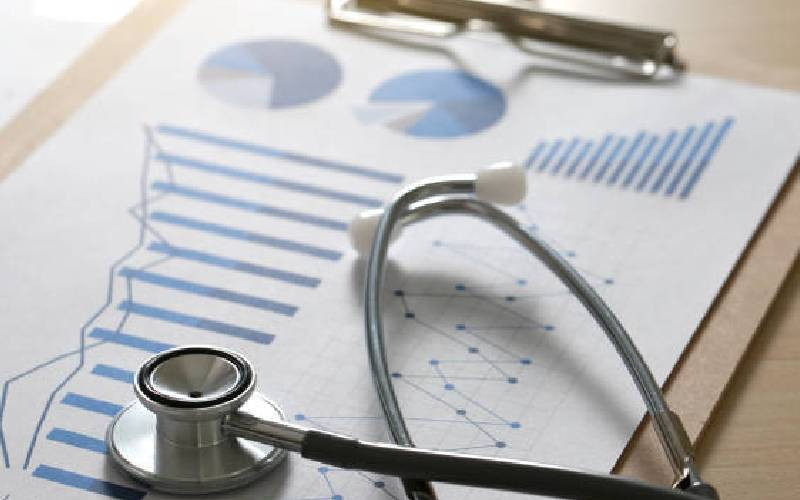 The government is banking on revenue collected from social health insurance to implement Universal Health Coverage (UHC) and to finance the sector, a senior official has said.
To sustain the health sector, which is highly donor-funded, Kenya will also strengthen private investment and explore earmarked taxes for health, according to the acting Director of Health Financing Elizabeth Wangia.
Dr Wangia said the government is committed to achieving UHC even as it recognises improved health financing as a necessary input.
Wangia said the government recognises the need to accelerate progress towards sustainable and effective domestic financing in Kenya.
"Kenya will increase domestic resources for the health sector through tax revenues, social health insurance revenues, strengthening private investment, and exploring earmarked taxes for health," Wangia said.
The decision on Kenya's new mode of financing the health sector was agreed upon on Wednesday during the just concluded National High-Level Dialogue on Domestic Resource Mobilisation for Sustainable Health Financing towards UHC, and to assess and review the health financing strategies held in Nairobi.
Top health officials and partners who attended the meeting also agreed that Kenyan will progressively increase the total government expenditure on health as a proportion of Gross Domestic Product (GDP) to five per cent of the national budget of health, to 15 per cent, and a progressive increase of county budgets to health to at least 35 per cent by 2030.
Kenya's national budgetary allocation for health has remained below five per cent.
Additionally, Wangia said the Kenyan government will further increase the coherence of investment in health by better-aligning development partner and private sector efforts to the priorities of the continent.
"The government will ensure that frameworks for coordination for the health sector function effectively, routinely consider health financing progress, challenges, and reforms, and have adequate representation of key health financing stakeholders," added Dr Wangia.
Key financing stakeholders in Kenya's health financing system include development partners, private sector actors, civil society organisations and citizen organisations.
Private and private sector efforts will be realised by ensuring that frameworks for coordination for the health sector function effectively and routinely consider health financing progress, challenges, and reforms and have adequate representation of key health financing stakeholders, including development partners, private sector actors, civil society organisations and citizen representation.
Also, it was agreed that because health is under county government, there is a need to strengthen devolution structures in addition to recommitting to a whole-of-government approach, promoting collaboration between the health sector and other relevant sectors to leverage resources, address social determinants of health, and promote coordinated service delivery.
Dr Wangia said to streamline expenditure, the government will jointly implement and monitor key health financing policies and strategies, in collaboration with key stakeholders.
Similarly, to avoid wastage where counties have in the past been accused of not prioritising health needs, plans are underway to ensure accurate measurement of health sector spending at all levels.
Also, the government will be expected to routinely measure progress against the benchmarks of the Africa Scorecard on Domestic Financing for Health
and the enablers in the African Leadership Meeting (ALM) Health Financing Tracker.
"The government shall harmonise vertical programs, including funding, supply chain, and monitoring and
evaluation, eliminating parallel systems and improving efficiency in health financing," noted Wangia.
The meeting was also aimed at jointly assessing progress, identifying challenges, and building consensus on health financing reform priorities and actions.
Additionally, Wangia noted that for self-sustainability, the government will enhance national health financing systems and options to reduce fragmentation, strengthen procurement and purchasing, and improve prevention, cost-effectiveness and efficiency.
"In the area of efficiency, the government will strengthen PFM within the whole of government for improved efficiency in health service provision," she said.
Other ways to guarantee efficiency will include strengthening all areas of Public Financial Management (PFM) for health, including budget formulation execution and budget monitoring, evaluation, and accountability.
Last month, a report released by Ethics and Anti-corruption Commission (EACC) revealed that the Ministry of Health has more cases of misappropriation of funds incurred through procurement and budgetary allocation.
Efficiency will further be attained through enhancing the pooling of health sector revenues to ensure efficient and equitable financing of integrated, high-impact strategic interventions, in addition to strengthening the linkage between health sector performance and investments through accelerating the implementation of strategic purchasing.
Digitalising the health sector will likewise enhance efficiency, accountability and transparency, according to agreement by top health stakeholders.
For smooth workflow of the health sector under devolved units, the government is also planning to address disparities in the efficiency of providing health services between counties through peer-to-peer learning.
In the areas of equity of health financing and financial protection, the government will shift towards needs-based resource allocation at the national and county level.
The government will also be tasked with developing and regularly reviewing the essential health benefits package, with equity, disease burden, and financial protection considerations.
It was also agreed in the financing meeting that the private sector will be engaged in a better way to strengthen public health systems and expand access to health services.
The engagement will be through the creation of an enabling environment for increased private-sector investment in the health sector.
The decision to re-look at Kenya's health financing came at a time running the healthcare system majorly depends on donor funding and support.
Kenyan health funding comes from the exchequer, donor support, out-of-pocket, insurance, and private investment.
Central and county governments control about 33.6 per cent of the health financing scheme.
Total insurance, both social and private control around 25 per cent of the funding, with NGOs controlling about 16.2 per cent, 3.1 per cent by the private sector, and about 24 per cent being out of pocket, for individuals who do not have insurance.
Insurance penetration in the country is only 20 per cent, with 80 per cent of the Kenyan population being without insurance coverage.
The mechanisms and timelines for implementing the initiatives and for tracking progress in the new financing shall be set out by the government and partners.
Related Topics