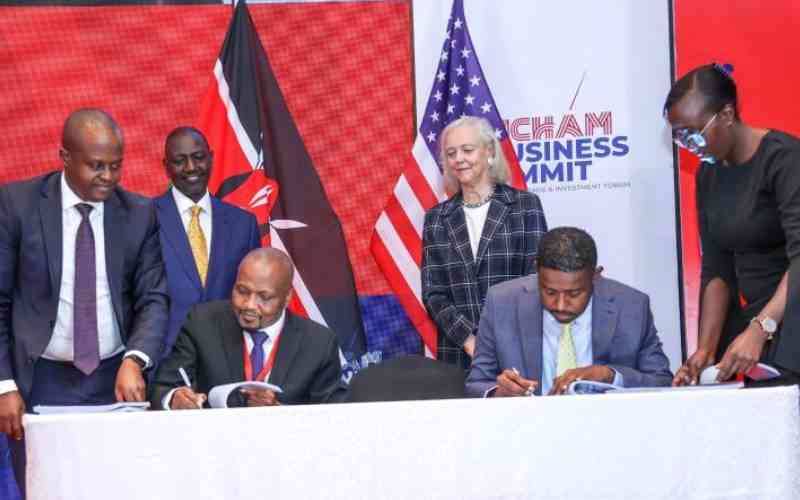 President William Ruto on Thursday, March 30 highlighted healthcare as one of five broad sectors to channel strategic investments between Kenya and US.
President Ruto, who was speaking at the American Chamber of Commerce regional conference said the move would drive Universal Health Coverage and boost the production of medical commodities and biomedical supplies.
The biggest announcement at event was the finalised deal between Moderna and the Government of Kenya to build a USD500 million mRNA vaccine facility in the Nairobi area.
This would be the only such facility on the African continent and for Moderna, their first factory outside the United States. Naturally, Moderna's investment will be a catalyst for the medical and pharmaceutical industry in Africa.
The company said the facility would produce up to 500 million vaccine doses per year for COVID-19 and other conditions.
Researchers are optimistic that mRNA technology could possibly be applied to a host of health problems beyond COVID-19, including other respiratory diseases and neglected tropical diseases.
The facility will focus on manufacturing vaccine drug substances, with potential plans to expand its capacity to also include the filling of vaccine vials and packaging capabilities at the site.
Moderna had last year received criticism for not participating in the COVID-19 transfer hub in South Africa by the World Health Organization.
"With our mRNA global public health vaccine program, and with this partnership with the Republic of Kenya, the African Union, and the U.S. government, we believe that this step will become one of many on a journey to ensure sustainable access to transformative mRNA innovation in the African continent and positively impact public health," Stéphane Bancel, Moderna's chief the executive said in a statement by the company.
While completion of the plant would take another two years, if not more, this wouldn't have an impact on the pandemic as COVID-19 is under control in most parts of the world, and vaccines are available.
The facility could also be utilized in the production of vaccines for other diseases, more so with the increase in viral outbreaks.
While this is a definite boost to the Kenyan economy, the hopes are that capacity building for local biomedical researchers and institutions will be offered. As it is well and good, to have the infrastructure in place, local capacity must also be developed.
Related Topics