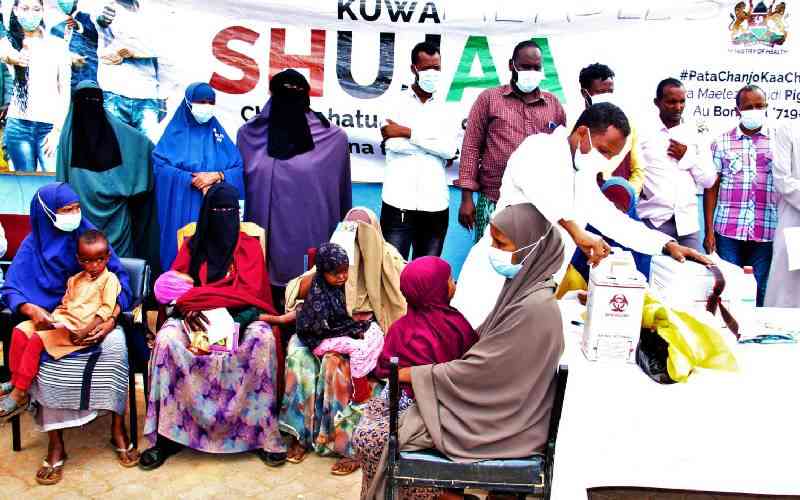 Mandera county has reported an outbreak of measles after 140 children were infected with the disease.
The county department of health on December 11 launched a Measles-Rubella Vaccination Campaign even as the outbreak was reported across at least two sub-counties.
The ten-day campaign, which will be conducted across six counties of Mandera East, Mandera South, Mandera North, Mandera West, Banisa and Lafey targets to vaccinate 155, 000 children aged between 9 months to 5 years.
Speaking at Mandera County Referral Hospital during the launch, Public health director Issack Adan urged parents and guardians to ensure that their children receive the vaccine.
"I would like to advise all parents and guardians to ensure that their children take the vaccines as they will be brought to their doorsteps and public gatherings", he said.
"The department will make sure all children in the county below five years get the vaccines by 19th December as we have sent our officers to all the villages across Mandera", he added.
Measles is a viral infection that's serious for small children but is easily preventable by a vaccine.
The disease spreads through the air by respiratory droplets produced from coughing or sneezing.
"The disease can spread to others through coughing and sneezing. If other people breathe the contaminated air or touch the infected surfaces, then touch their eyes, noses, or mouths, they can become infected", stated Mr Adan
Central location senior chief Alinur Mohamed has encouraged the general public to adhere to the public health regulations to avert the spread of the disease.
"We would like members of the public to maintain cleanliness and keep distance from those affected by the disease as guided by the ministry of health", he said
The vaccination exercise will end on December 19, 2022.
Related Topics