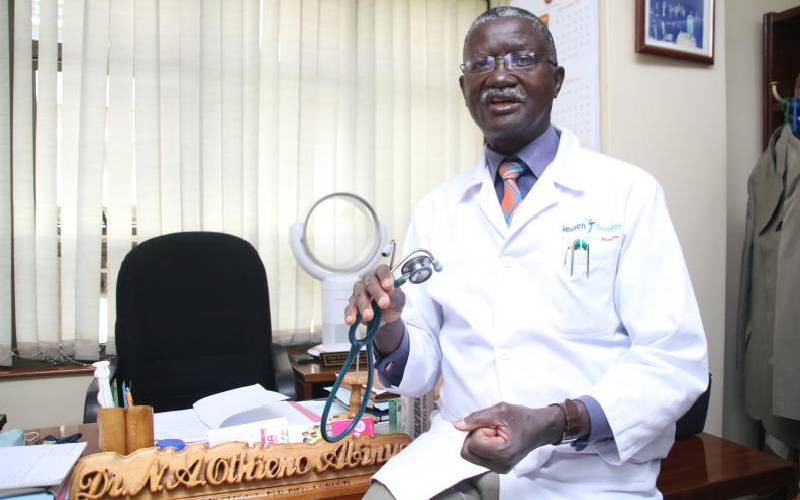 Kenya started training doctors in 1967 when it recalled Dr Joseph Maina Mungai from Uganda's Makerere, then the premier university in East Africa. Though Kenya needed him badly, Makerere refused to release him, forcing Kenya to pay off his contract.
When he finally started the University of Nairobi, School of Medicine, it not only had shortage of staff, but also equipment and teaching materials, including cadavers for practical lessons.
The Anatomy Bill had not become law for Dr Mungai to collect cadavers in Kenya. Makerere lent him 10 cadavers, but no driver was willing to gas the Land Rover from the Vet Department to Makerere. In any case, being in possession of cadavers in Kenya was illegal.
This forced Dr Mungai to drive to Makerere for the cadavers. Despite police arrests along the way, the first medical students were able to use Ugandan cadavers for human anatomy lessons.
The efforts of Dr Mungai, later a professor, and a neighbour who was also studying medicine at Makerere, were what inspired Prof Nicholas Abinya to study medicine, abandoning his initial dream of marine engineering. He had also entertained thoughts of pursuing law but was more into science and than arts.
Dr Mungai would later deliver a career speech to A-Level students, which Abinya attended. He stressed that medicine was not a cash cow as many imagined.
When he joined university, the then Dean of Medical School, Prof Thomas Ogada, identified Abinya's potential in haematology and gave him Russian author, Aleksandr Solzhenitsyn's semi-autobiographical novel, 'Cancer Ward' to read.
The novel is centred on 13 patients in Ward 13 as they undergo crude and frightening treatment in a squalid hospital. It depicts the physical, psychological and moral effects cancer has on patients.
'Cancer Ward' was what further inspired Abinya to specialise in cancer care as it "showed how cancer patients were being handled in the wards by the doctors, nurses and cleaners and I always had that in mind while at the university."
Abinya later became a professor of Internal Medicine and Medical Oncology and recently retired after over 40 years in cancer care.
He wrote a book, 'Shadow in Perpetuity,' to convince people that cancer can be treated and cured in Kenya.
"You will go out there and still come back with cancer or you will go out and get palliative care yet we are doing that here in Kenya," says Prof Abinya,
"Cancer is not a death sentence though many patients live in fear of its recurrence."
He says though many cancers are difficult to treat, a big percentage are easily curable if picked early.
"For instance, breast cancer and cervical cancer are quite common but if detected on time, like breast cancer stage one and two, almost 90-95 per cent is curable in the country, but if you let it advance, then you will not be able to cure it," explains Prof Abinya.
At independence, Kenya's population was around four million and over 50 years later it now stands at over 40 million, meaning cancer cases are bound to increase over the years. "Although, there is an increase in cancer awareness and with more hospitals with capacity to diagnose cancer cases, more cases are being reported due to changes in lifestyle," says Prof Abinya.
He adds that the ensuing financial burden and other fears affect cancer patients and their families differently and should be treated as such.
Though cancer treatment is expensive, he argues that most developed countries deal with it differently compared to Kenya.
In his experience, European countries will screen for indications and not prescribe a drug before its effectiveness has been shown. The government will not spend money on drugs that are under experimentation unless there is an indication that they work.
Prof Abinya says proper training of medics in cancer care is vital to know which drugs to use and help families not get financially burdened. He cites breast cancer management which can cost about Sh20,000 to Sh30, 000, whereas other drugs for same cancer can cost over Sh1.2 million every two to three weeks.
At the University of Nairobi, Prof Abinya started the Medical Oncology Fellowship Programme in 2016 and the Radiation Oncology Master's Programme three years later to train more doctors in oncology.
This helps in building capacity, increasing the number of specialists and reducing referrals out of the country though he acknowledges "we cannot treat all cancers so we refer because we know you can be cured out there."
But in his book, 'Shadow in Perpetuity', he discourages people from seeking cancer care abroad from the mentality that African doctors are not good enough in cancer care.
"This is not always true as Kenya has well-trained cancer specialists."
Sometimes cancer has the shadow of death lurking, and Prof Abinya says people deal with terminal illness differently.
"Some take it well; others think they have been bewitched from their villages.
"People in the UK will not waste more money on treatment after news that cancer has advanced.
"They prefer staying at home surrounded by their families, but some hospitals here refer a patient in the last stages to the ICU which takes up more finances, draining families," says Prof Abinya.
The father of four and a grandfather says his children pursued their own career paths. His firstborn studied chemistry and works for a drug manufacturer in the US, second born is in banking, third born a nutritionist and last born a gynaecologist.
In retirement Prof Nicholas Abinya is still actively practising medicine.
Related Topics