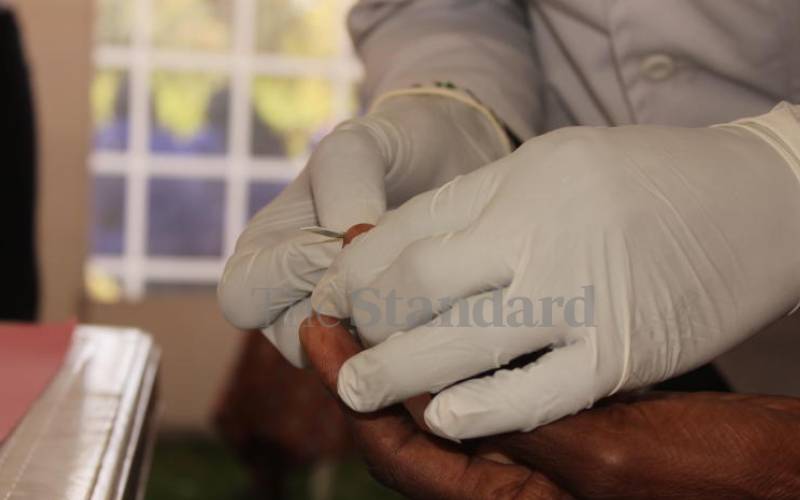 A shortage of critical medical supplies has hit public hospitals in Trans Nzoia County.
Patients are now forced to dig into their pockets.
Dr Rachael Injinia, a paediatrician, told The Standard the lack of basic items has made it difficult to render services.
"At times there is no food for patients. I find a one-year-old patient being fed on ugali and white cabbage with no soup. We need the county government to address this for us to render effective services," she said.
Dr Injinia said the hospital is always short of drugs and non-pharmaceuticals, which makes work difficult.
"We do not have drugs and other supplies in our hospitals. We are compelled to ask patients to buy them from private pharmacies each time they visit."
Dr Injinia said the hospital has a rickety van used as an ambulance, while most of the patients have to be referred to hospitals outside the county since they lack essential equipment.
Her sentiments were echoed by Dr George Kasembeli, who said: "Picture this scenario, a woman is in labour and has visited the hospital. She has no money and at home, she has no adequate resources, yet you have to ask her to buy gloves, syringes and other drugs since the hospital has none. It is embarrassing."
Dr Kasembeli said most patients suffer since even the drug stores sometimes run out of supplies and the health staff have nothing much to offer. He said medics sometimes opt to buy medicine for poor patients.
"We have tried to negotiate with our officials but nothing has changed," he said, adding that their calls to the governor have been thwarted by security officers who deny them entry.
Health executive Clare Wanyama admitted that there were inadequate medical supplies.
Ms Wanyama accused the Kenya Medical Supplies Authority (Kemsa) of failing to supply Sh52 million consignment. "We have placed an order with Kemsa and we hope it will be delivered soon," Ms Wanyama told The Standard.
Related Topics