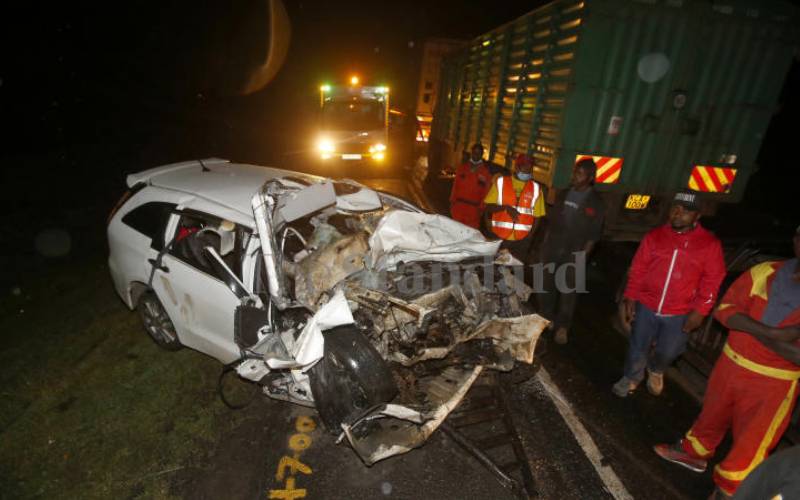 There was an increase in the number of road crashes last year even as Kenyans worked from home and despite the night curfews imposed by the government.
According to the Kenya National Transport and Safety Authority, road fatalities increased by 10.8 per cent from 3,586 in 2019 to 3,975 in 2020. Between January and November 2021, over 3,900 people died in road crashes across the country, an increase of 16 per cent.
The December festivities only worsened the situation and Makueni County Commissioner Mohamed Maalim blamed the accidents on careless driving due to last-minute rushes, overloading and drunk driving.
"I blame the passengers who accept to be overloaded, by the use of 'sambaza' the wooden seat placed between two seats to accommodate an extra passenger," Maalim says.
He lists some danger zones as including the 200-kilometre Makueni stretch of Mombasa Road.
More men were involved in road accidents, according to Dorothy Muleke, a traffic officer in Rift Valley.
"We rarely get women driving while drunk, or being careless on the road; they are more careful, will not take risks, and it will be difficult to find a woman overlapping or speeding unlike their male counterparts," explained Muleke.
He also said regularly servicing vehicles can reduce road crashes.
Dr Mark Lutomia, an orthopedic surgeon, says most injuries associated with road crashes are bone and soft tissue injuries, which commonly include fractures and dislocations with men as majority of the patients.
"This number is largely drawn from motorcycle accidents or where a pedestrian is hit by a bike, two bikes collide or a bike is hit by a vehicle," he says.
Common injuries will include pelvic, limb and thigh fractures, either closed or open fractures and dislocations.
Dr Lutomia says a broken bone might take four months to about a year to heal after medical procedures.
Patients' cases are made worse considering that there are few trauma hospitals in the country, and one has to finance their implants despite NHIF catering for other costs.
For soft tissue injury, like in the abdomen, treatment depends on intensity of injuries and this may take three weeks to discharge from the hospital but almost three months before one can regain full health.
"If you have an injured spleen we can simply pull it out with minimum consequences but if it is the lung, it may be a bit complicated because then your life is really changed," explains Lutomia.
In his view, most road accidents are caused by driver impatience and lack of proper planning, leading to last-minute rush, which in turn lead to speeding.
Related Topics