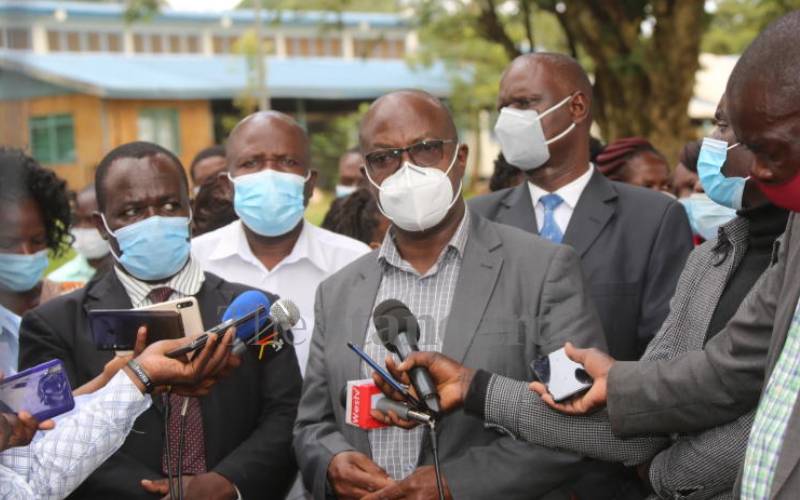 At least 93 healthcare workers in the county have contracted Covid-19 in one-month as cases surge.
Kakamega County Health Executive Collins Matemba told The Standard that the county is experiencing high numbers of the fast-spreading Covid-19 variant, Omicron.
"Our wards at County General Hospital are full. Many people have contracted Omicron. Sad to report that 93 of our doctors and nurses have contracted the virus," said Matemba.
"Many of our healthcare workers are contracting the virus since they deal directly with the patients who do not immediately exhibit signs of infection," said Matemba.
At Kakamega G K Prison, measures are in place to ensure only those who have taken the Covid-19 vaccination are allowed to visit inmates. Visitors must produce proof of vaccination at the gate.
According to Kakamega G K prison Chief Officer Japheth Onchiri, the Ministry of Health protocols are adhered to at the facility.
"No one will be allowed to enter the correctional facility and expose inmates and officers to the virus," he said.
"We have vaccinated everyone, and all the prisoners have received their first and second doses of Covid-19 vaccines," said Onchiri.
Onchiri added that measures are in place to ensure that the Omicron variant does not get into the prison. He urged all relatives of the inmates and other people seeking to visit to ensure they wear face masks.
"This place has a high rate of interaction, and if we happen to drop our guard and one of us gets infected, it means all of us will be in danger," he said.
The officer said they do not want a repeat of what happened during the third wave of coronavirus, where many of their inmates and prison wanders contracted the virus.
"Early this year, most of our prisoners and some of our officers died. The situation was dire since we did not have isolation centres. We had to transfer inmates and officers to Busia where there was an isolation centre," said Onchiri.
The Western and Nyanza regions were the most affected by the third wave that saw many people admitted and high death cases recorded.
Related Topics