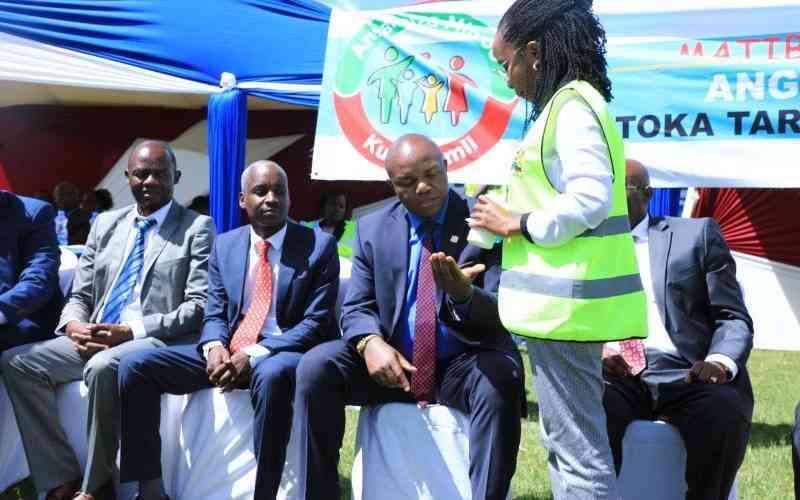 Some 5.6 million residents in five counties will now benefit from free Bilharzia drugs administration.
The exercise that was launched in Machakos on Wednesday targets residents in the home county, Kitui, Makueni, Meru and Tharaka Nithi.
The exercise was launched by the World Health Organisation (WHO) and Ministry of Health and is aimed at administering drugs against Bilharzia and soil-transmitted worms.
WHO country representative in Kenya, Abdourahmane Diallo revealed the global health body had committed to financial donations for drugs for Neglected Tropical Diseases (NTDs) to the tune of Sh200 million.
The details emerged during the launch of the Mass Drugs Administration (MDA) for Bilharzia and Worms in Machakos.
"This MDA launch marks a key milestone in the elimination of Schistosomiasis and Soil Transmitted Helmintes (Worms) in the five counties of Machakos, Makueni, Kitui, Meru and Tharaka Nithi. We are delighted to support and to be part of this event on Mass Drug Administration for bilharzia control," Dr Diallo said in a speech read on his behalf by Dr Mona Almudhwahi.
Machakos deputy governor, Francis Mwangangi, who was the chief guest during the launch, said the county government is keen on partnering with both the National Government and other development partners in eradicating Neglected Tropical Diseases.
"As a county government, we guarantee the residents that the government takes this matter seriously and will give its best in ensuring total eradication of Neglected Tropical Diseases. Our Community Health Promoters and our public health officials will be empowered to execute this mandate," said Mwangangi.
Mwangangi revealed that the county government had committed to ensure the Community Health Promoters (CHPs) were granted monthly stipends as they discharge their duties.
"We have complied with President William Ruto's directive to take care of 50 per cent of the stipends for our CHPs while the national government commits to foot the other 50 per cent," Mwangangi said.
Dr Almudhwahi said the WHO was keen on initiating intervention in the implementation of mass drugs administration in the Eastern region and lauded both the National and County governments for making huge strides towards control and elimination of neglected tropical diseases in the country.
It emerged that about 40 per cent of the global burden of neglected tropical diseases occurs in the African region.
WHO said that Arica is the region which is most affected by schistosomiasis (Bilharzia), accounting for 91.4 per cent of the total number of people requiring treatment globally.
Health Director General, Patrick Amoth said that Bilharzia and Worms posed a significant health concern globally and in most parts of the country more so Eastern region including Machakos county.
Dr Daniel Langat read the speech on behalf of Dr Amoth.
In the speech, Dr Amoth said: "To ensure control of and elimination of bilharzia and intestinal worms, the Government has laid out a comprehensive strategic approach to combating Neglected Tropical Diseases in the country."
The strategic plan, dubbed Kenya National Breaking Transmission Strategy (2019-2023), is in the third National Master Plan for the elimination of neglected tropical diseases.
Dr Langat said part of the strategy was to upscale preventive chemotherapy treatment in areas where bilharzia and intestinal worms are of public health importance.
"The Ministry will also continue to mainstream water, sanitation and hygiene in Neglected Tropical Disease endemic areas. We will also enhance the promotion of behavior change communication through health education and refine the burden of bilharzia and intestinal worms," he said.
He said community mass drug administration had been proven to be the fastest means of lowering the burden of bilharzia and intestinal worms in areas where transmission of the infections have been established.
The Ministry of Health, he said, had so far provided free treatment to about 10 million people in Western, Coastal and Lake Regions where the diseases have been detected.
Our target is to reach about six million people; about five million and one million for intestinal worms and bilharzia respectively.
The treatment will be administered by 12,000 community health volunteers.
Related Topics