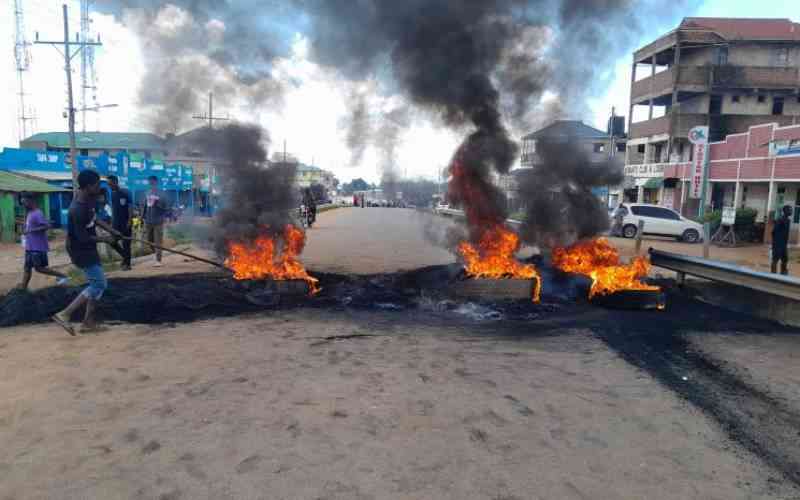 Isebania residents on Sunday blocked the Isebania - Migori road at the Kenya - Tanzania border as they protested over growing insecurity in the area.
They paralyzed cross border movement and trade, as concerns over criminal gangs disappearing into Tanzania.
At least eight people have been killed by the gun wielding thugs in a span of two months.
The recent incident is where a businessman died after he was shot on the head and his watchman injured. Three other traders were also injured.
The three traders were left fighting for their lives in hospital, as eight hugs disappeared into Tanzania using motorcycles.
On April 15, a Somali businessman aged 45 was shot dead by a gang of six men while he was closing his shop at Motemorabu trading center in Kuria West Sub-County, Migori County at around 9pm.
Police found the doors to his shop open with blood all over the floor as the businessman was rushed to the hospital.
On the night of April 8, a woman aged 58 years was attacked by a gang of five men who were armed with machetes and had a deep cut on the head and right hand wrist.
The gang also stole Sh14, 000 from her before disappearing to Tanzania via Nyamwini area.
Yesterday, Isebania residents engaged police in running battles as the police were forced to lobby teargas canisters to disperse protestors who used stones to block and lit bonfires along the road.
At some point, the police who had run out of teargas canisters were chased by the residents who threw stones at them and were also forced to fire live bullets.
Residents who blamed police for laxity now want all police in the area transferred.
Samuel Keboe who is the chair for the business community in Isebania town said the insecurity in the area has been going on for three months.
He accused police for partnering with the gun wielding thugs and as he called on the government to transfer all police in Isebania.
"Crime has gone up and we want all these police to be transferred. When it comes to security, they are nowhere to be seen," Mr. Keboe said.
The residents who protested the insecurity blamed police for chasing boda boda riders when they suspected that illegal goods were being transported but did not act when criminal activities were taking place.
"We are suffering and don't have peace. Police are not doing their work. They chase us when we carry customers and small loads," Sherrif Mwita a boda boda rider lamented.
Naomi Wangui, another trader alleged that she was rescued yesterday when her business was attacked.
"We want the police transferred," she said.
Migori County Commander Mark Wanjala said that they got a report that the business man had been attacked by a gang of eight, as three were armed with AK 47 riffles.
He said that they would address the residents grievances and act on their police laxity claims.
"They blame police for laxity. We will follow up and see how to solve their grievances," Mr. Wanjala said.
He said they held a meeting with the business community from Isebania town.
Wanjala noted that they will be holding a meeting with police from Tanzania to help end cross border crimes as he said criminal gangs committed crimes and disappeared into Tanzania in most cases.
"We will be holding a meeting from Tanzania and engage them on how they can help us solve the insecurity issues as most commit crime and run to Tanzania. The eight gangs who were persuaded by the police ran towards Tanzania and disappeared," the Migori police boss said.
Related Topics