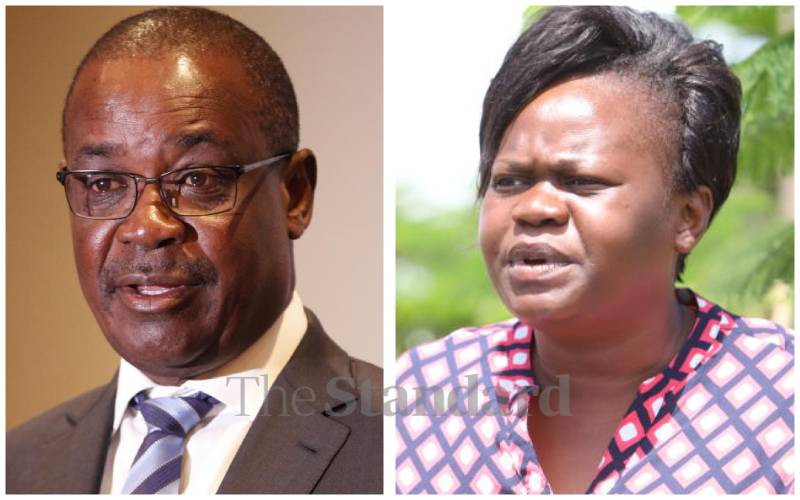 The Election Court has thwarted efforts by former Nairobi Governor Evans Kidero to dethrone Homa Bay Governor Gladys Wanga.
Justice Roselyne Aburili dismissed Kidero's petition for lack of merit and slapped him with a cost of Sh3.5 million for the expenses Wanga incurred in defending her victory in a judgment read for five hours.
Kidero has to pay Sh3.5m, in which IEBC and Apopa are to share Sh1m. Wanga and Magwanga will also share Sh1.5, while the ODM party will receive Sh1m.
In the petition, Kidero, who vied for the Homa Bay governorship seat, complained of several irregularities, which he claimed denied him victory in the election.
He had sued the Independent Electoral and Boundaries Commission (IEBC), Homa Bay County Returning Officer Fredrick Apopa, Wanga, Deputy Governor Oyugi Magwanga and ODM party.
Wanga was declared the winner with 244,559 against Kidero's 154,182 votes. Mark Rabudi of UDA came last with 1,244 votes.
During the proceedings, Kidero had told the court that the election was marred with several malpractices and had asked the court to dismiss the election of Wanga. Kidero raised several grievances, which included voter bribery at nine polling stations in various parts of the county.
He also claimed that his agents were denied entry, and some were accorded late entry at several polling stations on polling day.
During that time, Kidero claimed votes were stuffed in ballot boxes in favour of his chief rival, Wanga.
Kidero also complained that form 37As were altered at various polling stations. This allegedly led to an exchange of votes that saw Kidero's votes were swapped with Wanga's.
The former governor also complained that the election was marred with violence that saw his agents ejected from polling stations.
He also complained that the ODM party denied him victory by giving Wanga a free nomination ticket, thereby subverting the will of the people.
He alleged the ODM party leader Raila Odinga whose popularity commands voters in the county, campaigned against him in favour of his party's candidate.
The complaints made Justice Aburili to order for scrutiny and recount of ballot papers at 192 polling stations during the hearing.
While delivering her judgement virtually, Justice Aburili said on Tuesday that Kidero failed to prove the allegations he had raised to challenge the election.
"The burden of proof of the allegations lies on the petitioner. He has to prove them beyond a reasonable doubt. However, the petitioner has failed to prove electoral malpractices which could interfere with Homa Bay gubernatorial election results," Aburili said.
However, the judge admitted there were some minor irregularities, which she said were insignificant to change the election results.
Aburili gave an example of Rapedhi polling station in the Kanyadoto ward, where 14 ballot papers had no stamp.
However, the ballot papers were cast in favour of Kidero and Wanga but could not make any change considering the variance of 90,377 votes between the two contenders.
"We discovered discrepancies but they were too minor to make any change in the gubernatorial election," Aburili said.
She declared that Wanga was elected as the governor of Homa Bay validly.
"I hereby, declare that Wanga was elected as per the constitution," Aburili ruled.
Related Topics